After a refreshing winter break, Ja Ja Ja returned to Berlin on the 7th March to get a brand new season of our monthly new music series underway!  
Joining us to kick off the brand new season were Denmark's IDA KUDO, Norway's Hajk and Iceland's very own dj flugvél of geimskip, and photographer Ceren Saner was on hand to capture events as they unfolded – scroll down to check out the full gallery!
Ja Ja Ja will be back in Berlin next month, so make sure to sign up as a Ja Ja Ja member (for free!) to be the first to hear about the line up, and to gain access to our exclusive ticket pre-sale. See you in April!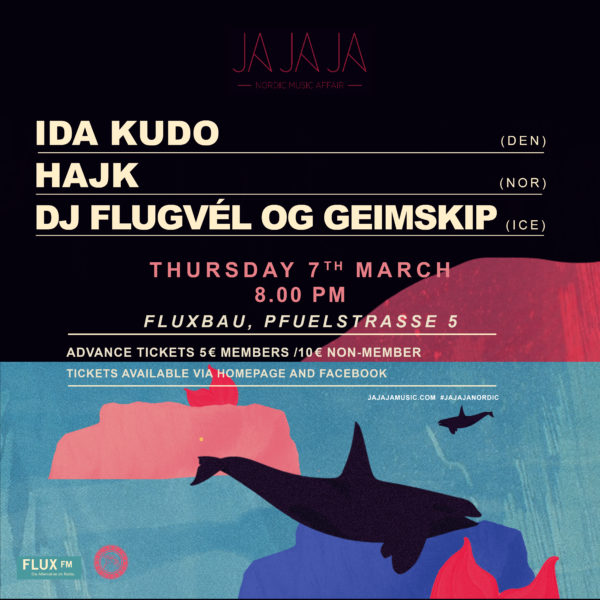 Ja Ja Ja Berlin

Ja Ja Ja Berlin

Ja Ja Ja Berlin

Ja Ja Ja Berlin

dj flugvél og geimskip – Ja Ja Ja Berlin

dj flugvél og geimskip – Ja Ja Ja Berlin

dj flugvél og geimskip – Ja Ja Ja Berlin

dj flugvél og geimskip – Ja Ja Ja Berlin

dj flugvél og geimskip – Ja Ja Ja Berlin

Ja Ja Ja Berlin

Hajk – Ja Ja Ja Berlin

Hajk – Ja Ja Ja Berlin

Hajk – Ja Ja Ja Berlin

Hajk – Ja Ja Ja Berlin

Ja Ja Ja Berlin

Ja Ja Ja Berlin

Ja Ja Ja Berlin

Ja Ja Ja Berlin

IDA KUDO – Ja Ja Ja Berlin

IDA KUDO – Ja Ja Ja Berlin

IDA KUDO – Ja Ja Ja Berlin

IDA KUDO – Ja Ja Ja Berlin

IDA KUDO – Ja Ja Ja Berlin

IDA KUDO – Ja Ja Ja Berlin