With brilliant performances from Denmark's Alexander Oscar, Iceland's Cell7 and Sweden's Linn Koch-Emmery, it was a stellar start to the new season – so a huge thank you to all of the artists that came to London to take part in the show! And the night was completed with Swedish Semlor buns, and Icelandic schnapps and chocolate – to add an ever more Nordic flavour to the evening.
Our photographer Rachel Lipsitz was on hand to capture events as they unfolded at The Lexington, so scroll on down to check out a gallery from the show!
Our March line-up has been freshly announced and tickets are on sale now – so if you haven't already, sign up as a Ja Ja Ja member (for free!) now to access our £5 tickets, and to have access to exclusive competitions and news!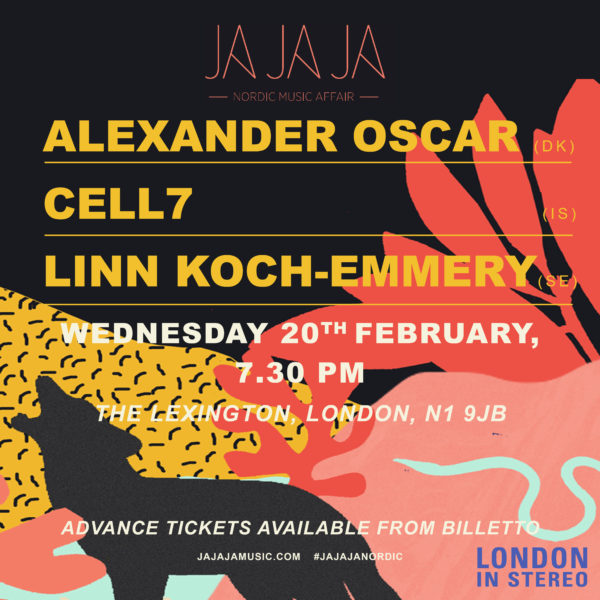 Linn Koch-Emmery- Ja Ja Ja

Linn Koch-Emmery- Ja Ja Ja

Linn Koch-Emmery- Ja Ja Ja

Linn Koch-Emmery- Ja Ja Ja

Linn Koch-Emmery- Ja Ja Ja

Linn Koch-Emmery- Ja Ja Ja

Nordic snacks <3

Nordic snacks <3

Cell7 – Ja Ja Ja

Cell7 – Ja Ja Ja

Cell7 – Ja Ja Ja

Cell7 – Ja Ja Ja

Cell7 – Ja Ja Ja

Cell7 – Ja Ja Ja

Alexander Oscar – Ja Ja Ja

Alexander Oscar – Ja Ja Ja

Alexander Oscar – Ja Ja Ja

Alexander Oscar – Ja Ja Ja

Alexander Oscar – Ja Ja Ja

Alexander Oscar – Ja Ja Ja