It might have been frosty and cold outside, but inside the venue of The Lexington, some sumptuous Nordic sounds were being unleashed to keep us feeling cosy.
As the autumn season of Ja Ja Ja rolls on, we were honoured to have been visited by Sweden's La Lusid, Denmark's Jesper Jenset and Finland's very own Mikko Joensuu for a mesmerising Thursday evening in London!
Our esteemed photographer Rachel Lipsitz was with us to take photos of the evening's festivities, so scroll down to check out some of her pictures.
A huge thanks to all of the artists that performed, and to all of the audience members for coming down to the show! We'll be back in November with our season finale – sign up as a Ja Ja Ja member to find out more…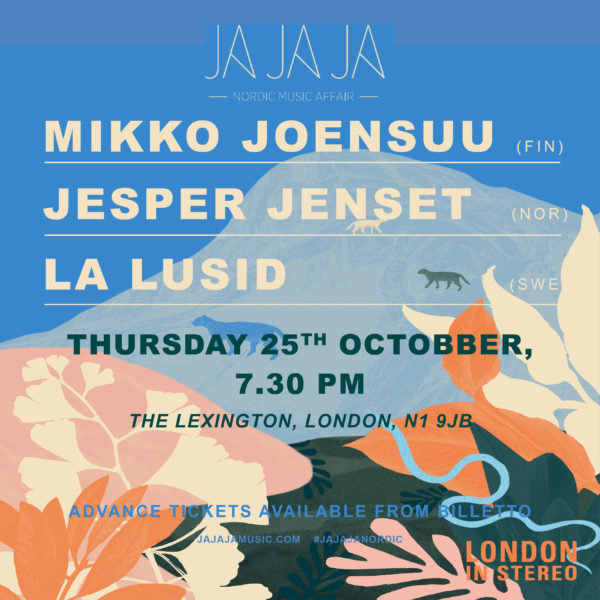 La Lusid – Ja Ja Ja

La Lusid – Ja Ja Ja

La Lusid – Ja Ja Ja

La Lusid – Ja Ja Ja

La Lusid – Ja Ja Ja

La Lusid – Ja Ja Ja

Ja Ja Ja

Ja Ja Ja

Ja Ja Ja

Jesper Jenset – Ja Ja Ja

Jesper Jenset – Ja Ja Ja

Jesper Jenset – Ja Ja Ja

Jesper Jenset – Ja Ja Ja

Jesper Jenset – Ja Ja Ja

Jesper Jenset – Ja Ja Ja

Ja Ja Ja

Mikko Joensuu – Ja Ja Ja

Mikko Joensuu – Ja Ja Ja

Mikko Joensuu – Ja Ja Ja

Mikko Joensuu – Ja Ja Ja

Mikko Joensuu – Ja Ja Ja