The end of the Ja Ja Ja spring season is drawing ever nearer, so to make sure that we wrap things up in the best style possible, we're teaming up with the great people at Bird on the Wire! They've picked a sensational line up for us, featuring Great News (NOR), Yangze (DEN) and Steve Buscemi's Dreamy Eyes (SWE) – who we caught up with to follow around Stockholm on a fantastically sunny day! Scroll down to find out more about the Swedish 4 piece, their latest EP Four Waters, and what to expect of their upcoming Ja Ja Ja performance.
Tickets on sale now via Billetto – and sign up as a Ja Ja Ja member now (for free!) to get tickets for just £5!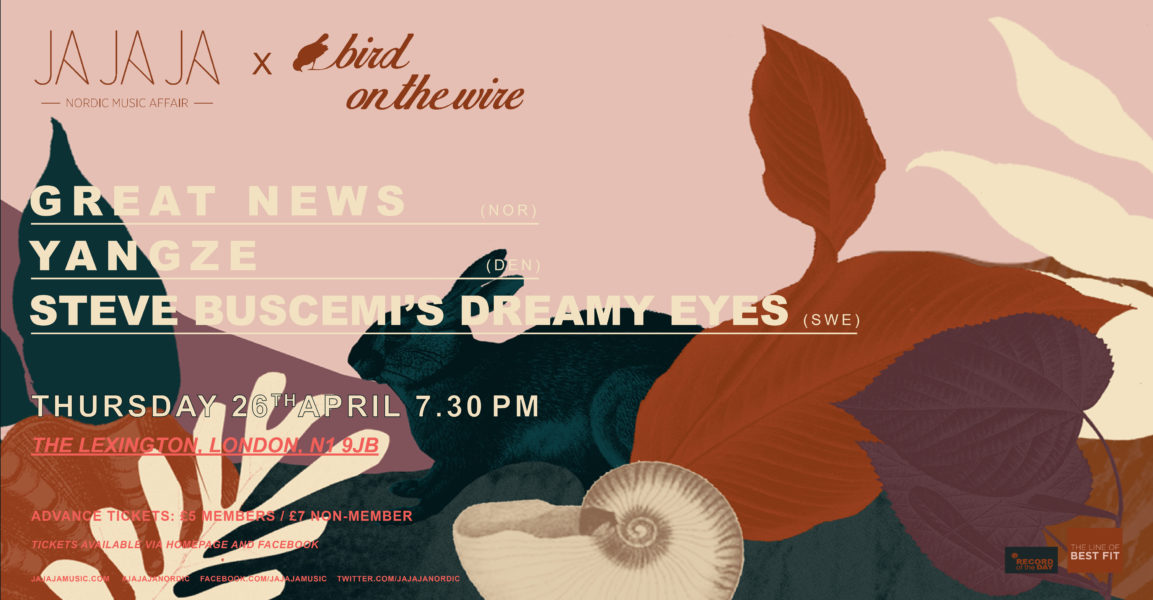 A Day in the Life… Steve Buscemi's Dreamy Eyes
Thanks so much for joining us! For our Ja Ja Ja friends that might not have met you yet, can you please introduce yourselves?
Hello! We're Steve Buscemi's Dreamy Eyes, a 4-piece dream pop band from Stockholm, Sweden. On drums we have Edvin Arleskär, big fan of the colour black and anything that's limited edition, on guitar and vocals we have Elias Mahfoud, he has seen every clip on YouTube and is best friends with everyone, Siri Sjöberg on synthesizer and vocals – really love french fries and frenchies and is also a psychic, Tilde Hansen on bass and vocals wrote this description of everyone else and, therefore, feels very uncomfortable writing anything about herself.
We're BIG fans of the Four Waters EP that came out towards the end of last year – can you tell us a bit about the story behind the EP? And are you preparing new music for 2018?!
Four Waters is about not being enough. The frustration of not being able to do more or doing something you thought would be the right thing but turned out not to be. We see the four songs as different types of water. Still, stormy, deep and obscure. Four different songs with the same wavy sound and feeling. It's all about water and feeling blue.
We've been focusing on writing new music this year instead of having a lot of shows, so stay tuned for some tunes!
What are some of your fondest memories of making the EP, and what are some of the best things that have happened to you since releasing it?
We went up to a small town (borderline village) called Bollnäs to record the EP in just 3 days. It was a very intense 3 days together with Johan Wilmer Eriksson who helped us record/produce the 4 songs and also was an excellent host! We ate great food and watched bad movies together and then watched a woman eat an egg sandwich on the train home. 5/5 stay.
After the release, we had a fantastic release party with our friends and we've only gotten positive reviews and comments about the EP.
And we're excited to have you join us at Ja Ja Ja in London, so what should our audience expect from your performance?
You can expect four people standing on a stage playing songs that they wrote together…! Jokes aside, we will bring you our best moves and some new songs for you to dance to!
Can you tell us a bit about your photo diary? What was going on the day that you made it?
It was hot as hell in Stockholm that day, Siri kicked ass at the university, Tilde had the day off eating ice-cream in the sun, Edvin worked hard taking care of someone else's children at the school he works in, Elias did the same as Edvin and then went and bought a new pedal. After school, work, and a 3- hour nap (Tilde) we met up and had our last rehearsal before London. Elias then went and saw the new 'The Rock' movie (Rampage) and the rest of us went home.
And as your name is so spectacular, we really need to ask: what's your favourite Steve Buscemi film?
Elias says "Reservoir Dogs", Tilde says "The Big Lebowski", Edvin says "Ghost Town" and Siri says "Pulp Fiction" (small appearance, big impression), in conclusion, Steve is such a great actor it's impossible to just name one favourite Steve B movie.
Photo Diary… A Day In The Life of Steve Buscemi's Dreamy Eyes