We're massively excited to have Bergen-based trio Great News join us at our season finale of Ja Ja Ja London x Bird On The Wire on Thursday 26th April! Ever since the band dropped their debut single 'Secrets' all the way back in 2016, we've been keeping a close and keen eye on them – and with their debut album Wonderfault now freshly available, the time seems perfect to get them along to Ja Ja Ja!
To get into the Great News mindset and to get a taste of what their set has in store, we invited the band to make a Photo Diary for us – so scroll down to get a glimpse into Great News' world, and to hear what to expect from their upcoming performance.
Great News will be joined by hotly tipped Danish newcomer Yangze and the brilliantly named Steve Buscemi's Dreamy Eyes from Stockholm – so make sure you're there to join us, as we say farewell to another season of Ja Ja Ja!
Tickets are on sale now via Billetto – and sign up as a Ja Ja Ja member now (for free!) to get tickets for just £5!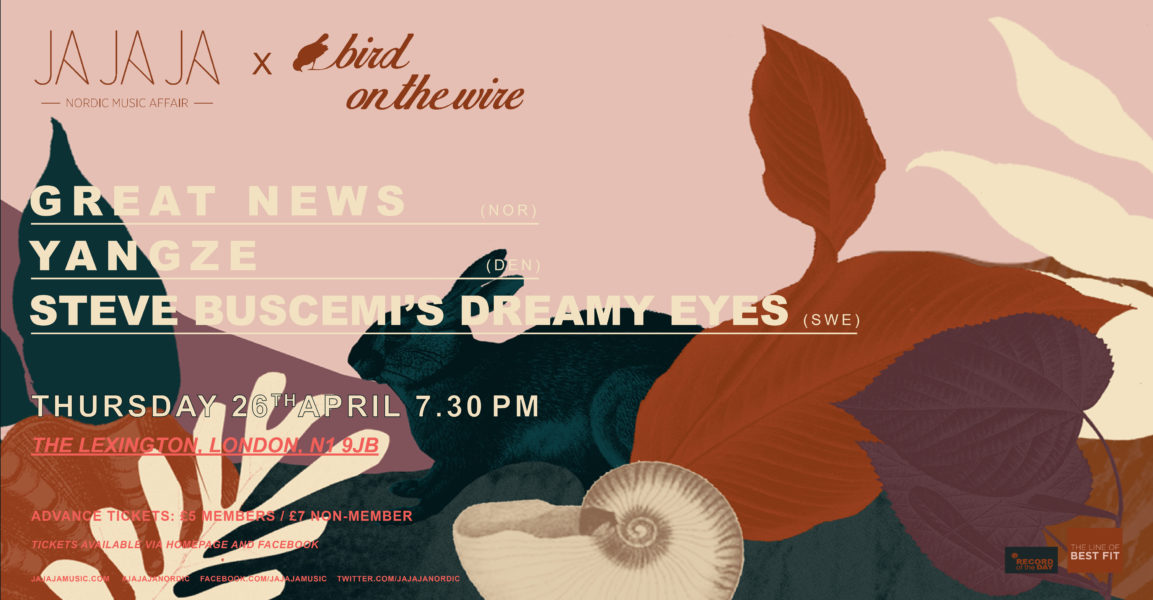 A Day in the Life… Great News
Thanks so much for joining us! For our Ja Ja Ja friends that might not have met you yet, can you please introduce yourselves?
Hello Even and Ole from Great News here, whats poppininging JA JA JA?
Your album Wonderfault has just landed and we've had it on repeat pretty much ever since! What are some of the main thoughts and influences running through the album?
Thanks, happy to hear that, and glad you like it!
The album was a tough fight, we had some really loud discussions which ended up in big studio fights. And there is only one rule in those studio fights, that is that there is no rule in a studio fight. You can only choose two weapons like a Shure SM57 or a Roland Cube30.
This was a journey which we learned a lot from and we're now ready to go into studio for the second album. We will not make fight this time. We will make music. Nonono. The album means a lot to us and it was really important for us that we did everything part of the producing ourselves. So for us it's about not being perfect but still beautiful.
We're particularly keen on the video for 'Told' – can you tell us a bit about it? Are you actually really into tanning, and whose are the Versace bed-sheets?!
Yes, we're into tanning, we're tanning a-lot. All the time. Every Norwegian does, Winter in Norway is hard. There is nearly no sun and it's dark all the time, so you really need to take some hours of light to be healthy. The government and the Norwegian health department provides tanning centres for all citizens of Norway. This is one of the things you can do to cope with Seasonal Affective Disorder.
We're VERY excited to have you join us at Ja Ja Ja in London, so what should our audience expect from your performance?
They can expect loud guitars, a clear voice and three men playing things to provide sound. We're really looking forward to playing at The Lexington, we've heard a lot of good things about the place! London is always nice to us and we're enjoying the city as well, great food, nice second hand stores and markets!
Can you tell us a bit about your photo diary? What was going on the day that you made it?
We actually had to take some photos from different days to make the photo diary 'cause our lives are so boring when we're not touring. So we had to compile photos from the whole year in order to make it seem like a fun day. But it's all good. One day we'll get the opportunity to tour as much as we need to reach the level of happiness we deserve. But for now enjoy the pics and look at them as a window into our lives. Look at them and know that you can make a difference by showing up at our gigs and listening to our music. Even if you don't like it, just put it on repeat on Spotify when you sleep at night
And finally, with the summer days fast approaching, what do you have in store for the coming months? Where can we see you again?
Well, you can take the train down to Brighton the 17th and 18th of May and see our concerts at The Great Escape festival! We're also doing a couple of festivals in Norway Øyafestivalen, Bergenfest, Bygdalarm, we're especially looking forward to a festival called Trevarefest in Lofoten in Northern Norway. In Europe we're doing some shows in the Netherlands, Germany and last but not least Vida festival in Spain!
So yes we have a lot in store for the summer and we're looking forward to it!
Photo Diary… A Day In The Life of Great News