November's Ja Ja Ja London night will be our final show of 2017, and to celebrate this special occasion, we've teamed up with Rockfeedback to present an absolutely killer line-up! One of the acts set to play is currently making their way around the UK on tour – so let's get to know Danish trio Nelson Can a bit better ahead of their Ja Ja Ja performance…
Following the release their debut album Now Is Your Time To Deliver back in 2014, acclaimed live shows and a couple of super nice EPs to boot, the Copenhagen-based band took a few years off to re-group and re-energise – so we can't wait to see what their show has in store when they head to Ja Ja Ja at The Lexington on Thursday 30th November! They'll be joined by Sweden's Albert Af Ekenstam and Norway's HAJK, and tickets on sale now via Billetto; £7 in advance and £5 for Ja Ja Ja members!
Not a member yet? Sign up HERE (for free) to receive discounted tickets, free merch and other Nordic delights…!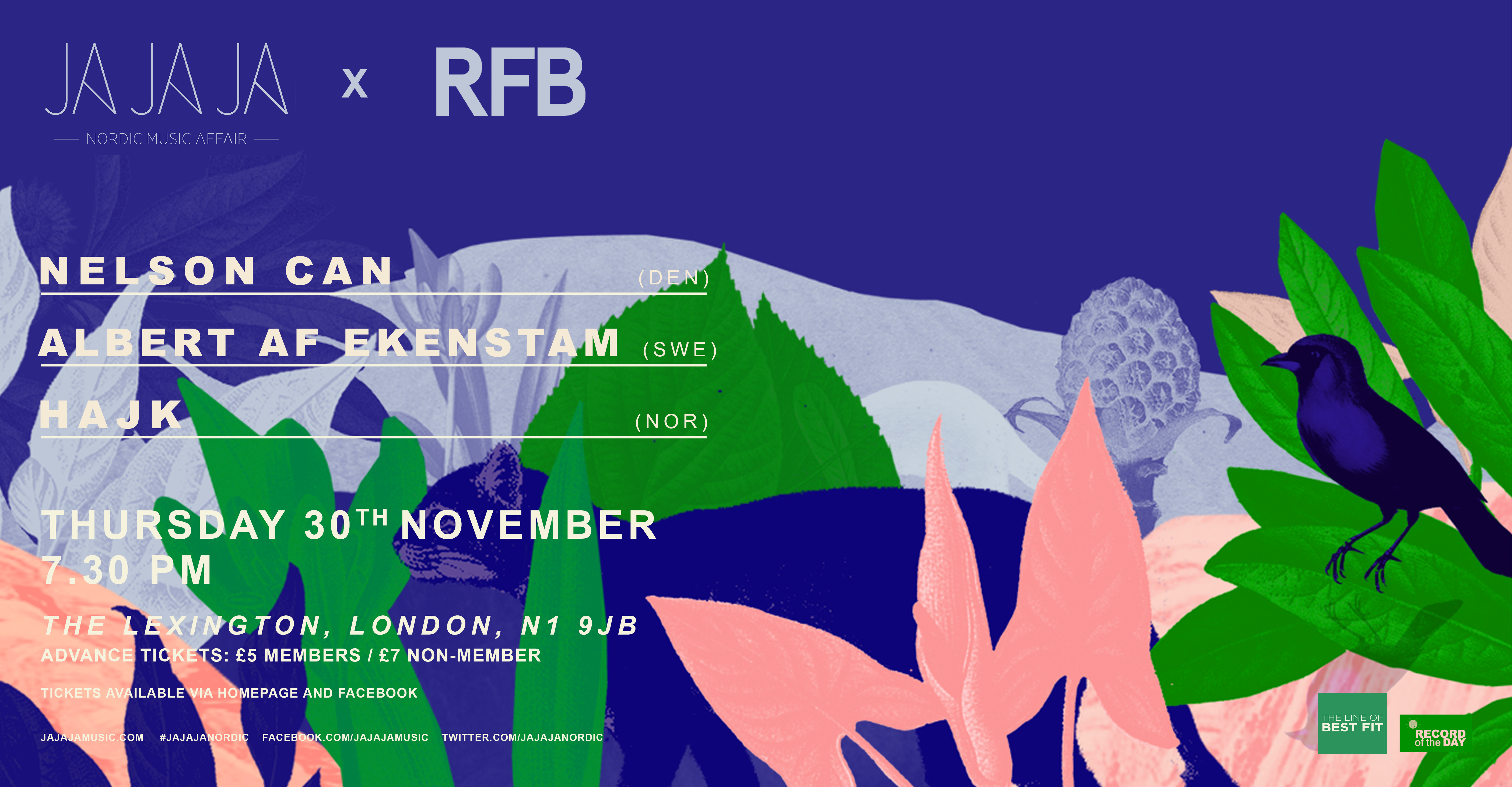 Thanks so much for joining us! For our Ja Ja Ja friends that might not have met you yet, can you please introduce yourselves?
Thank YOU! We're so happy to finally come back to London! We, Nelson Can, are a trio from Copenhagen and we play rock music with references that range from Siouxsie and The Banshees, to Florence + The Machine, Royal Blood to the more playful Gossip. The music is built up around just bass, drums and vocals – no guitars, no keyboards, no synthesizers – no chords in general. It's our version of Scandinavian minimalism where less is always more.
Your latest release EP3 arrived in September, and was the first new music we'd heard from you in a while! So where have you been, and what made now the time right to reveal EP3 to the world?
Honestly we needed a break from each other and from touring. We'd been going non stop for three years and just needed a little time off. We needed to go back to basics and nurse our friendship with each other. We wanted to reinvent the band and our sound and we wanted to make a record where we didn't care what other people might think and we make it without deadlines. It was done when it felt like it was done, not when time was up. We waited until we felt the impatience growing – we missed the stage and we wanted to get back in the game. That's when we new it was the right time to release it.
We're particularly loving the track 'Break Down Your Walls', so can you tell us a bit about the story behind that one?
Thank you! The music was actually made during a sound check on a tour in Spain in 2015, and we knew we had hit something, but it took another year before the lyrics came to place. The lyrics are about feeling anxious about being anxious and that the only way to break out of that downward spiral is to be open about it and allow oneself to be vulnerable in order to make other people understand how they can help. Being vulnerable is not being weak. It's being human.
We're VERY excited to have you join us at Ja Ja Ja in London, so what should our audience expect from your performance there?
Expect the unexpected. We don't plan everything about our shows, sometimes we even surprise each other on stage, haha. That's how we keep up the energy and make every show different from the last one. Expect us to deliver our fullest, that's what we expect of ourselves – and don't be scared if Selina is all of a sudden in the middle of the crowd singing directly in to your face… we like to try and break down the barrier between the stage and the floor so we can all become one.
Can you tell us a bit about your photo diary? What was going on the day that you made it?
During the first week of our UK tour we have been supporting British ban JAWS, so we are already well into "tour mode". Get up in the morning, have breakfast, do a little sightseeing, go to the venue and set up, eat, play, pack down, sleep, repeat. 😉
And finally, what are you most excited about what remains of the year?!
Well, actually we have some very exciting news that we haven't really shared until now. We have made a Christmas song!! And it will be released on the 1st of December!
Photo Diary… A Day In The Life of Nelson Can