Having dazzled crowds at her Ja Ja Ja London appearance earlier this year, we couldn't possibly be more excited to have Soleima come to perform at this week's Ja Ja Ja Berlin show!
Her debut mini album No.14 landed earlier this year, and since then, the Copenhagen-based artists has spent her time wowing festival crowds, even finding time to write and release a brand new single (not included on the album) called 'Paper'. A vibrant live performer with a unique take on what pop music should be, her performance is not to be missed…
Tickets are on sale now, just €5 in advance for Ja Ja Ja members. Not a member yet? Then sign up (for free) to access exclusive ticket discounts, competitions, and to get your hands on free Ja Ja Ja goodies!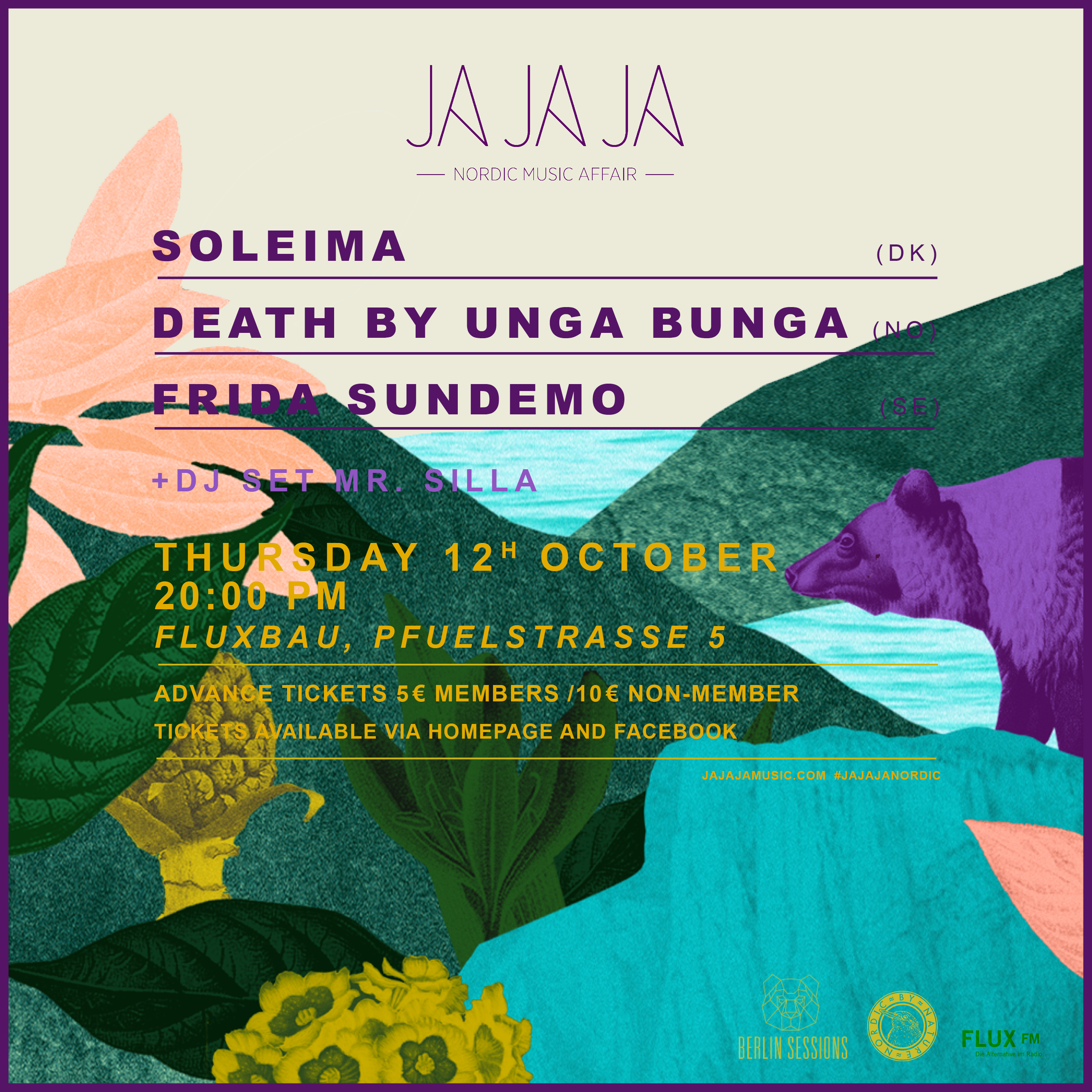 Thanks so much for joining us! For our Ja Ja Ja friends that might not have met you yet, can you please introduce yourself?
I am Sarah and my artist name is Soleima. I make music, guess you would call it electronic pop music. I like to call it Garage Pop 🙂
Your latest single 'Paper' just landed and we've had it on repeat pretty much ever since! Where did the song come from?
Yaaaaa. So happy to hear you like it <3 The song was written not too long ago at a time where I had to choose between two things I really love to do. The songs is about always daring to do the things you love to do, and not what is expected of you. In that way it was actually kind of a crazy (and good) process for me writing this song.
It's been a busy year with you releasing your mini-album NO.14 too – but what have been some of your other highlights from 2017?
This first year of the Soleima life has been so amazing. I released my first mini album, which was def a big highligt. Also I started working with many different people around the world, both other artists and business partners. It is such an amazing feeling when people believe in you and wanna be a part of the things you are doing. I feel extremely lucky about that. Another big thing for me was that I won the Danish P3 talent Award last week.
Can you tell us a bit about your photo diary? What was going on the day that you made it?
We have been playing a lot of concerts this summer, and this was on of these days. I have the most wonderful band and we have such a great time touring. They are the best 🙂
And finally, what are you most excited about for the rest of the year?
I am gonna write a lot the coming months. Both at home in Copenhagen, but I am also going to London and L.A. to write more songs. It is gonna be great
Photo Diary… A Day In The Life of Soleima