After a phenomenal performance at Ja Ja Ja London earlier in the year, we're counting down the seconds until we're joined by Death By Unga Bunga at Ja Ja Ja Berlin!
Thursday 12th October is the night that we'll once again be graced by their power-punk presence, as they perform alongside Danish garage-pop treasure Soleima and Swedish siren Frida Sundemo.
Tickets are on sale now, just €5 in advance for Ja Ja Ja members. Not a member yet? Then sign up (for free) to access exclusive ticket discounts, competitions, and to get your hands on free Ja Ja Ja goodies!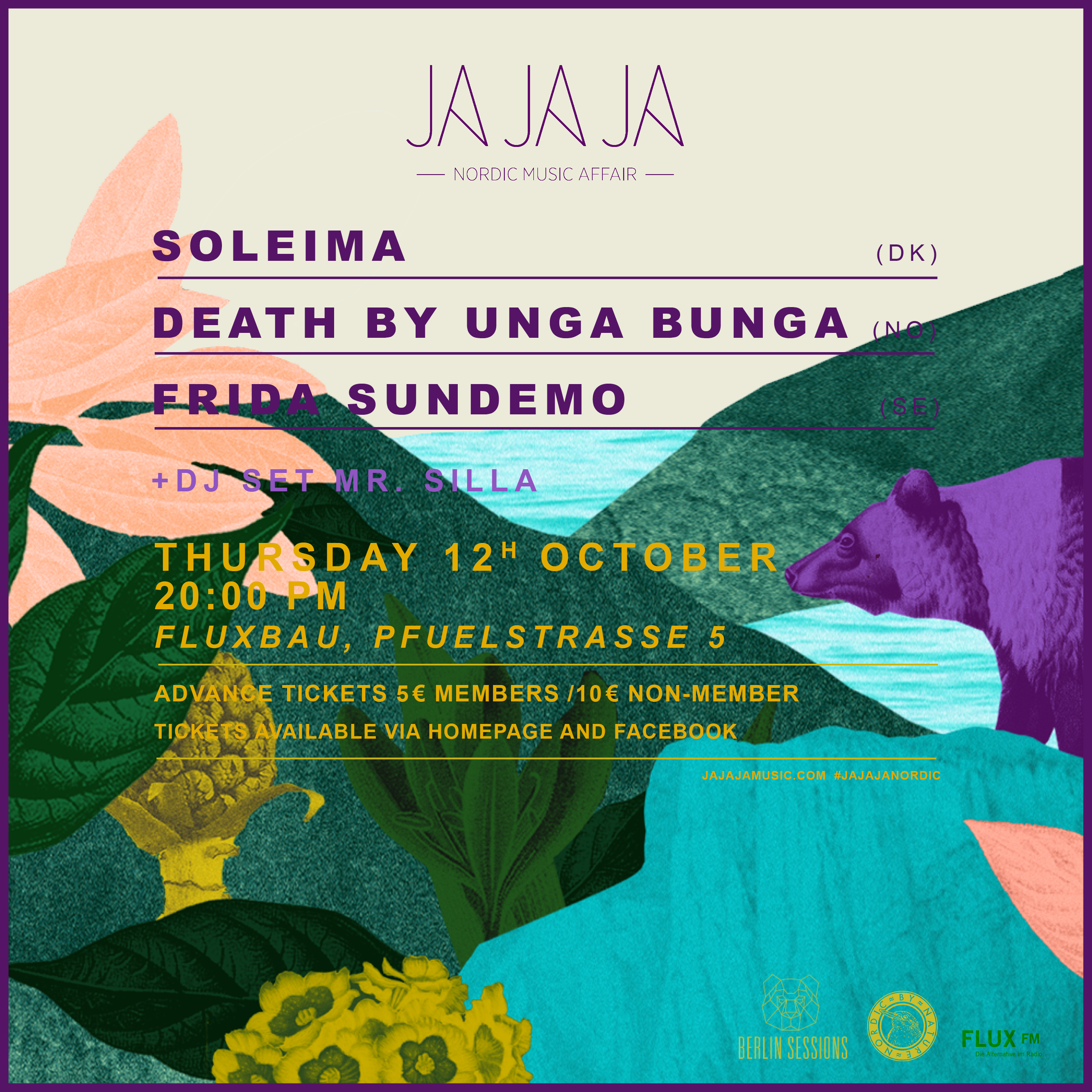 Thanks so much for joining us! For our Ja Ja Ja friends that might not have met you yet, can you please introduce yourselves?
Death by Unga Bunga is a band from a town in Norway called Moss we're we went to high school together. Our latest releases are our EP Fight! and our newest singles 'Bye Bye' and 'Into The Night'. We now live in Oslo where we mostly experience the things we write about. We enjoy to tour, record music, eat pizza, not being broke, drink etc.
You performed at Ja Ja Ja in London last year, and have just come off of tour with Stiff Little Fingers – how did you guys enjoy that?!
The show in London was fun. We did a couple of more dates also. Our first mini-tour in the UK. Made friends! 🙂
The tour with SLF was a long and entertaining one. Going back and forth in the US playing for thousands of punk rock maniacs. Can't get enough of that!!
What are some of your best memories from the road?
Maybe the ones we can't remember..
or
Not crashing the van !
Your latest singles 'Bye Bye' and 'Into The Night' have been pumping from the Ja Ja Ja stereo since they dropped last month – what's the story behind the tracks? Where did they come from?
'Bye Bye' – We wanted to write a heavy, fuzz fuelled power ballad, so we did. 'Bye Bye' is about the trials and tribulations of relationships of all sorts. We've been trying really hard to write songs about anything else than love, but we just can't seem to make it. Still, it's one of our best tracks as of yet.
'Into The Night' – We've been on a life-long quest to show people how NOT to suck, so listen up kids; you might just learn something. After extensive studying of the rock'n'roll cookbook, we found that guitar solos are still really, really cool. We did not hold back on this one.
We're VERY excited to have you join us at Ja Ja Ja in Berlin, so what should our audience expect from your performance there?
We're gonna do our best to make sure that everyone there has a great night. And if you didn't, that's OK… but know that's only because you're lame. So, sorry…
Can you tell us a bit about your photo diary? What was going on the day that you made it?
Well, last weekend is the first in like seven we're not doing shows. So we kinda just went out to eat and drink here in Oslo, Norway. Meet friends. Get drunk. Which is what people usually do in the weekends I guess.
And finally, what are you most excited about for the rest of the year?
We're recording our next album this autumn. So it's gonna be a lot of time spent in small dark rooms with 'the dudes' just jamming it out. Sounds fun!