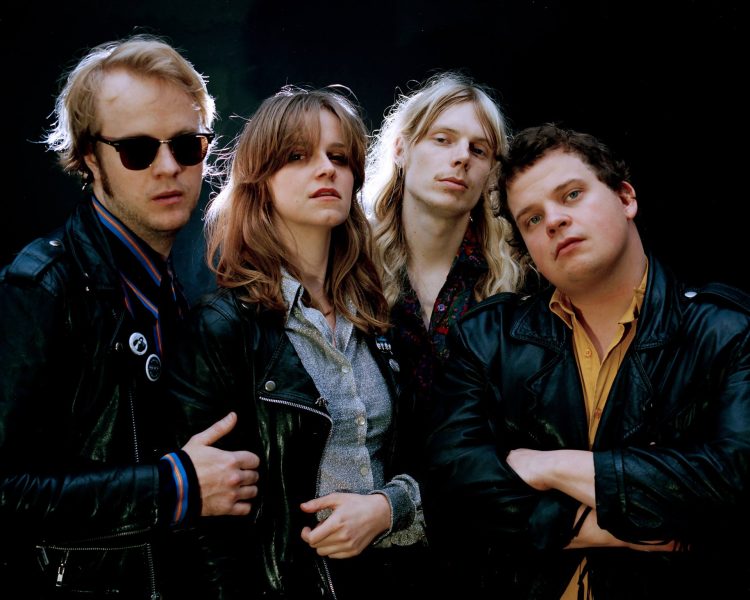 Certain members of Malmö quartet Nightmen have been mentioned on the pages of Ja Ja Ja Music before, in constellations such as YAST and Terrible Feelings, but this is the first time we come around to tell you about Nightmen in particular.
The song called 'Ahahahah (Oh No)', and the music video that comes with it, tell us that this band likes things a bit lo-fi. The band manages to channel that certain rock sound from the late 1970's, garage rock spiced with punk, but is not a stranger to a bit of pop too. You won't be surprised to hear that The Ramones are mentioned in conjunction with them, but this song also gives a nod to classic rock tracks from the 1950's by artists like Buddy Holly. You can also sense a streak of self-imposed irony in their whole being, as they strike careless rock poses wearing leather and jeans jackets in combination with synchronized surprise dance moves throughout the video. This band clearly has sense of humour, which makes it easy to party to their music, and the saxophone that comes 3/4 into the song tops it all off. 
'Ahahahah (Oh No)' is the first single from the band's second full-length album called 'Can't Avoid Success', which will be released on April 7th through the label Lövely Records. If you are impatient you can always check out their debut album Fifteen Minutes of Pain (2016) or the EP Girl For You (2015), but for a quick garage rock fix you should definitely watch the new music video below.