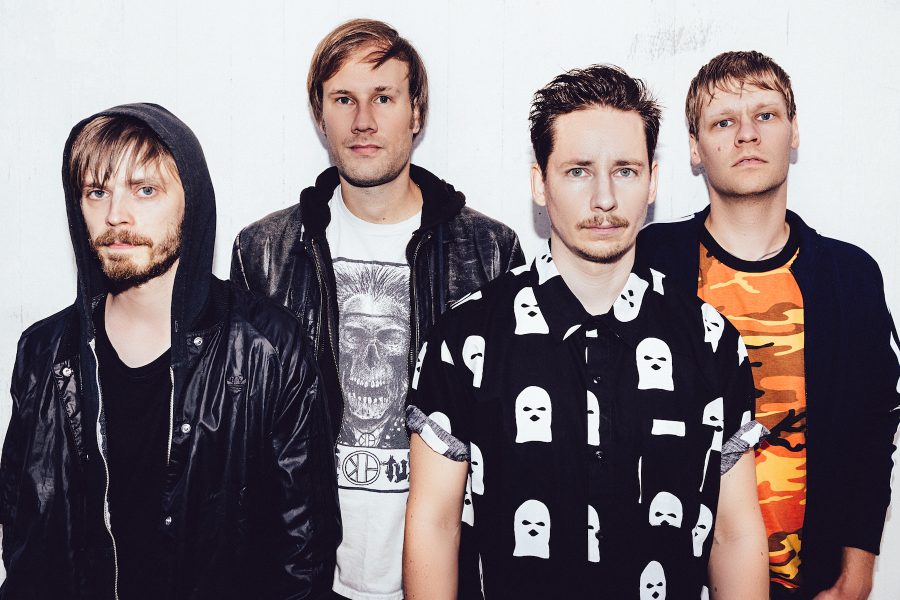 The Finnish post-hardcore quartet Disco Ensemble is getting ready to release their sixth studio album after going through a five year hiatus as a band. During that time two of the members have released solo albums. Singer Miikka Koivisto released material under the artist name Hisser and was noted by Ja Ja Ja Music in 2014, while guitarist Jussi Ylikoski tried his solo wings as Big Pharma (check out 'Freedom Juice'). These are both heavily electronic projects, and the band's evolution from the first post-hardcore inspired album Viper Ethics (2003) to the at times surprisingly poppy fifth album Warriors (2012), show that these guys are pretty open-minded when it comes to creating music.  
The new single 'Nothing More' seems to continue the evolution to a certain degree, but now with lighter lyrics. The chorus is simple enough, "If I can have you, I need nothing, nothing more". Message received, no unnecessary intricacies here, could have been from a pop song. The tension of the hardcore background is still there though, which is promising for any coming live concerts. These guys are known to make the ground shake at festivals with the help of a jump-stomping audience. There is also a trail of grandiosity in these newer tunes, especially audiable in the previous single 'Fight Forever', which was released as a music video in October last year. This brings to mind bands like Muse and Placebo, but with that hardcore spice always present.
The new album is called Afterlife and it was released on Jan 27th through their label Fullsteam and Sony Music. Starting in February the band will tour at least 27 cities in Finland and Germany, and they've also announced they'll be at the Southside Festival in Tuttlingen, Southern Germany in June. Warm up now by listening to 'Nothing More' through the link below.