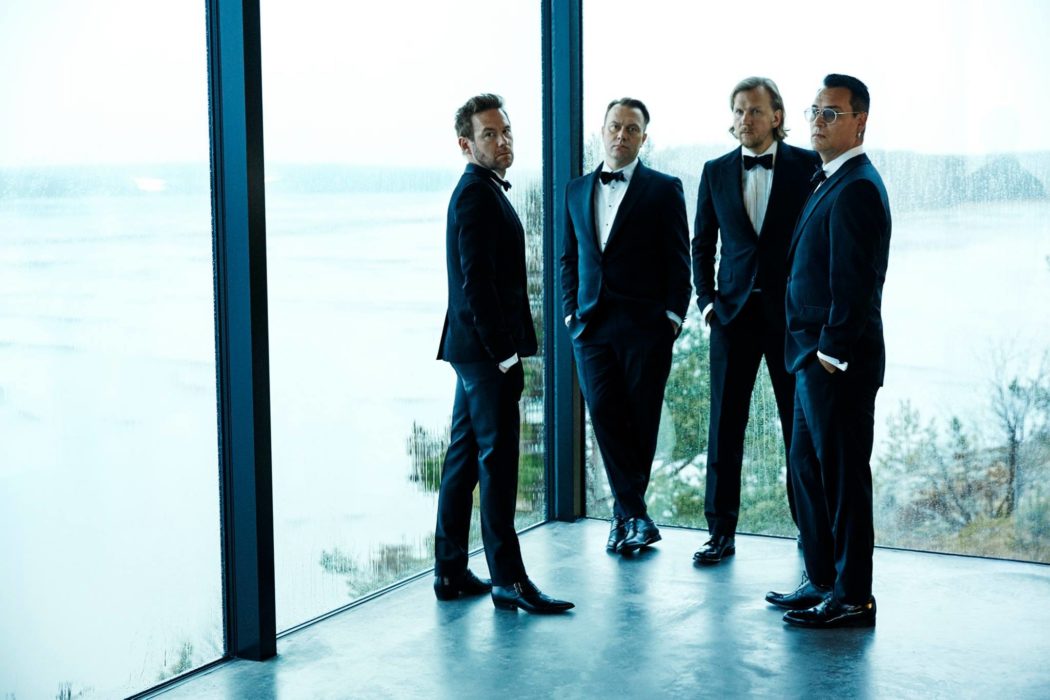 The nominations for the 2017 Swedish Grammis are out, with Kent, Laleh, Niki and the Dove, Tove Lo, and Zara Larsson leading the way!
As we wrap up 2016, it seems like everyone's making lists of good girls and boys – not just Santa, but awards committees! Yes, it's award nomination season, and the Swedish Grammis have just unveiled their list of nominees for next year's ceremony. Across eighteen categories and just about every genre you can think of, a whole host of fantastic Swedish talent has been given the industry's highest commendations.
Leading the way are iconic band Kent, who are currently finishing up their exceptional career with a final tour and what may be their final set of nominations – they've got five in total including Album of the Year and Artist of the Year. They're closely followed by pop artist Laleh, who's had a brilliant year on the Trenda: Nordic Charts and earned four nominations, and former Nordic Playlist Curators Zara Larsson and Niki and the Dove with two and three respectively. Pop superstar Tove Lo picks up two nominations for Artist of the Year and Pop Album of the Year, and there's two nominations for our recent session guest Silvana Imam, whose record Naturkraft is in contention for both Album of the Year and Hip-Hop/Soul Album of the Year. EDM DJ duo Galantis are up for Song of the Year alongside former curator Miriam Bryant and Håkan Hellström, while cult favourites Bob hund pop up in the Rock Album category, and former curators Amason get a nod in the video of the year category. All this talent and much, much more will be celebrated on February 28th at the ceremony which takes place in Stockholm's Konserthuset. We're certain it's going to be a really special evening for all the nominees, so take a look at the full list below!
Song of the Year
Frans – If I Were Sorry
Galantis – No Money
Håkan Hellström – Din tid kommer
Laleh – Bara få va mig själv
Mike Perry feat. Shy Martin – The Ocean
Miriam Bryant – Black Car
Peg Parnevik – Ain't No Saint
Samir & Viktor – Bada nakna
Vigiland – Pong Dance
Zara Larsson – Ain't My Fault
Album of the Year
Allting suger – Little Jinder
Då som nu för alltid – Kent
Kvinnor och barn – Frida Hyvönen
Naturkraft – Silvana Imam
Sherihan – Cherrie
Artist of the Year
Freddie Wadling
Kent
Tove Lo
Yung Lean
Zara Larsson
Electro/Dance Album of the Year
Dan Lissvik – Midnight
Dorisburg – Irrbloss
Galantis – Love on me/No money
Joy – Inte god men Gud
Kornél Kovács – The Bells
Hip-hop/Soul Album of the Year
Cherrie – Sherihan
Erik Lundin – Välkommen hem
Parham – Hemma här
Silvana Imam – Naturkraft
Zacke – Fattigkussen
Composer of the Year
Ana Diaz
Frida Hyvönen
Laleh Pourkarim
Max Martin
Niki & The Dove
Music Video of the Year
Adam Berg – Kent "Då som nu för alltid"
Filip Nilsson – Amason "I Want To Know What Love Is"
Johan Renck – David Bowie "Lazarus"
Måns Nyman – Moderat "Eating hooks"
Robinovich – Elias "Down n out"
Newcomer of the Year
Albin Lee Meldau
Ana Diaz
Mike Perry
Sammy & Johnny Bennett
Yemi
Pop Album of the Year
Laleh – Kristaller
Niki & The Dove – Everybody's Heart Is Broken Now
Sabina Ddumba – Homeward Bound
The Radio Dept. – Running Out of Love
Tove Lo – Lady Wood
Producer of the Year
Amr Badr/Leslie Tay
Carl-Mikael "GUD" Berlander
Laleh Pourkarim
Ludwig Göransson
Niki & The Dove
Rock Album of the Year
Bob hund – Dödliga Klassiker
Hurula – Vapen till dom hopplösa
Jill Johnson – For You I'll Wait
Kent – Då som nu för alltid
Viagra Boys – Consistency of Energy, Call of the Wild
Lyricist of the Year
Erik Lundin – Välkommen hem
Frida Hyvönen – Kvinnor och barn
Joakim Berg – Då som nu för alltid
Josefine Jinder – Allting suger
Zakarias "Zacke" Lekberg – Fattigkussen
Folk / Singer Songwriter Album of the Year
Freddie Wadling – Efter regnet
Groupa – Kind of folk vol. 1 Sweden
Lena Willemark – Blåferdi
Pernilla Andersson – Tiggrinnan
Peter LeMarc – Den tunna tråden
Children's Album of the Year
Emma Nordenstams bästa barnlåtar – Emma Nordenstam
Gåspennan – Gåspennan
Jakten på färgpiraterna – Per Egland & Sexårskören
Jojjes klassiska barnvisor – Jojje Wadenius
Livet i mattelandet – Livet I Mattelandet
Dansband Album of the Year
Benny Anderssons Orkester – Mitt hjärta klappar för dig
Blender – Ängel utan vingar
Casanovas – Kom och sjung halleluja
Donnez – Många långa mil
Sannex – Din sida sängen
Hard Rock/Metal Album of the Year
Amaranthe – Maximalism
Cult Of Luna & Julie Christmas – Mariner
Dark Tranquillity – Atoma
Ghost – Popestar
In Flames – Battles
Jazz Album of the Year
Isabella Lundgren – Where Is Home
Jari Haapalainen Trio – Fusion Machine
Lina Nyberg – Aerials
Oddjob – Oddjob Plays Weather Report
Tonbruket – Forevergreens
Classical Album of the Year
Bengt Forsberg – "Neglected works for piano"
Cecilia Zilliacus & Lena Willemark – "Dansa"
Royal Swedish Orchestra & Lawrence Renes – Franz Schreker – "Orchestral music from the operas"
Maytan/Klingberg/Lysell/Wijk/Hso/Stoehr – Amanda Maier: "Violin concerto/Piano quartet/Tunes"
Västerås Sinfonietta/Hso/Fredrik Burstedt – Mats Larsson Gothe: "Symphony no 2"