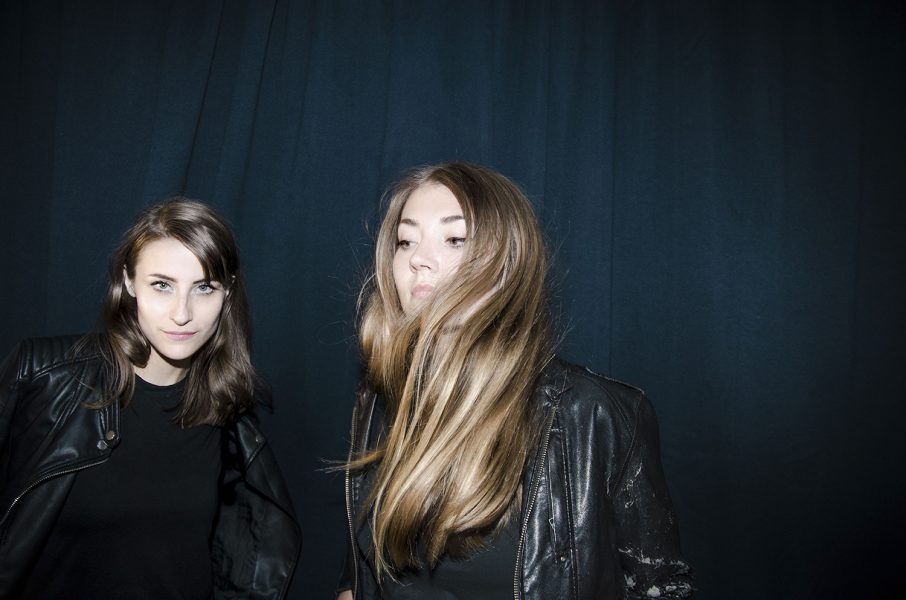 Sweden's Pale Honey are bringing tingling sensations to this month's Ja Ja Ja London Club Night and we couldn't be more excited!
Following the great success of Ja Ja Ja London club night's return last month, we feel an obligation to keep giving our Ja Ja Ja friends what they want: brilliant live acts from the Nordic countries! Alongside Pale Honey, we will be joined by M.I.L.K.'s sun-kissed sounds from Denmark, and one of Finland's rowdiest live bands, Have You Ever Seen The Jane Fonda Aerobic VHS?, at The Lexington on Thursday 17th October.
Ahead of the show, which we believe will be one for the Ja Ja Ja history books, we caught up with Gothenburg's Pale Honey about their forthcoming sophomore album and what we can expect from their live show. Tickets for the show are available now and cost £5 for Ja Ja Ja members (£7 for non-members) – sign up as a member for free now!
Ja Ja Ja Proudly Presents:
Pale Honey | M.I.L.K | Have You Ever Seen The Jane Fonda Aerobic VHS?
+ Project Fresh Socks DJs
Thursday 27th October 2016 – 7:30pm 'til late
The Lexington, Pentonville Road, London N1 9JB
First of all, thanks for joining us! For those who haven't met you yet, could you please introduce yourselves – who are you, where are you from and how long have you been making music?
Thank you! We are Tuva Lodmark and Nelly Daltrey, two restless slackers that form the band Pale Honey. We're living in Gothenburg in Sweden and have been making music since we were in our young teens.
And as we're getting to know you, could you tell us a bit about your background as a band? How did you meet and what's your common ambition?
We met in 8th grade and were not too impressed by each other at first, but as two peas in a pod ,we ended up skipping classes just to play music together and hung a lot after school. We didn't know how to play our instruments before playing together so it was all about having fun and just trying out things to play and years later here we are, still love to create things together.
We've been playing your self-titled debut album on repeat since its release last year – so now that a bit of time has passed, how do you feel about your first album, and which remain your favourite tracks on there?
Oh, you guys! We're still satisfied with the album that we put together, it felt like we reached a milestone when we finished it up and released it and now we're simply set on continuing what we're doing. While the more upbeat songs usually are a bit more fun to play live, we'd say that our favourite songs of the first album are 'Sleep' and 'Bandolier'. It certainly depends on the mood.
And as much as we love the album Pale Honey, we are very excited to hear that you're working on a brand new record! Can you give us some hints about what to expect? What are some of your ambitions and hopes for the record, and what kind of influences have you brought to the album?
We're so stoked about the second album! It is still being worked on, and we're putting in a lot of time to twist and bend the songs to see what we can – and want – to do with it. We're still going strong and working kind of bullheaded with the new material to make it all feel right – we want to boil us up our very own Pale Honey 2.0 brew, and then reduce it to the finest, purest record that we can.
It seems like you guys have been quite busy ever since releasing the record, especially with touring around Sweden and Europe – so what have been some of the stand out moments so far?
There are a lot of sweet memories, especially from touring when you get to be in constant movement. We played in a shabby theatre somewhere in Hungary that looked like a mixture of a classroom and a gymnastics room, when it was show time we almost had to punch ourselves through the crowd to get to our instruments (there was no stage), it was packed with people without any care in the world except for the music. The Smells Like Teen Spirit-meter broke.
Then there's also the other side of being musicians – just locking ourselves up in the studio to play, try out ideas and record demos. The two moments are so different but they fuel each other, once you've written a song you want to play it to people and no matter the feedback, it drives you to want to keep creating more.
And now that you're 2 albums in, how does the songwriting process work for you? Who does what and where do you find inspiration for your lyrics?
Tuva sings all the vocals so she does the most, if not all, melodies for it. For the texts we like to work a lot together to develop it and just be each other's sounding boards or catalysts. The inspiration can come from a lyric you just spit out at the first try, something we've read in a book or a whisper heard in a movie. The first words we hear usually sets the theme, even when the first words are only mumbles to get a grip of the melody – then there's always the option to twist the words or instruments to create contrasts or flip the theme entirely.
Over all we're working tightly together when we're writing music. The process can be different with different songs, but sometimes Nelly can come up with a guitar riff that we together elaborate and so on, vice versa. We also work a lot with our producer Anders Lagerfors during the songwriting process. All of us complement each other in a really good way, pushing each other to expand our limits.
And your new single 'Real Thing' will be released on the 14th October – what's the story behind the track, and why did you pick this one as your new single?
The pick was very straightforward – we love the songs we've got hidden away for the moment as well but 'Real Thing' stood out as a real burst of energy and emotion. It feels great to start it all off with the explosion that the song is, and to let the single be a bit of a starting signal for ourselves.
We're super excited to have you join us at this month's Ja Ja Ja show in London! What can we expect from your performance there?
Sweat! Cowbell! Tingling sensations! And I dare say a first encounter with a real life Siren as Tuva will enter the stage (Nelly speaking). We are going to play a few new songs so for those who can't wait for the album – this is a chance you can't miss.
Can you recommend any excellent new artists from Sweden that we should keep an eye on?
ShitKid! She's really something.
And finally, what does the rest of the year hold for you? What are you most excited about?
We've always got things involving the music to do, the first thing we're looking forward to is buying beer, lots of picks (as Tuva always loses hers), and then just living off of sushi and falafel as we'll be finishing off the second album and developing one hell of a repertoire.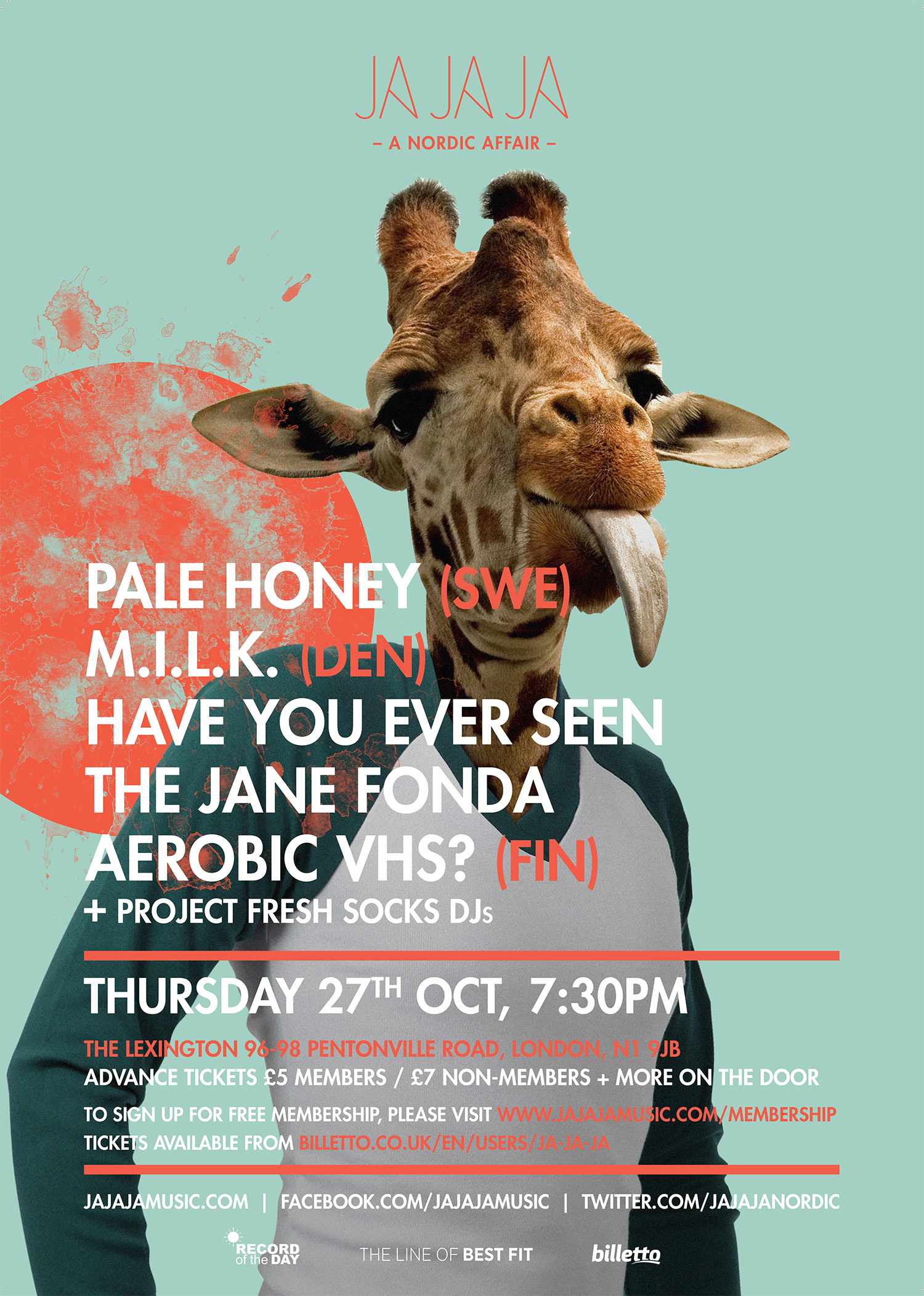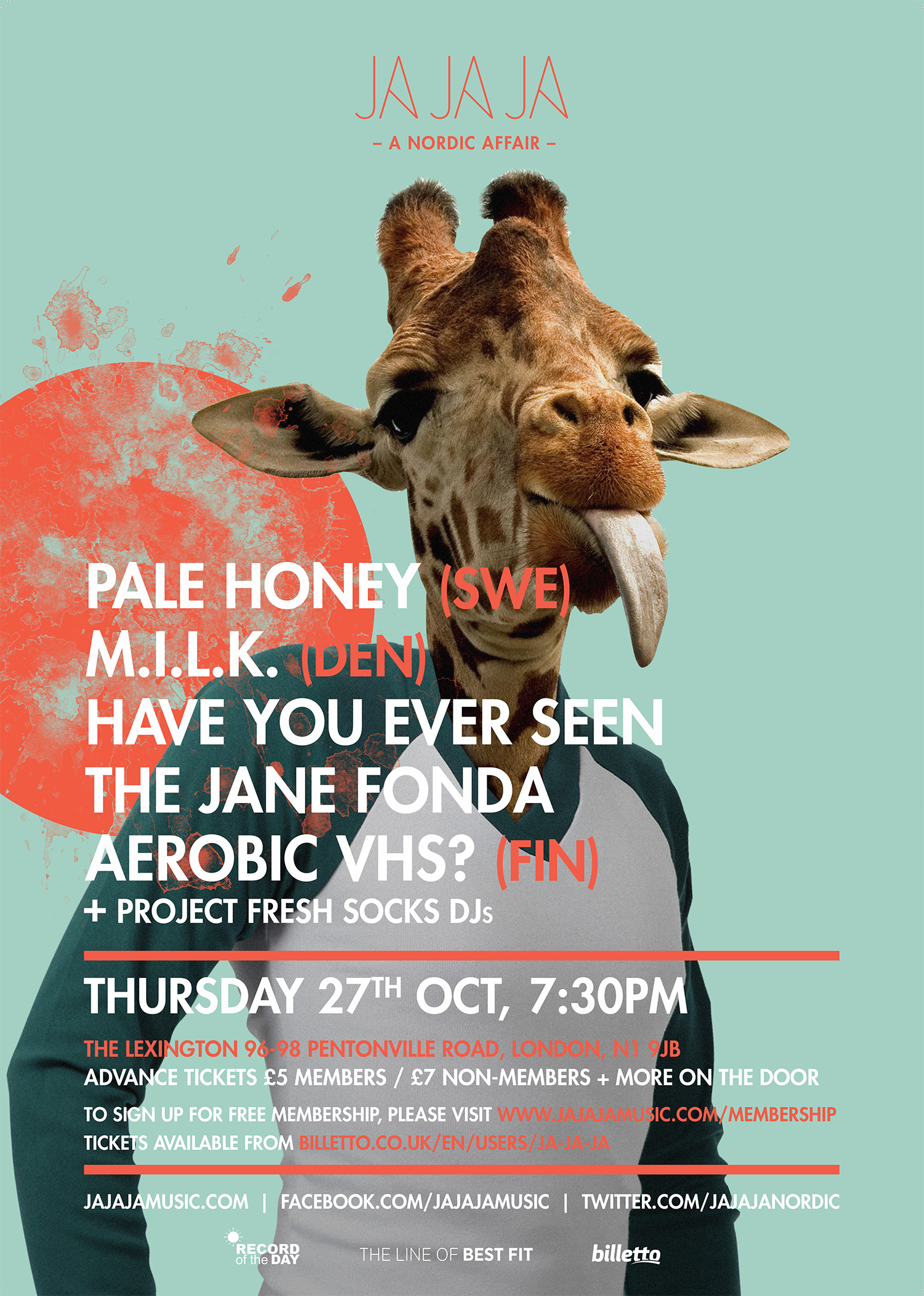 Sign up as a Ja Ja Ja member to access exclusively discounted tickets, as well as to find out about special competitions, news and offers!
Signing up is easy (and free!) – just fill out the form below!