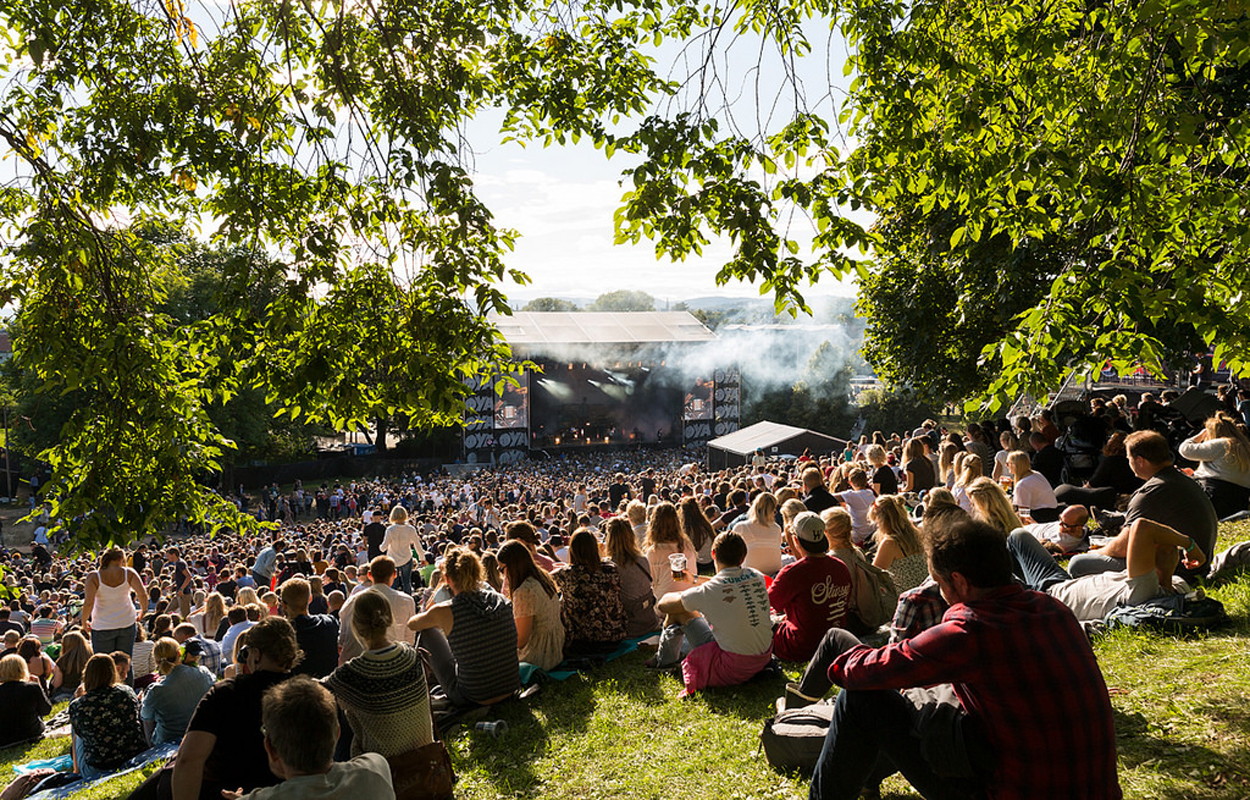 Photo: Steffen Rikenberg
Last week we spent beautiful days and shimmering nights at one of Norway's biggest festivals — Øya Festival! Let us take you with us to discover new Norwegian music and one of the best organized, greenest, most exciting and magical festivals in the world, which takes place in Norway's capital every year at the beginning of August.
Tøyenparken, in the eastern part of Oslo, turns into paradise for four days. It is a big park with green meadows, large trees and soft hills from which you get a glimpse of the sparkling blue fjord and the mountains surrounding the city. Once a year it tenderly opens it branches and hosts Øya Festival with its six stages. The bombastic line-up always finds the ideal balance between Norwegian acts like Aurora, Highasakite, Ane Brun and Gundelach, and international stars like Jamie XX, M83, Foals and Savages as well as music legends like PJ Harvey, Massive Attack, New Order and Grace Jones.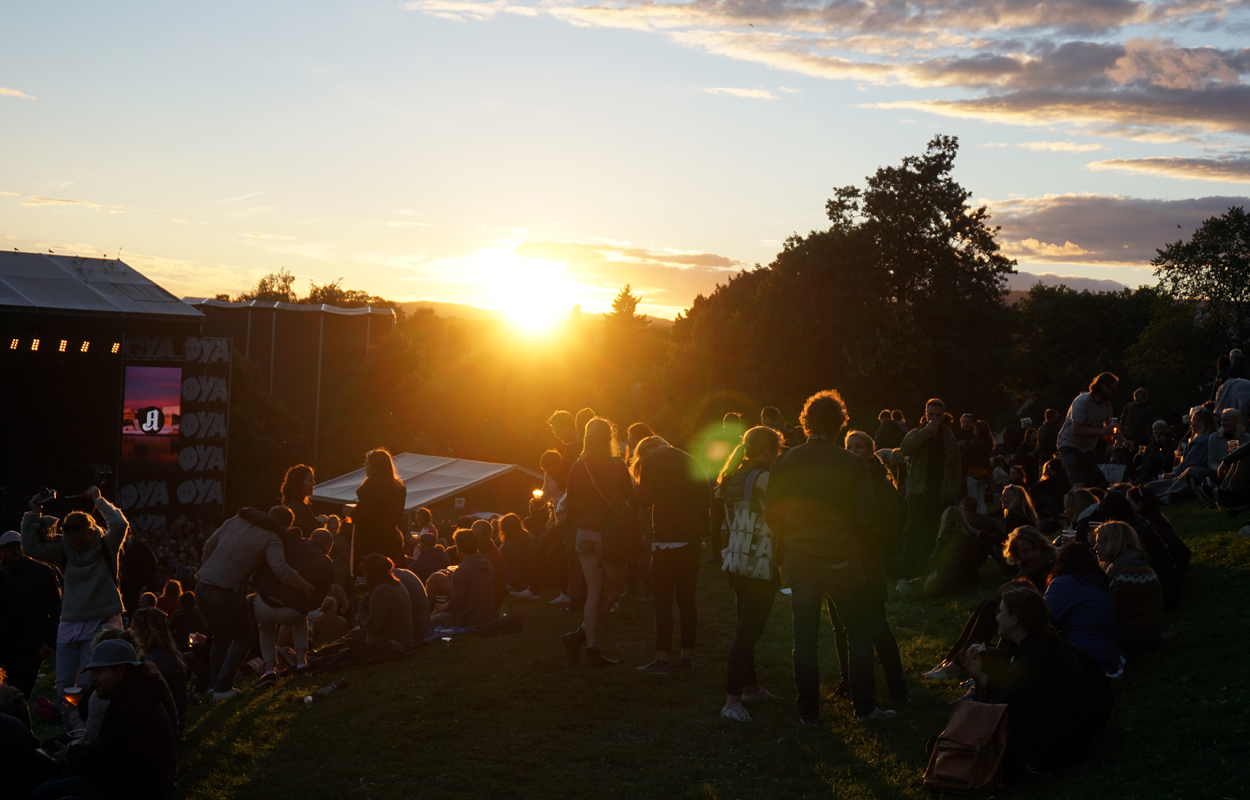 Photo: Maren Tanke
Øya Festival is not only about the musical program, it's about so much more: the creation of a better world. Environmental protection is one of the festival's biggest goals and the "ambition is to be among the greenest festivals in the world". The waste is separated and all electricity is clean energy. To get to the festival area, you're welcome to walk, take the public transport or bicycle. And don't worry! Walking in the centre of Oslo never takes more than half an hour. If you arrive by bike, your vehicle won't be lonely while you dance to the sounds of your favourite acts. Øya Festival offers free parking for bicycles with security during the opening hours. During the last few years, the creators of Øya Festival even improved their offering of drinks and food, so you'll find plenty of delicious vegetarian and vegan dishes as well as meals with tasty meat. Everything is organic and served by the hottest restaurants in Oslo right now like Hitchhiker, Piscoteket and Taco República.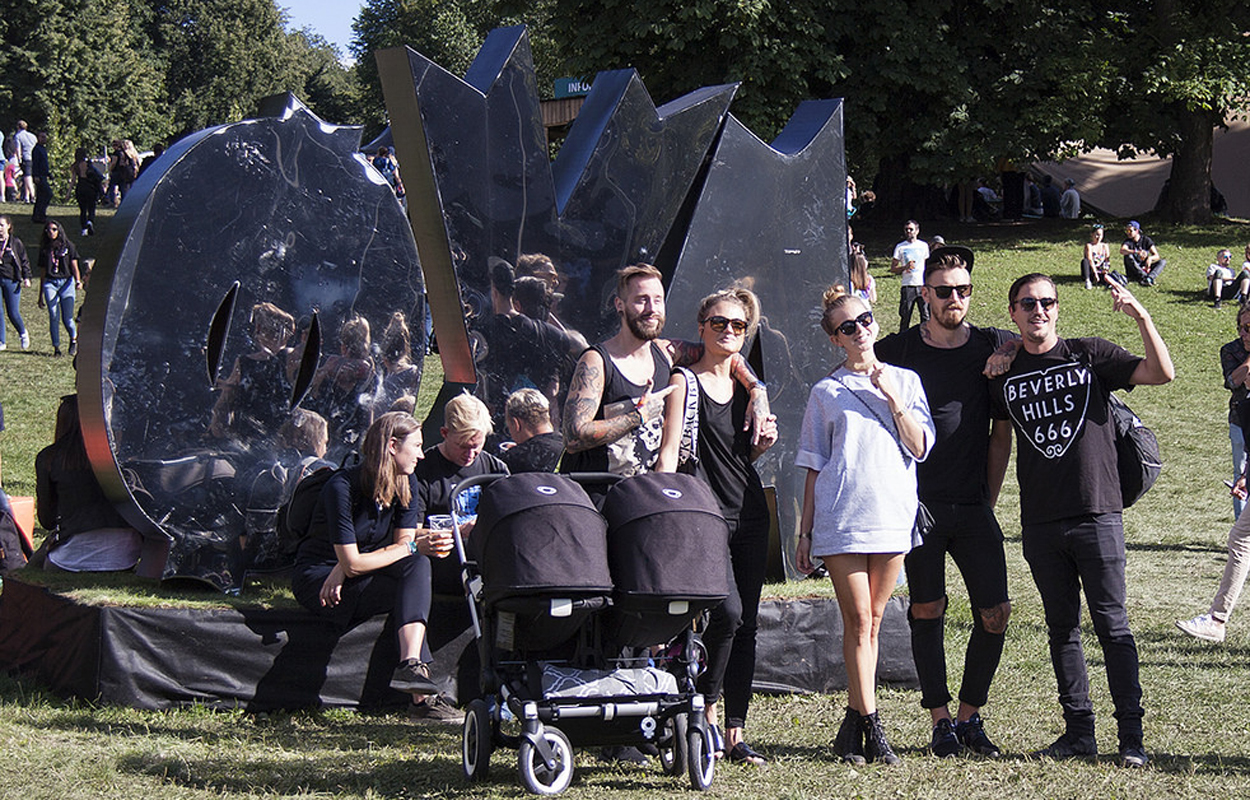 Photo: Maja Brenna
Is a four-day festival enough? Not at all, right? Not in Oslo, at least! Besides the program happening at the festival area from Wednesday till Saturday, Øya consists of Klubbdagen, Øyanatt and Øyakino. Everything starts on Tuesday with the Club Night. This year acts like Liima, Chain Wallet, Sløtface and Siv Jakobsen played in small clubs all over the city centre to kick off the festival. If you're hunting for new Nordic acts, you should definitely participate. But, have in mind, it's just the first day – don't exhaust all your resources of dancing and smiling, as there's still so much more to come!
WEDNESDAY
Wednesday is the day when Øya Festival seriously begins. You enter the festival area for the first time and can finally start to watch your favourite artists from the diverse program. So we did just that, with a focus on new and already well-known artists from Norway.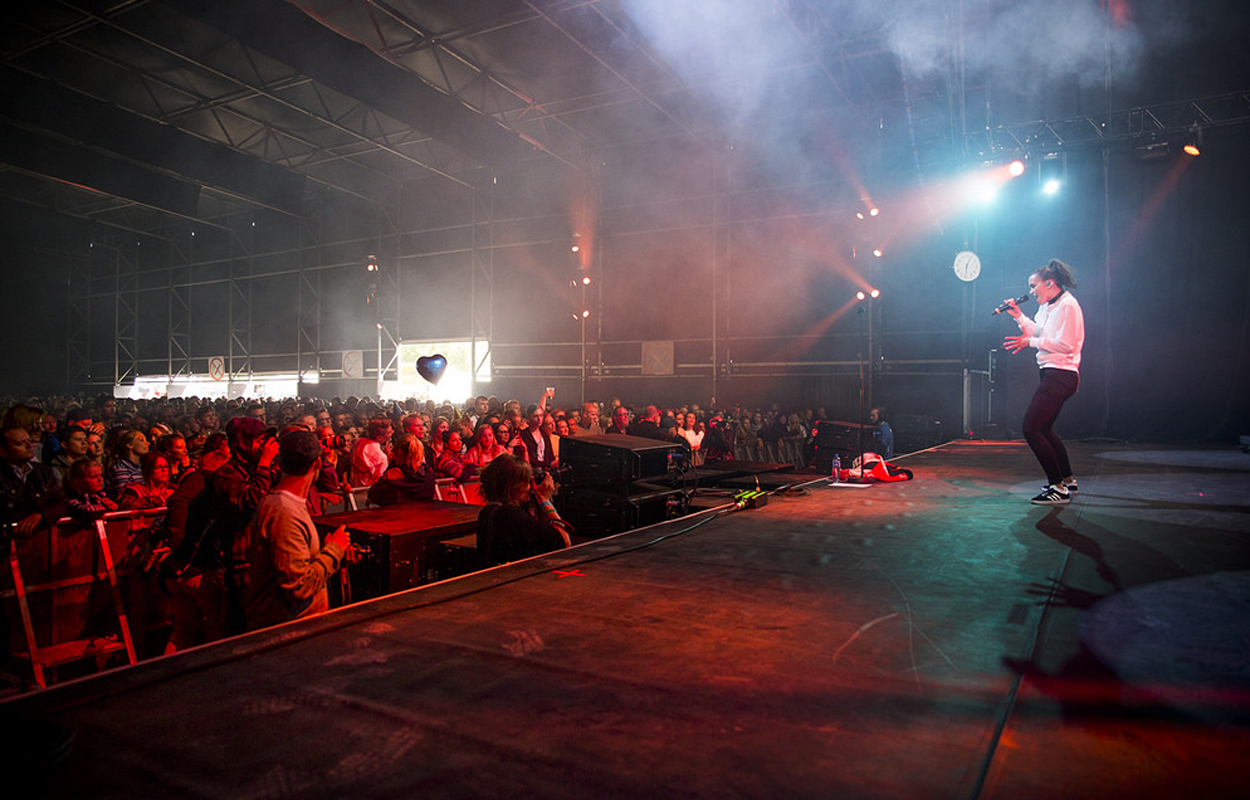 Photo: Ihne Pedersen
It was a very special day for singer Ary, who is one of our five Norwegian artists to watch in 2016. Some people might have known before, but at least when her background singer Danielle announced "It's Ary's birthday!", everyone understood her extraordinarily good mood. It's probably one of the best presents you can imagine when the whole crowd at Sirkus, a stage in a large tent, sings 'Happy Birthday' to you – so surreal that Ary forgot the lyrics of her final song! It didn't matter; we had goosebumps all over our bodies and enjoyed her powerful performance and her positive charisma.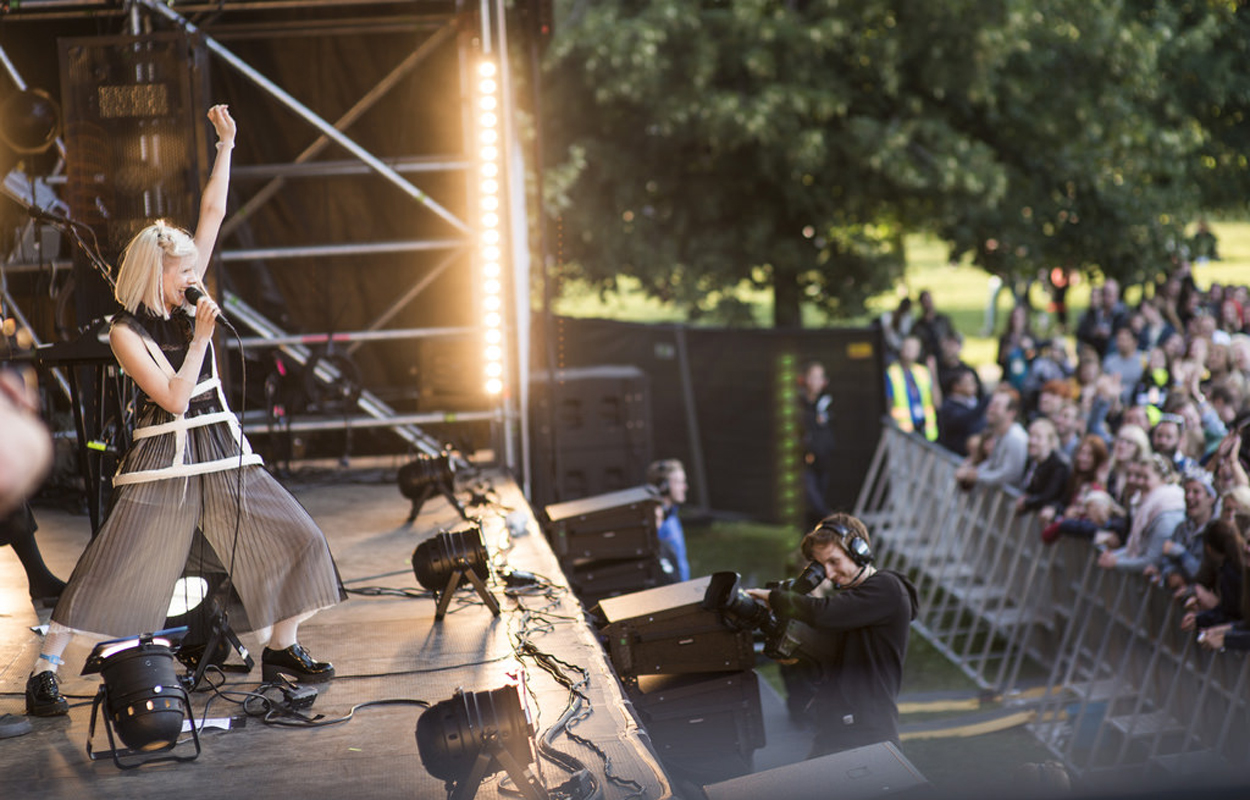 Photo: Erik Moholdt
Once more Aurora proved why she is one of the most successful Norwegian newcomers of the past few years. Her performance was as delightful as ever, and overwhelmingly sweet. Her melodies put a spell on the numerous festival visitors who came to see her show at one of the main stages, Amfiet. Aurora captivated everyone, even the audience sitting in the meadow on top of the hill just enjoying the sun. No one, really no one, can resist her infinite charm and humour.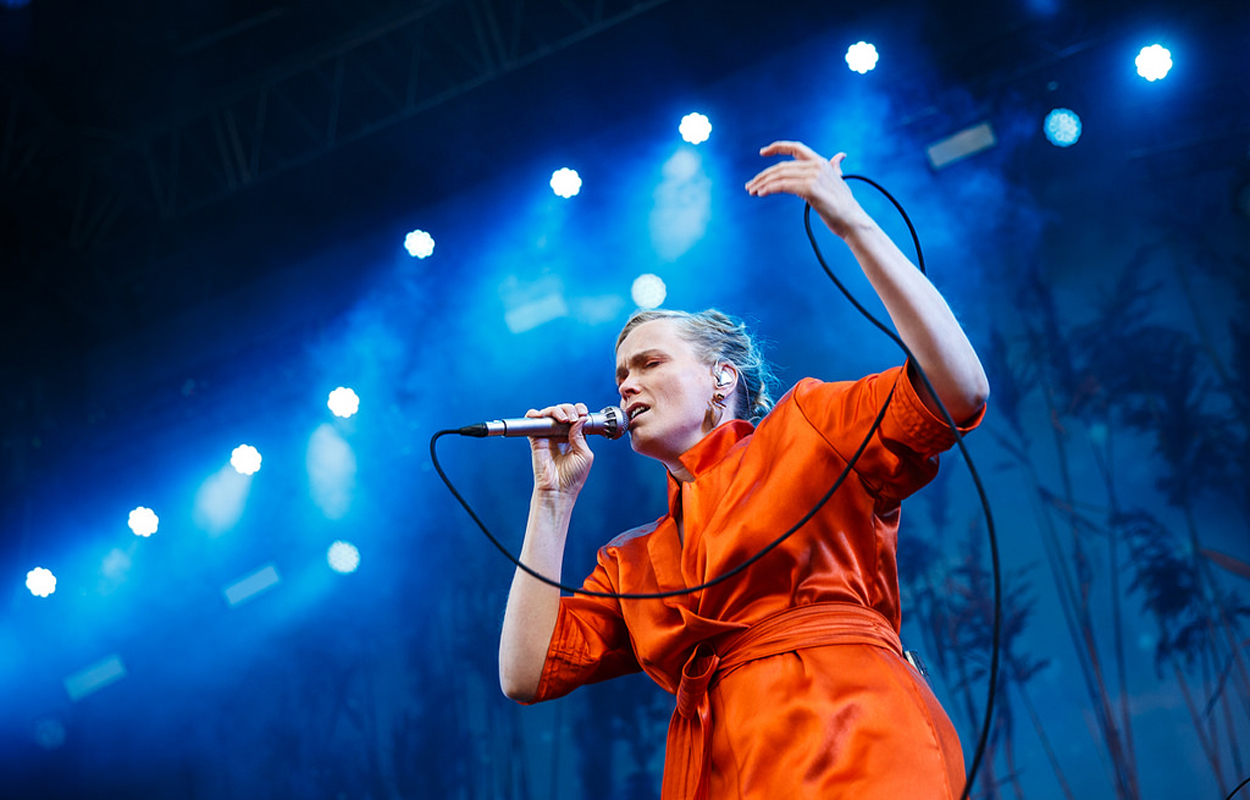 Photo: Johannes Granseth
From the first day on, it seemed like Øya Festival 2016 was driven by strong female performances. Ane Brun played right after Aurora at the other main stage called Vindfruen. Her extraordinary and powerful voice flew directly into everyone's heart while the seagulls up in the air fell silent, a light breeze touched our heads and we just closed our eyes to get carried away by Ane Brun's magic voice: "When you let go, you'll be alright then. When you let go, you'll be relieved. When you let go, you will find peace". Now, it became clear: it is impressive how many highly talented female singers come from Norway. And male as well, of course!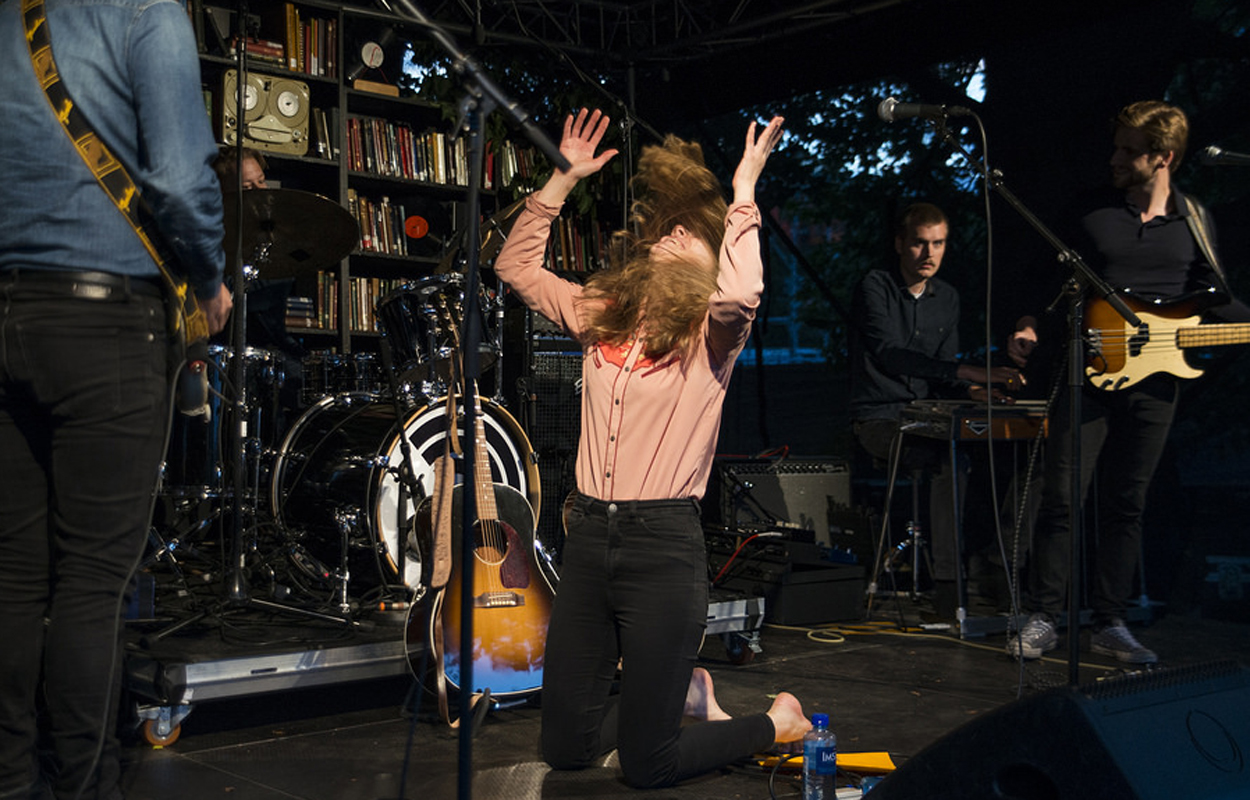 Photo: Anna Lerheim Ask
At the smallest stage of Øya Festival, Biblioteket, you can listen to new local bands. On Wednesday, we found our way to this cosy stage, that is decorated with shelves and books and we asked ourselves: are we still at a festival with thousands of other music lovers? Or did we suddenly find ourselves in someone's living room? One of Norway's most striking folk singers Unnveig Aas entered the stage barefoot, full of infectious joy to share, making everyone in the audience smile.
THURSDAY
Øya is the Norwegian word for 'island'. And, literally, Øya Festival seems to be an island. A very special one. An island of peace and happiness. You enter a parallel world from the first day on and sink down in soft meadows. It's a short trip, and even though the tickets might seem expensive, in 2016 you paid 2,604 NOK (245 British Pounds/284 Euro), it's unquestionably worth it.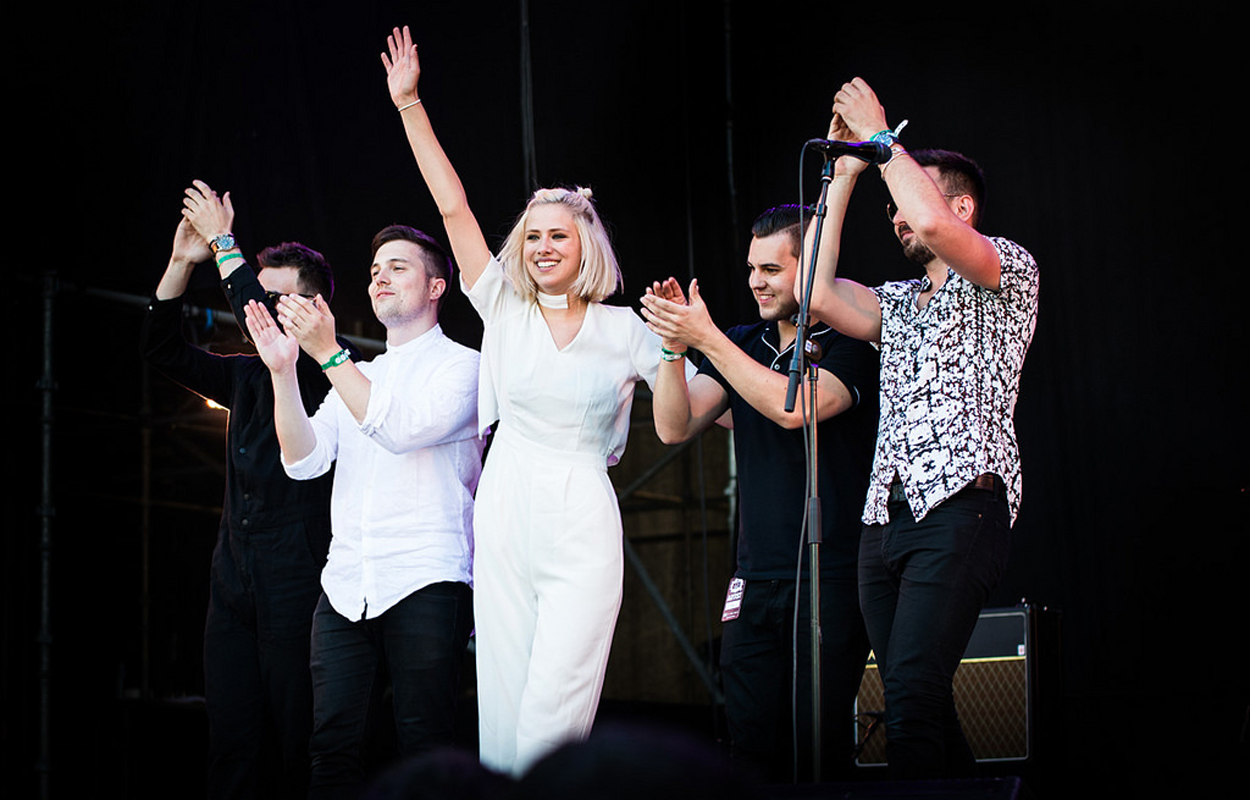 Photo: Martine Lund
The second festival day started with Dagny, who is also one of our Norwegian acts to watch in 2016. Her set was as pop as expected, and her pleasant personality made everyone feel comfortable. What a positive attunement for the following acts of the day. Dagny's last and best known song 'Backbeat' finally pushed the crowd to dance. "You really want to dance some more?" and we wanted to do it so badly.

We moved our hips and legs to the playful electronic sound of singer Frøder, who entered Øya's biggest stage directly after Dagny. And then there was Amanda Bergman from Sweden, returning to Øya after playing last year as the singer of the band Amason, who released her first solo album 'Docks' a few months ago. Like Ja Ja Ja wrote earlier this year: "Her songwriting is so strong that it's impossible not to get on board with (her) song(s), and fall deeply for its charms." The same applies for her delightful and addictive show.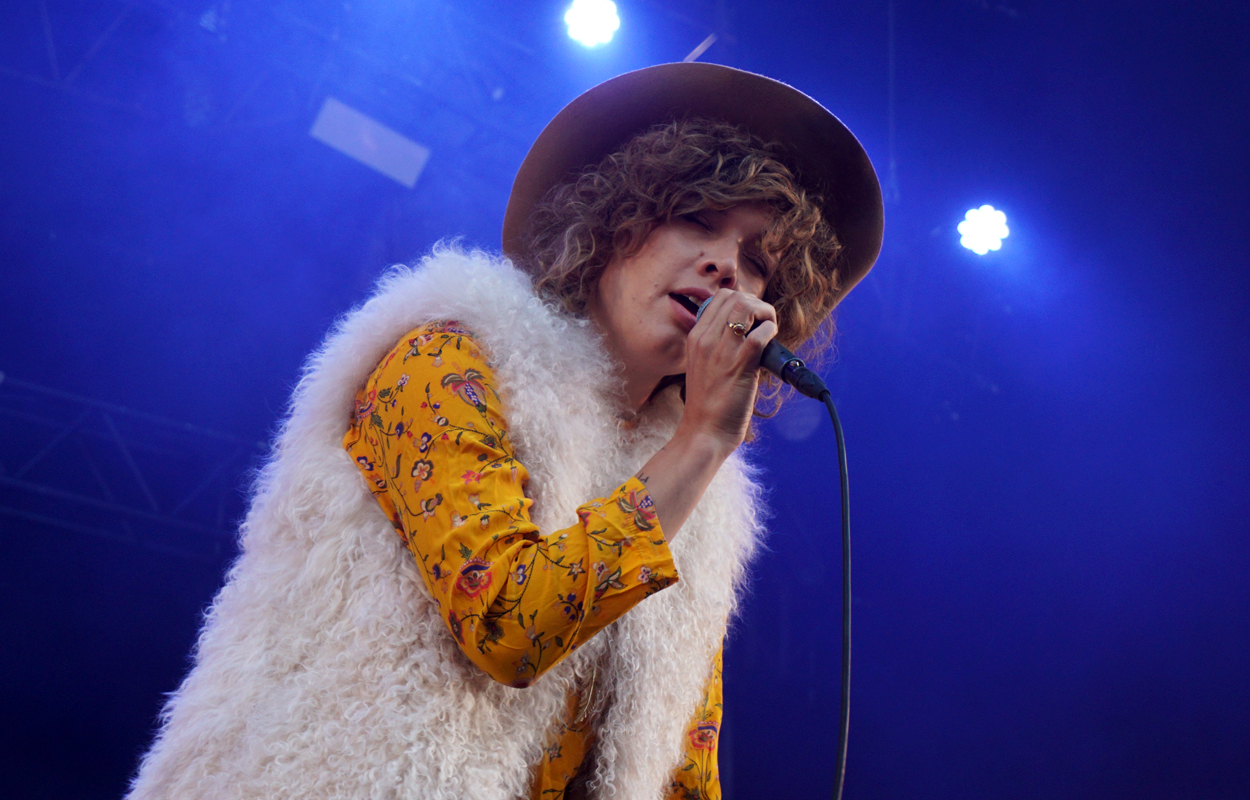 Photo: Maren Tanke
The last concert of the day at Øya Festival usually ends around 23.00 — but the party goes on. At Øyanatt the acts are playing at the coolest clubs in Oslo downtown. Just a short walk from the festival area to the centre and you find yourself dancing. This year established bands like Blaue Blume and Kenton Slash Demon from Denmark or K-X-P from Finland played shows as well as yet unknown Norwegians acts like Unge Ferrari, The Secret Sound Of Dreamwalkers and Loveless. For these concerts you have to pay an additional fee, but if you show your Øya wristband you'll get a discount.
FRIDAY
There's no Øya Festival without a rainy day. Never. But despite of drops falling from the sky, the atmosphere is the same as on all the other days: relaxed and peaceful. We are surrounded by pleasant and beautiful people enjoying music.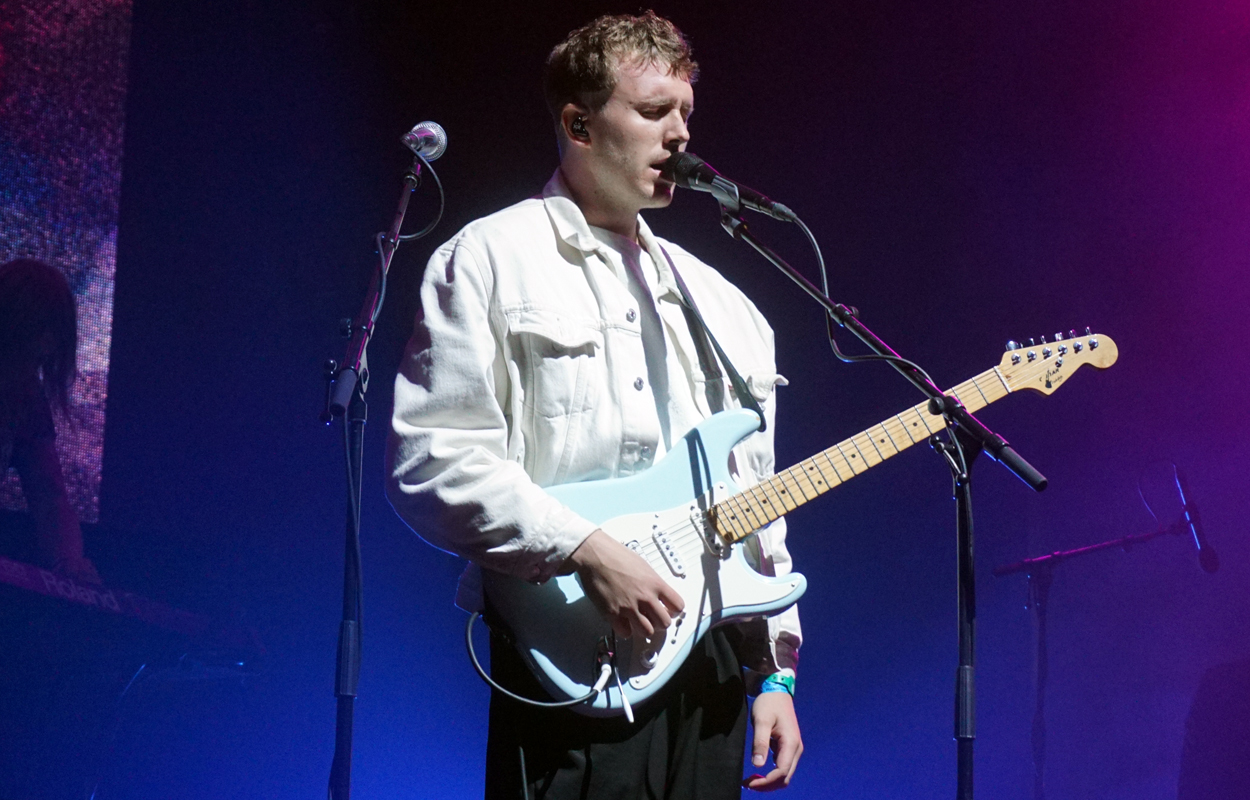 Photo: Maren Tanke
Due to the rain or probably because this musician is one of the hottest acts at Øya Festival this year, a lot of attendees found their way into the warm and dry tent stage, where former DJ Gundelach from Oslo created heavenly melodies together with his band, and his tunes were as catchy as hell. Gundelach is also one of the Norwegian artists we recommend to listen to in 2016. If you haven't done it yet, do it immediately after having finished reading this article!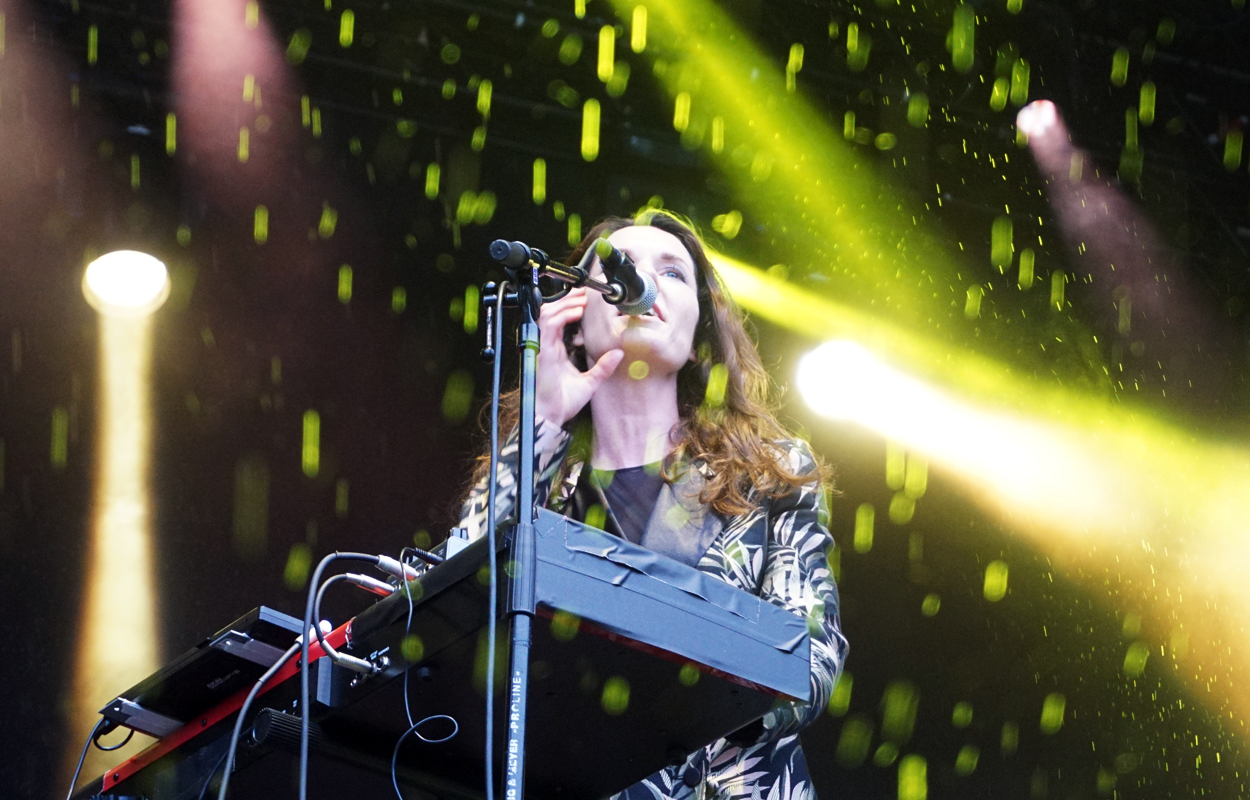 Photo: Maren Tanke
Clashes are inevitable at a festival, and this year former Nordic Music Prize winners Band of Gold played at the same time as Ja Ja Ja favourite, Farao. While Band of Gold are known for their 70's inspired music that is longing for warm summer days, Farao convinced once more with her muted but highly catchy songs. The rain stopped, finally. Everyone we talked to on Friday was looking forward to see the main act of the day — Highasakite. As well as the singer Aurora, the band is one of the most succesful acts in Norway and abroad right now. And they proved at Tøyenparken, why they also deserve it, by performing a spectacular show which was a breathtaking mixture of dark songs and lighting effects. The Norwegian newspaper Aftenposten didn't hesitate to state that Highasakite's concert at Øya Festival 2016 was the best of the year so far. As the Norwegians say "Terningkast 6".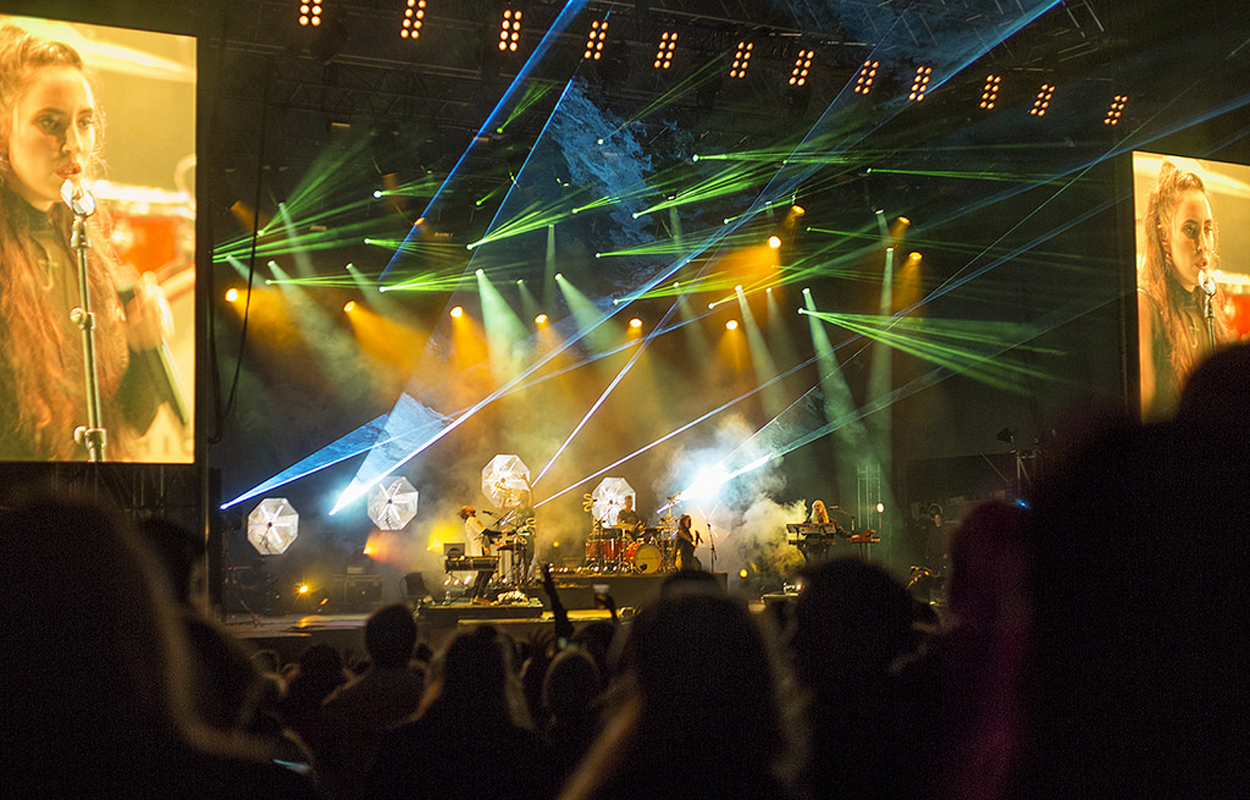 Photo: Maja Brenna
SATURDAY
Finally, and way too soon, it was Saturday: The last day of Øya. But there was no time for getting sentimental! This last day was a blast, loads of hyped Norwegian acts entered the stages and the Øya booking team once more showed their great understanding for setting the timetables in the best possible way. We got the chance to see all acts we wanted to, leaving us to do nothing else but shower acclaim on these unique talents.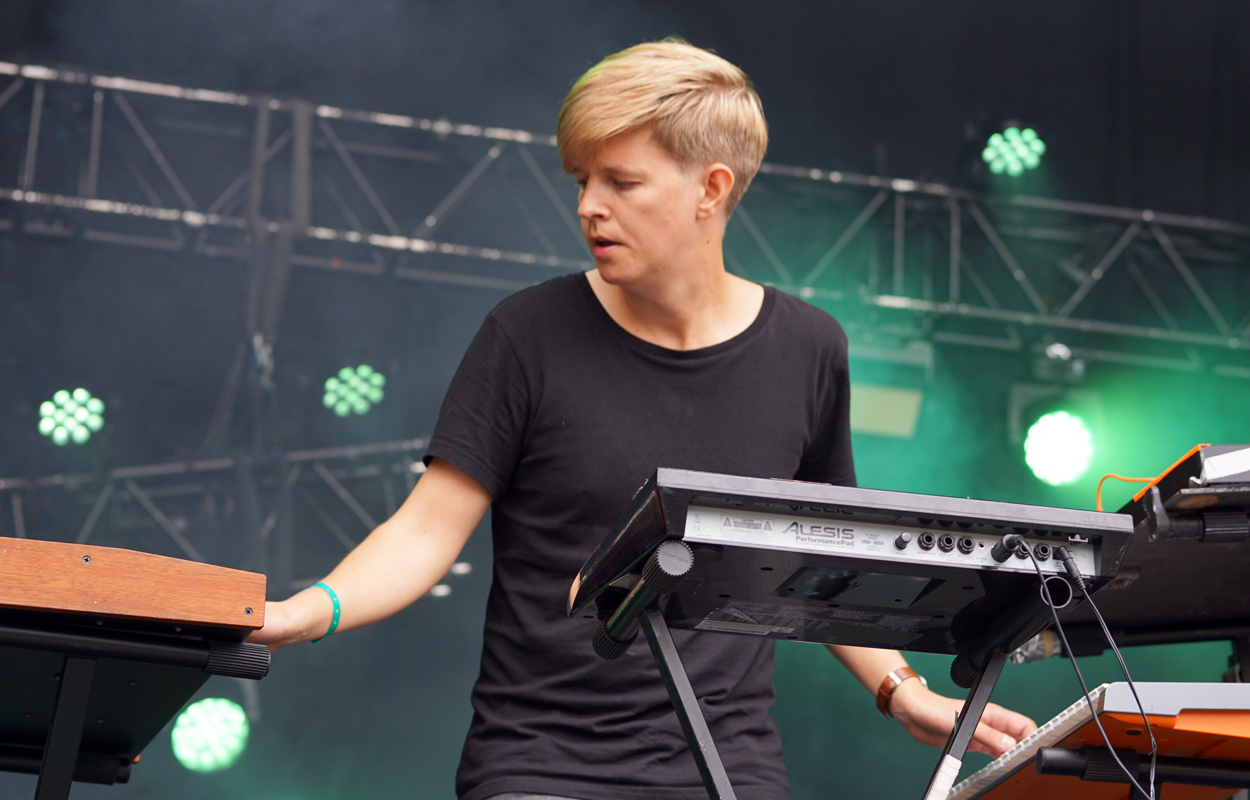 Photo: Maren Tanke
Every time we see the Norwegian duo Nils Martin Larsen and Morten Myklebust A.K.A. Apothek performing live on stage, we fall in love more and more. It's the incredible combination of Morten's softly layered voice and Nils' playful electronic sounds that offers a new heaven of tenderness. What a perfect start for the last round of Øya! After having played some gigs in the U.S. in May, Okay Kaya returned to her home country Norway to perform at Slottsfjell Festival in July and at Øya Festival last Saturday. Her music style concentrates on the essential: her pure, fragile voice in combination with light electric guitar playing to make the listener shiver.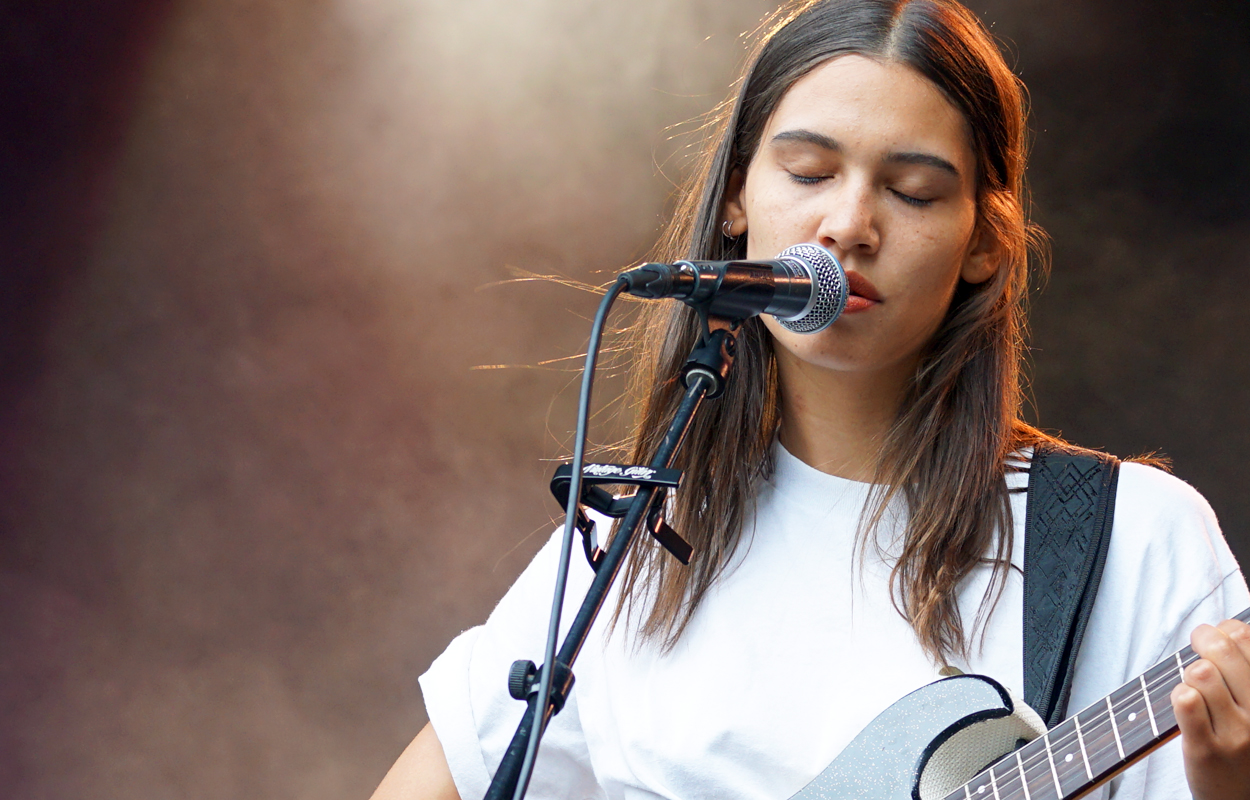 Photo: Maren Tanke
Bergen based trio Great News found their way to Oslo and entered one of the main stages in the afternoon. If there was any person who wanted to enjoy a quiet afternoon tea or coffee, sorry. No way. Great News is a rock band, or to say it with their own words: daze-pop band. From the beginning of their rousing performance, the band made clear what their music is about: shake your hair, no matter if short or long. Shake your legs. Shake everything, basically. If this band happens to be near your town soon, go!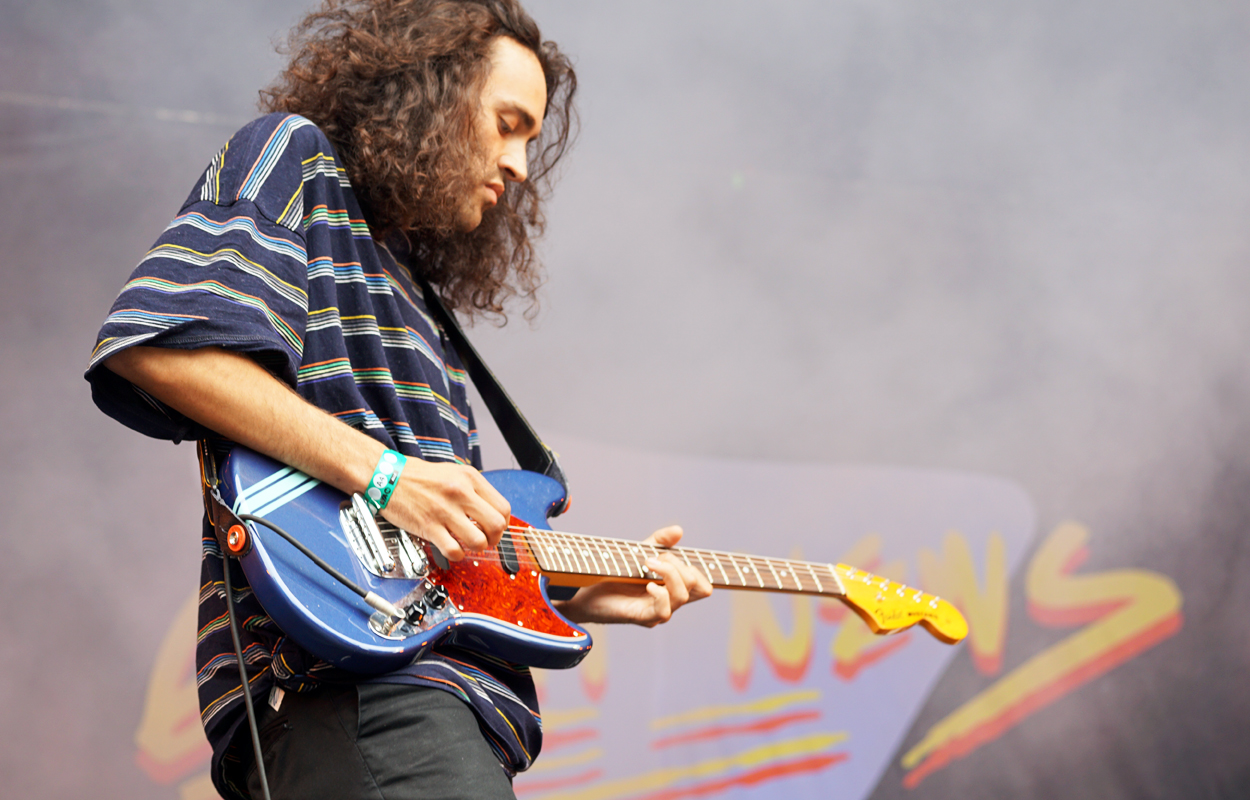 Photo: Maren Tanke
There are several of Norwegian acts who sing in English to conquer the international markets a little easier. But, of course, there are some who decide to sing in their mother tongue. Herregud, vi liker det! Norway's pop sensation these days is the 25-year-old singer Sondre Justad. He entered the main stage Amfiet with a frenetic energy which caught us, even though we didn't understand his lyrics. It was all the more powerful for the young Norwegian girls in front of the stage, who sang along with every single word. And us? We felt their fast beating hearts, and became infatuated with Sondre too.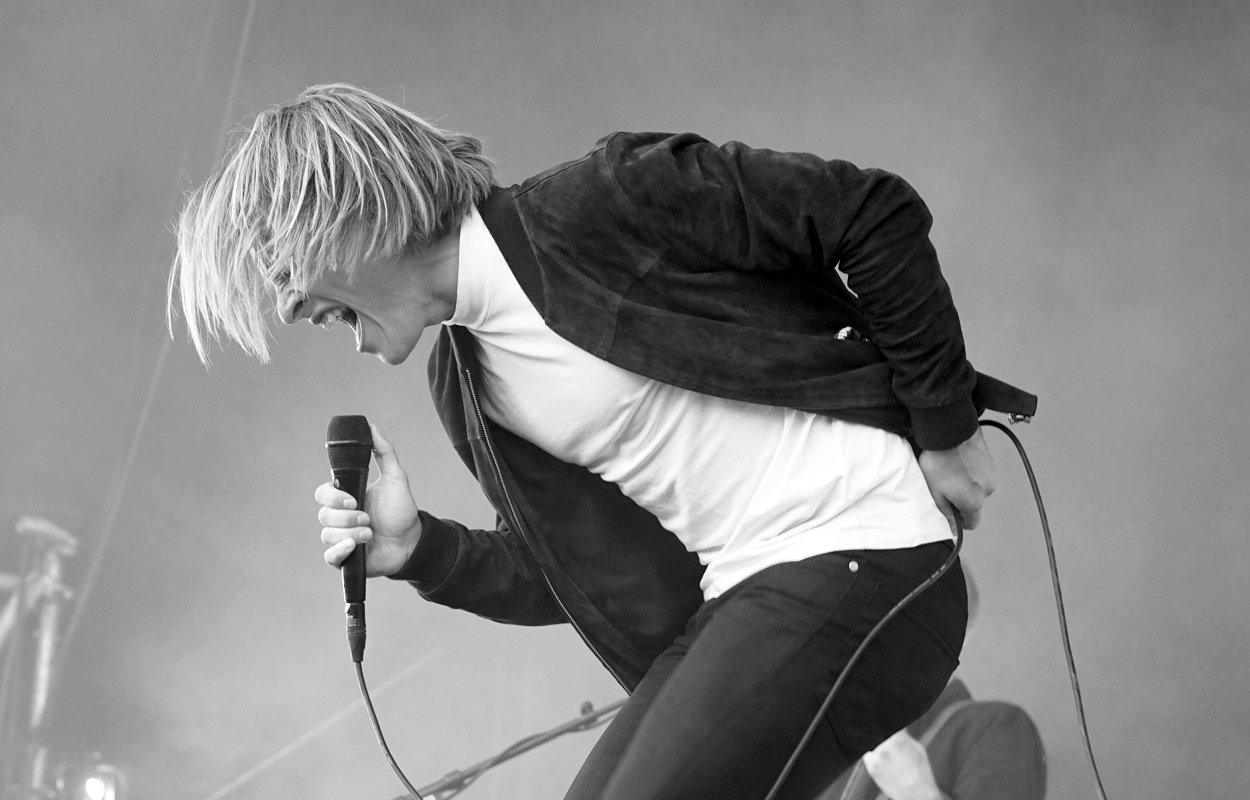 Photo: Maren Tanke
After having been bewitched by an enormous amount of intense performances during four days and nights, we're leaving the festival area with the same feeling that we had when we entered on Wednesday: a thrill of anticipation, but this time for next year's event. There is nothing else left to say: Takk Øya, det var magisk.
The ticket sale for 2017 started yesterday and you can buy your ticket here.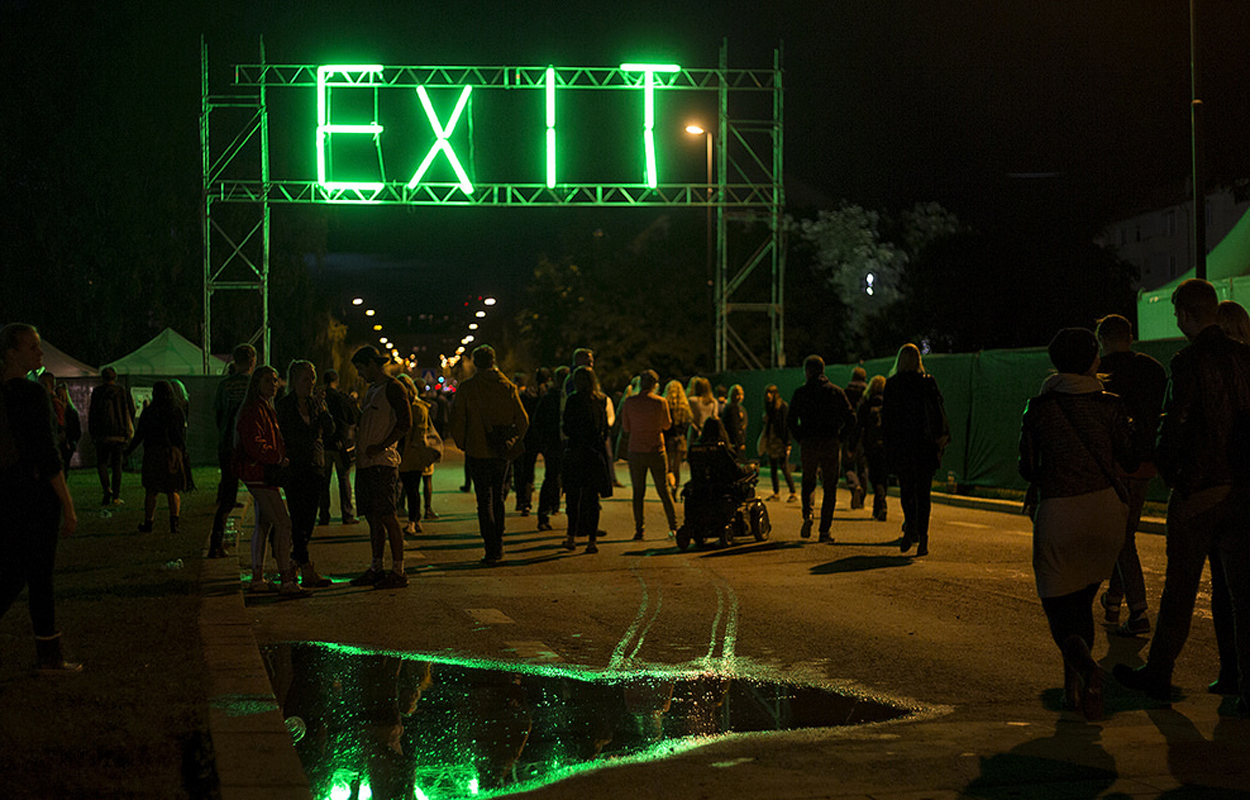 Photo: Maja Brenna