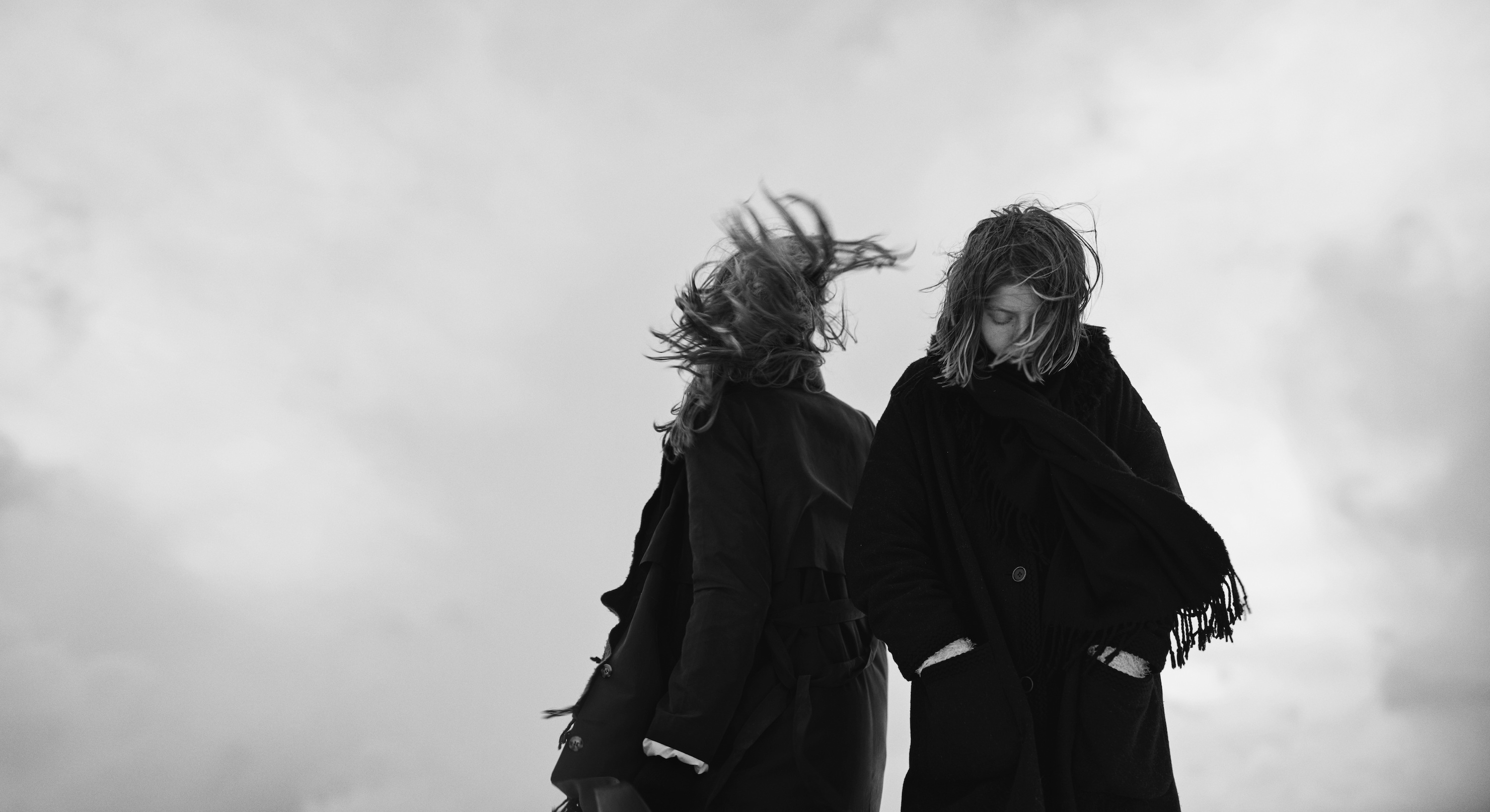 Given that at any moment in time Jófríður Ákadóttir is working on about 20 different projects (Samaris and GANGLY to name just a couple) it wasn't a surprise that Pascal Pinon, the minimal folk project she started with her sister Ásthildur, took a backseat for a little while. As such it's been three years since their second LP Twosomeness, but the wait is over – their new album Sundur is complete and we've got a new track, '53' to share with you today!
Having always been together in Iceland, the songs on Sundur came together in a different fashion as the sisters' lives diverged – Ásthildur to Amsterdam, studying classical piano and composition, and Jófríður to the open road, touring with Samaris. The LP's title – Sundur – reflects this – it refers to the Icelandic proverb 'sundur og saman', meaning 'apart and together', and it's this separation, with the album written in pieces across a year and a half in various locations, which has informed the album to the core – not just the logistics of it, but also in terms of inspiration. Ásthildur elaborates: "The fact that we spent so much time apart creates completely different connections between the songs than on Twosomeness, which for me makes it more diverse in the best way possible". However, the two's connection, and ability to craft raw, affecting songs, which have such power despite their fragility, remains absolutely the same. 

Following one of those random, brilliant encounters with a virtual stranger, Jófríður wrote '53' after being haunted by the sadness of the story he told her in a church. It's best expressed in her own words: "I was in the east of Iceland, it was early morning after this art festival I was playing at, we'd had a late night and were so drained, completely empty and so receptive and vulnerable to emotions.
I had met this boy there, I hardly knew him but we went for a walk around the town. We walked to a church, which happened to be open so we sat down and started talking about life and death as if we'd known each other for years and years. The boy told us about his mother and how she had passed away when he was just a kid. She had suffered from mental illness and jumped out of a window. When I got home I kept thinking about it, it had such an impact on me. I was beginning to understand that people don't live forever. I wished there was something I could say to him but I didn't know how, so I put together this song, as a kind of consolation or a message to him."
'53', the first offering from this new collection of songs, is a leafless tree, swaying in the breeze. Spider-leg branches stark against sky, quiet with dormant power – for a song inspired by death, '53' feels vital. With raw, unaugmented vocals and a simple guitar line, atmospheric production swirls like mist at the base of it, a sort of ominous presence, but unquestionably beautiful. Of course there is great, moving sadness here, in '53', but in feeling any sort of powerful emotion, you have a reminder that you're able to do just that – feel – which is so very much a part of living.
Sundur will be released on August 26th via Morr Music – check out '53' below.