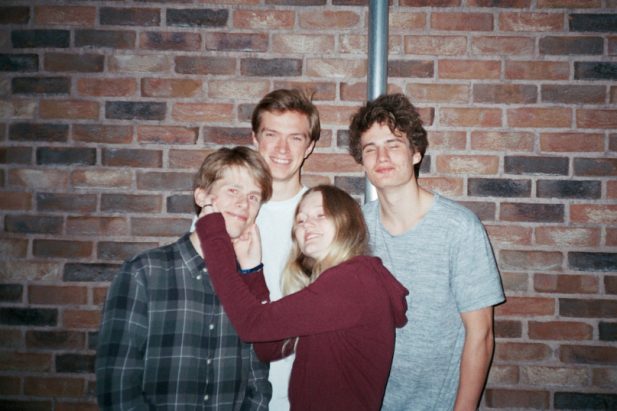 Photo Wlliam Glandberger
"'Sponge State' is our term for the feeling that something needs to change," and change it most certainly did when the artist FKA Slutface, decided they'd had enough of getting caught up in the spaghetti junction of social media political correctness, and in an adroit and totally PUNK move, ever so slightly changed their name. Out with the 'u', in with the 'ø'.  Say hello to Sløtface! Of course, the fact that the 'ø' is pronounced as a 'u' in Norwegian, should, touch wood, go over the heads of even the most ardent of prim-minded jobsworthies, and Amen to that!
"Got these st*tches in my lip and they're keeping me shut tight, l put my headphones on, you see me putting off a fight"
So goes the opening line of 'Sponge State' the latest punk-popper from the Norwegian 'rioters'.  Speaking about the rationale behind the song, Haley Shea explains, "The song is a reaction to the apathy and lack of action that is symptomatic of our generation. It is about the fact that making the world a better place isn't about sharing a post or tweeting. Social media is a powerful tool for social change, but real change comes about by doing things and being an active participant."
A kickass call to action then for a younger generation whose world view is becoming increasingly insular, blinkered by the distractions of never ending feeds of 'virtual' trivia such as keys-playing cats and how to perfect your pout.
'Sponge State' has all the usual Sløtface hallmarks – clangourous jams of hyperactive bass and whirlwind guitar, vigorous drumming and Shea's punchy, nuanced vocal. Sløtface has an impeccable R/S (Lasse Lokøy on Bass with Halvard Skeie Wiencke on Drums) whose intuitive syncing, which gives some serious propulsion to Tor-Arne Vikingstad's rip-roaring riffs, is pitched so perfectly as to never dominate Shea's youthful vocal.
This is intelligent, assertive, vigorous punk meets catchy, hook filled punch-pop – a style combo that Sløtface seems to be playing around with more and more with each single release. Having already laid down their singles for 2016, it'll be more than interesting to see what comes out of the studio when they release their debut album.
'Sponge State' is lifted from Sløtface's debut 4-track EP of the same name. Due out on May 27th via Propeller Recordings, it also features previous singles 'Kill 'Em With Kindness', 'Shave My Head' and 'Get My Own'.
Soak up 'Sponge State', think, change and ACT, not react.