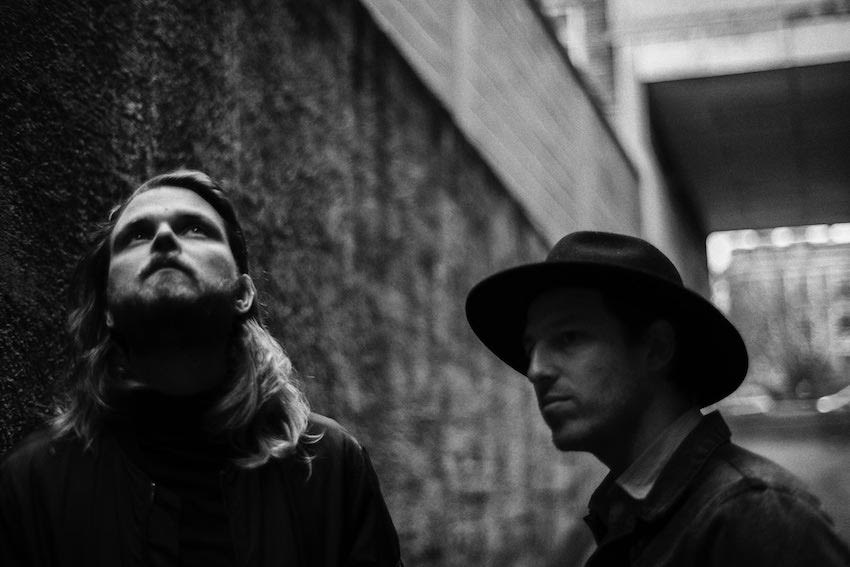 I took one look at this photo and two questions sprang to mind – what is Caspar looking at, and, what has Carl so pensive? Caspar and Carl, in case you still don't know (where have you been?) are Palace Winter, the Copenhagen based duo currently taking the UK by storm, and I mean STORM.  Only just this week, BBC 6 Music Radio has playlisted their last single, 'Soft Machine' and the Danish pair will be joining us to perform at Ja Ja Ja in London on the 28th April!
The third track to be lifted from Waiting for the World to Turn, their forthcoming debut album due out on 3rd June, 'HW Running' is an action-packed track inspired by the PT Anderson directed epic drama, There Will Be Blood, now widely regarded as one of the best films of the 2000s, and which alas, I've never seen.
However, having read the storyline, I, like HW, would probably be found running as fast and far away from the anti-hero as I could possibly get, and that folks, is exactly how this track opens.  Pacy propulsion and the suggesion of heavy, laboured breathing make the perfect sonic depiction of rapid running – running away, running to shake free, running to forget.  From the moment the ignition is switched on, the engine of this track roars.  This is a song with a heartbeat that throbs, a panoramic wide-screen affair that replicates the vast expanse of the Amerian oilfields at its thematic core.
Leaning heavily in an Americana direction, HWR is probably Palace Winter's most rock n roll style song to-date. Its dense soundscape is made up of several elements, layered over and wound around each other, whilst retaining those trademark PW sensibilities, of guitar led verses and synth fuelled choruses underpinned by rousing break-neck paced percussion.  Layers of synths, guitars and vocals flood this voluminous track with a myriad sounds giving it a colourful and textured personality.
But it's the minute quirks and cleverly arranged additions that light up the thunderous landscape, most especially at the bridge, which sees a fury of electronic experimentation.  In keeping with the theme, Hesselager's wizard musicianship conjures up the notion of HW running up and down the keys, while elsewhere, he indulges himself and us, as his furious knob twisting and twiddling imaginatively choreograph an electronic whirling dervish.  In the midst of the flurries and thrums floats Coleman's sweet warm vocal, the air of calm amongst an increasingly charged instrumental build.
Coloured by up-tempo Americana with more than a hint of swing, 'HW Running' with its uplifting vibe and whirlwind instrumentation is a song that grabs your attention and swaddles it in the many billowing layers of its vast atmospheric dimensions. With its propulsive foot-step and cinematic feel, you'll find yourself mentally running through the widescreen frames of yet another of the magnificent blazing soundscapes that have become something of a Palace Winter stock-in-trade.
'H. W. Running' is available now and is taken from the album Waiting for the World to Turn, which will be released via Tambourhinceros on 3rd June. So check out the new tune, and get your tickets to catch them live at Ja Ja Ja now!