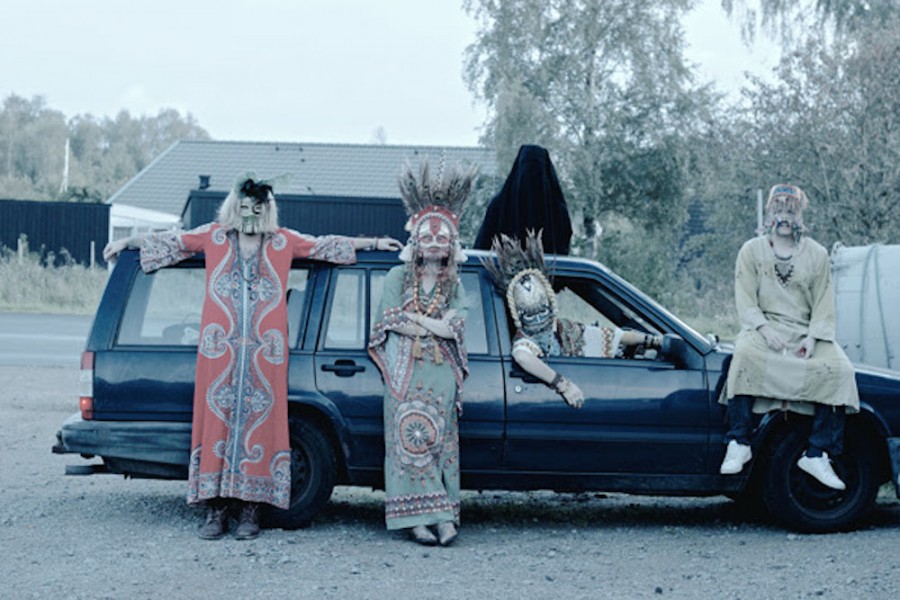 After the release of their last album Commune, in 2014, Swedish tribal psychers Goat filled their days touring and 'festivalling' across the globe, only drawing breath mid Summer '15, when they stopped to drop their Double A sided 7inch, 'It's Time for Fun/Relax' – the former of which had our endorphins rushing and swooning here at Ja Ja Ja.  Interestingly, these tracks were released without the intention of ever being featured on any upcoming albums.
Eight months later and up springs 'I Sing in Silence', the title of which is something of a misnomer given its non-silent vocal content. Premiered on BBC6 Music, this piece of slacker Afro pop is yet again one part of a double A, and along with the flip track, 'The Snake of Addis Ababa' will be released as a 7″ vinyl via Rocket Recordings on 27th May.
The band's official statement on the new release explains, "Instead of plugging in new instruments, the band have unplugged and created an addictive groove with mostly un-amped, acoustic instruments."
Warm and inviting, 'I Sing In Silence' is a brightly coloured undulation, full of love and joy. Somewhat redolent of the vibe of Paul Simon's 'Graceland', it's a wonderful world melting pot of Nordic miscellany a la Broen and Karokh, 70's retro in the mould of Jethro Tull, and, modern day afrobeat sounds as purveyed by the likes of the luscious Orchestra Baobab.
A tune to warm the coldest heart and brighten the dullest of grey days, 'I Sing in Silence' is an invitation to Summer to come join the party and get its sunshine on. Radiating happiness, this isn't just a song, this is musical 'joie de vivre'. Feeling a bit blue? Give it a whirl. It'll turn that frown upside down.
'I Sing In Silence' is now available to stream on Spotify, iTunes & other digital platforms, here.  The 7″ Double A vinyl (back by 'The Snake of Addis Ababa') will be released via Rocket Recordings on 27th May.