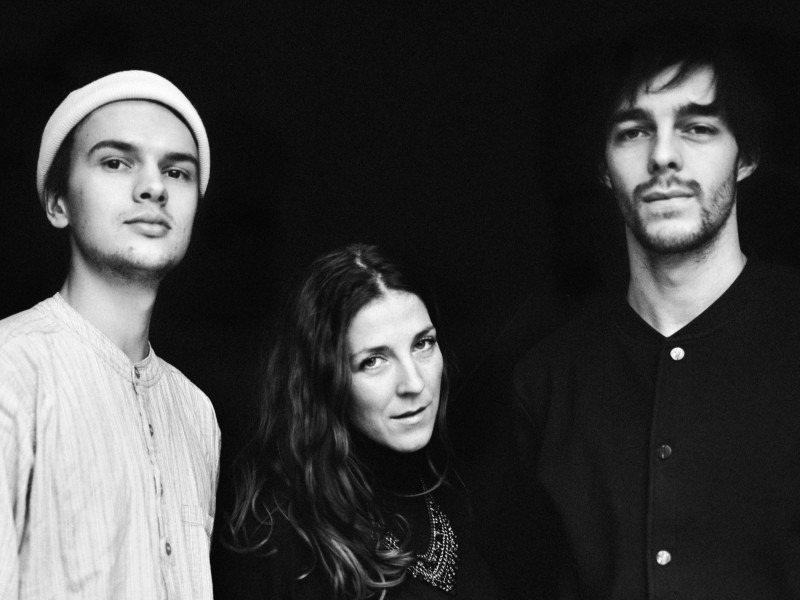 Photo: Nick Hune
In this superficial, fast-paced world of passing thoughts, brief glimpses and impulse actions, we spend so much of our lives speeding through on auto that we rarely take time out to reflect, reason, think, or just plain old 'be'. By allowing our minds to flow in and out of our self-conscious, we free them to wander into the known and unknown, both rational and abstract, which is exactly where 'Into Dimensions' the début single from new Danish trio, IRAH, wants us to be.
Recently formed group IRAH comprises singer Stine Grøn (vocals), Adi Zukanović (synths), and Oliver Laumann (drums). Based in Copenhagen, they hopped across to nearby Berlin to record some music at the Funkhaus, former home of the East German broadcasting corporation, and in little more than a sixty minute free-form jam, they had created 'Into Dimensions'.
"I want to meet the invisible me, can't be haunted enough to wake up and see that this is not the only reality that is loading, I fall into dimensions, this is it, that is all that I know, all that I know …"
'Into Dimensions' is a mood soothing, pulse slowing, dreamy ballad, in which a blush of iridescent vocals floats across a dark, open sonic sky. Opening with a prolonged electronic chord suspended in a dark void, one already feels that this song is set in a far away, other world into which one must transcend rather than physically 'move'.
This is a song of light and dark: the light of Stine Grøn's delightfully dreamy vocal, blanketed by clouds of angelic harmonies, is in airy contrast to the dark spacious synth-bass and sombre electronica peppered by pellets of electro noises. A lo-fi, low key affair, with an easy charm which is enhanced by slick 'n' slow stick click and soft toms jazz percussion, it rises softly and gradually to a climactic finale of intoxicating sensuous beauty.
Accomplished musicians, with a superb pedigree, IRAH are just at the beginning of their journey, and look set to have a successful future; if this single is the benchmark, it augurs well for upcoming releases. Listening to 'Into Dimensions' is like having an out of body experience, during which your sub-conscious is whisked away by otherworldly spirits into a vacuous dark dimension, wherein your soul finally realises its true self.
'Into Dimensions' is available now through digital outlets via Tambourhinceros – you can stream or buy it here or listen below.