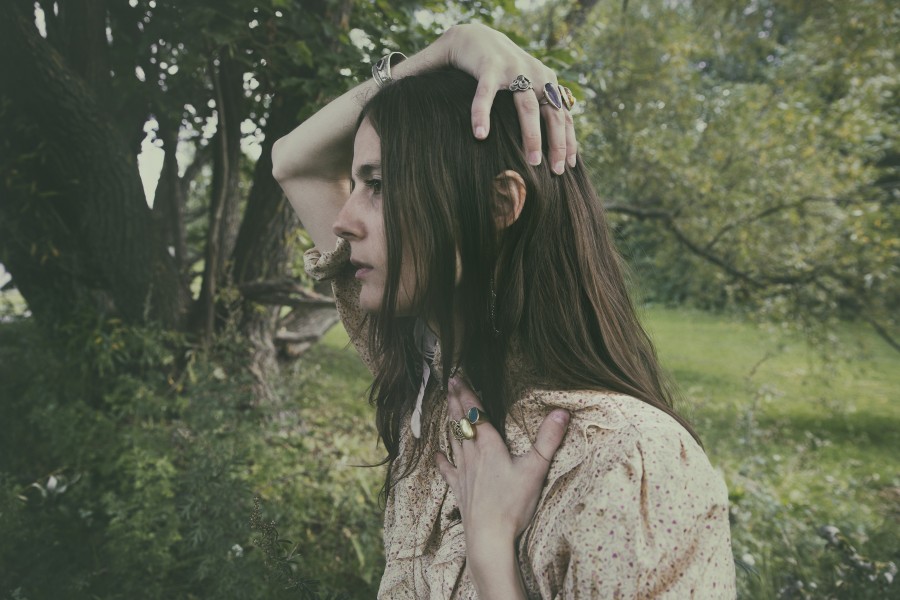 Photo: Julia Naglestad

We met the Norwegian songwriter Frøkedal a few days before she was leaving Norway's capital Oslo to go on tour in Great Britain and Germany to present her debut LP Hold On Dreamer — which was just released today!
With her joyful and catchy song 'The Sign' in our minds and its promising lyrics on our lips, we went to meet Frøkedal in Oslo. It was a day with a bright blue sky, the birds were singing and the left over snow was slowly melting away in the warming sun. We definitely don't exaggerate when we say it felt like the first day of spring. Well, could there have been any better conditions to have a lovely chat with Frøkedal? No, no, no. We talked about her début album Hold On Dreamer which is released via Propeller Recordings today, about her dreams and her very adorable and special way of songwriting.
Spotlight Interview: Frøkedal
For those who haven't met you yet, could you please introduce yourself — who are you, where are you from, and how would you describe what you do?
My name is Anne Lise Frøkedal. I'm from Norway, originally from the West Coast of Norway. From a very small place with less than 5000 people in the whole municipality. I used to play in the only band that was there. Now I've been living in Oslo for quite a while. What do I do? I'm a songwriter and I have a new solo project called Frøkedal — basically it is pop music with a hint of electronic sounds.
The song 'The Sign' from your début LP Hold On Dreamer sounds like the perfect song for the forthcoming spring-time. It is so cheerful and lights up the grey winter days. What can the listener expect from the other songs?

It's a mixture. 'The Sign' is one of the biggest of the songs. When I was working on the album, it was important for me to create a smaller sound. Especially in one of my former bands, Harrys Gym, we had a big sound. This time I wanted to go the other way and see what happens if I try to do as little as possible. There is hardly any bass on the album, 'The Sign' is the only track with a bass guitar. There is a drum kit on certain songs, but mostly it's just two drums, a floor tom and a snare. But it doesn't necessarily mean that the songs are very quiet. We just tried to use less stuff.
As you mentioned, you were member of the band Harrys Gym and you were also the lead singer of another well known Norwegian band, I Was A King, what is the difference between being part of a band and playing as a solo artist?

A band is a collective. At least a lot of the bands I've been in have been collectives. Even though you write the songs, there will always be a lot of opinions in the band whether you want it or not. Now, as Frøkedal, I try not listen to people unless I want to. I don't want to feel obligated to take anyone's advice. But I play with very talented musicians and they do affect the music a lot. If we are having doubts about how to do something, I will just follow my good feeling and no one will give me a hard time about it. I guess, that is the difference.
Where do you find your inspiration for your melodies and lyrics?

I think, time is very important to be able to write music. So, I can't be running around doing stuff the whole time. Sometimes, I just need to take a step aside, and don't be surrounded by rehearsals, a lot of people and meetings. I like to go somewhere where it is possible to think and do things slowly. What inspires me to write songs is: People. People I know, and their stories.
So you are open-minded, listening to everyone and everyone's stories?

Well, I have a lot of friends, and a good friend wants to listen. It is kind of a mixture of what I am experiencing myself and what my friends and people I know have been experiencing. Sometimes I can even just read something in the newspaper and imagine someone's story based on that. It should not be only to write about yourself. Over the last few years I found out , that if I wrote about what I have experienced, I felt somehow attached to the truth. If the lyrics or the words don't tell the story the way it really was, it gives me a headache. I tried to solve it, but if I am telling a story that I don't know all the details about, I can just fill out the gaps myself and it doesn't really matter. It is good to move away from your own experiences sometimes.
Your debut LP is called Hold On Dreamer. Based on that, let's talk about dreaming. Do you dream and can you remember your last dream?

Yes, I dream. Actually I think, all of us dream every night. But usually we don't remember our dreams. So, I don't remember what I dreamed about tonight, even though I remember waking up from a dream. Lately my dreams been a lot about travelling, because I'm mentally preparing to go out and tour. Even though I am not necessarily touring in my dreams, I am trying to find my stuff to go somewhere. That's a very typical dream these days.
Does it happen that you write songs in your dreams? Or that you have the best ideas in this very creative state of mind between being awake and falling asleep?

Just before you fall asleep you are in this state that is very… accessible? It gives you a lot of impressions that you wouldn't otherwise have. I think this is very fascinating. I had a lot of weird experiences in that special state of mind. Sometimes I've heard people's voices, like friends saying just my name. I guess, we are able to communicate differently in this state of mind. So, yes, it happens: I dream something, and I write it down. There is a song on my new album called 'Dream'. And that is kind of a retold dream.
Do you sometimes sing to yourself?

Oh yes, all the time. I do that a lot. When I feel very stressed about something or find myself in a crisis, I can just go and sing to myself. Coming up with melodies and words that calm me down. I think I have always done that. When I was a kid, I just loved listening to music. I had a Walkman and wouldn't be aware of the fact that when I had my headphones on and thought, I was just singing quietly along to the music, I was singing very loud. I used to embarrass my parents a lot. When we were travelling, on a ferry or whatever, I would just be the weird kid sitting in the corner, singing loudly to herself.
That's such a nice picture! Do you have any good music tips to share with us?

There is a band I have collaborated a little with, Ost & Kjex. They just released an album that they've been working on for years. They are really good. And there is Hanne Kolstø, she also just released a new album. There are a lot of electronic artists that I really like, André Bratten for example. And I am a huge Todd Terje fan. I cried when he played at Øya festival. Some people dance, some people cry. So, I cry. I just heard a Norwegian band called Dråpe, which means drop. They used to play some kind of shoegaze music but they changed it into 60s psychedelic pop music.
And finally, what does the rest of the year hold for you?
We're going to do about 20 gigs in the United Kingdom, Germany and Norway from now. The last of these gigs will be in the end of April. We play at some festivals in the summer, Øyafestivalen is one of them, and some other festivals here in Norway. And hopefully some in Great Britain as well. And then after touring… I've started working on new material already, but like I said, I need to get away from everyone and everything from time to time. So, I probably do a bit of that as well.
Hold On Dreamer is available now via Propeller Recordings, and you can catch her on tour at the dates below:
February 26th – York, The Basement (UK)
February 28th – Manchester, The Castle (UK)
February 29th  – Bristol, Crofters (UK)
March 31st  – Røros, Ungdommens Hus (NO)
April 1st – Trondheim, Brukbar/Blæst (NO)
April 2nd – Stokkøya, Strandbaren (NO)
April 4th – Berlin, Kantine am Berghain (DE)
April 5th – Hamburg, Mojo Jazz Cafe (DE)
April 6th – Cologne, Studio 672 (DE)
April 8 – Munich, Ampere (DE)
April 12th – Bergen, Lille Ole Bull (NO)
April 13th – Haugesund, Skapåbar (NO)
April 14th – Stavanger, Tou Scene (NO)
April 15th – Egersund, Mungåt (NO)
April 16th – Kristiansand, Vaktbua (NO)
April 22nd – Kongsberg, Energimølla (NO)
April 23rd – Oslo, Parkteatret (NO)
August 9th-13th – Oslo, Øyafestivalen (NO)