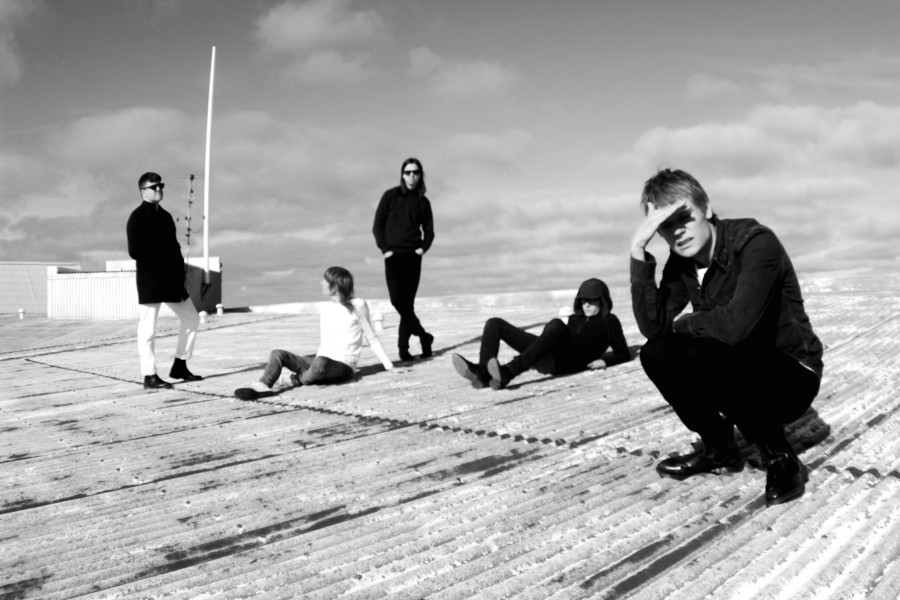 Comprising of inputs from originators Fufanu, fellow Icelander Steinunn Eldflaug Harðardóttir, aka dj flugvél og geimskip, as well as American rocker dude and guitarist for the Yeah Yeah Yeahs, Nick Zinner, 'Ballerina In The Rain' is a veritable 'back to the future' rework that has benefitted from collaboration.
Kaktus Einarsson (vocals) and Guðlaugur 'Gulli' Einarsson (guitar/programming) make up the Fufanu duo, whose sound is vintage Bauhaus-with-a-twist cum 80s electronica crossed over to the dark side. They released their début album, Few More Days To Go last November, and are now shaping up to release a three track single, comprising this Zinner retool plus remixes by President Bongo (GusGus) and Damon Albarn (Blur).
Part retro, part futuristic, this track has the New York/US proto-punk attitude of The Stooges/Velvet Underground, the disconnected monophonous vocal and robotic dark electronica of Kraftwerk, and the fractured transcendence of Ian Curtis. It is a dark, gothic lyrical fantasy played out through an instrumental of demi-punk malevolence set within a futuristic frame. The dream-tastic sentiment of the lyrics with their airy notion of a ballerina dancing in the rain, are at loggerheads with the jackboot mentality of the musical accompaniment. It's a quirky juxtaposition, but one that Fufanu manage to pull off. Ironically, electro-sorceress, dj flugvél og geimskip, edgy purveyor of "electronic-horror music with a space twist" provides light to frontman Kaktus Einarsson's dark, with her delicate backing vocal. Zinner, who has remixed for the likes of Bloc Party and The Hives, has once again brought 'punk-core' intensity and swagger to a track which in its original iteration was already in the fractious mould of Joy Division noir.
Fufanu are like a semi-dormant volcano – not quite dormant, but not yet ready to erupt. However, the pressure is building, and when that plate shifts and the barometer bursts, the musical gases currently building under the rim will shoot up and spill over, filling the air with shards of sonic shrapnel. 'Ballerina In The Rain"s rework may zip across time zones and take inspiration from many styles and influences, but it is indicative of an identifiable sound that Fufanu have created and styled as their own. As a single, it is intriguingly paradoxical, darkly addictive and utterly compelling.
'Ballerina In The Rain' will be released as a three track single on March 11th via One Little Indian, also featuring a 'Ballerina In The Rain' remix by Damon Albarn and a President Bongo remix of 'Northern Gannett' – the original versions of both tracks can be found on the album Few More Days To Go, which is available now. February sees the band take off on a European tour, with numerous UK dates beginning in Liverpool on February 25th, swinging through London on March 1st before heading to the mainland, and wrapping up in Berlin & Hamburg on the 13th and 14th of March. You can check out their full dates here, and listen to 'Ballerina In The Rain' below.