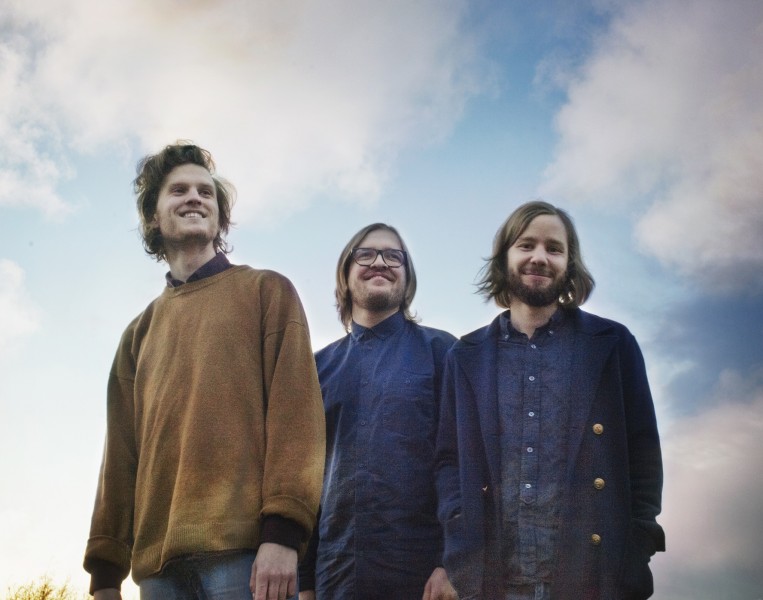 Let the record books show, 2015 was the year we met – and immediately fell head over heels for – Gold Celeste. As the band were in town shortly before Christmas, we grabbed a coffee with Simen Hallset and Petter Haugen Andersen from the band to get to know them a little better, hear all about their fantastic year and what the next might have in store.
Emerging from Trondheim in Norway seemingly fully realised, and with a fantastic album titled The Glow in tow, the band's take on hazy, melodic psych-infused indie rock is warm, nostalgic and moreish. It's easy to be drawn into the glimmering world they create through layers of sound, but a little more difficult to leave – The Glow is the sort of record you could leave on for hours without realising you've done so, as each jam glides seamlessly into the next, you hardly notice the passing of time. It's rare for a début to sound quite as well constructed, and though we're reluctantly getting used to this cynical new world where bands who are just starting out now need to sound as polished and ready for mass consumption as possible to grab the attention of agents and labels, that wasn't a consideration for Gold Celeste, it's more that taking their time over the songs was a key part of what they do. Rather than writing some songs and gigging for ages, making a name for themselves on the live circuit and then taking to the studio to put the record together, they've taken the opposite course: album first, everything else after that.
Simen Hallset: "Yeah, I think we've reversed our approach, it was just a natural thing though. We've been playing for 5 years, I guess, in these different arrangements of who we've been playing with, but it's been me and Eirik (Fidjeland) making music for about 5 years, almost exclusively in my studio, where we've had all this technology and instruments, and endless possibilities – kinda makes you go insane! We've been so socially alienated for those years, just spending a lot of time producing music, and we felt it was a natual thing to do, just get this album, The Glow, out, and then just see what happens, and try to expand our territories."
"We've been playing in the studio, Me and Eirik, and we also put out an EP and album as Angelica's Elegy, so you know, it's a debut album in that sense – in the mentality; it was the first album that we, as a studio project, were really comfortable with, even though it was an uncomfortable process at times! It was the last squeeze of the lemon, y'know, but now we've got it, let's move on!"
This approach to creation, a meticulous, dense studio construct, makes sense. The sound of Gold Celeste seems like a jam, but beyond that framework it's clear that everything is finely tuned, each whoosh of melody and sweet harmony in the ideal place. With Hallset working as a studio manager, they had the luxury of as much space and time as they needed to hone their sound completely, without having to go through the throes of growing up in public. Now, however, they face the next challenge – taking it out of the studio, re-adjusting to daylight, and getting out on the road. Having only done a handful of dates both in Norway and beyond, we were curious to see if they were still finding their feet as a live band.
SH: "Our studio approach has been a lot of jamming and live recording, so the interplay between us as musicians has grown very much during the studio process. When you record you can play it back and listen, and you hear everything, it's so revealing, and when you play live it's all about the interplay between us and the audience, the energy in the room, but the purely musical aspect is so strong in the studio – we've been pretty confident about the playing, but the sense of standing on a stage and performing and being 'an act' is pretty new to us so we're trying to figure that out. The playing is not that intimidating, it's more everything that's around the music that's fairly new to us."
Petter Haugen Andersen: "I think (at our live performances) we show that we enjoy ourselves, but we don't necessarily force the audience – we're not telling people to cheer up or clap along, or ask them if they're having fun, if we're having fun, we expect that it communicates through the music, more than necessarily dancing around. You dance around a lot though!"
SH: "Yeah it just happens! It's about trying to let go in a sense, I think that's one of the things that have really put some kind of spirited energy in our group. I personally think that people should enjoy music in whatever sense they want. I usually just sit in a corner and drink beer and just enjoy it. We don't need that euphoric sense all the time, you know?"
PHA: "It depends on the kind of music you play, as well – we don't play clap along music. But at one point the audience hugged each other at once show, that was nice!"
SH: "I don't know, perhaps it was kind of forced? This is what I said: "Now is the time you all should give each other a big hug" while we were playing! It just felt right – that's what The Glow is all about."
With a one date already scheduled for February in Norway, 2016 will hopefully be the year the band express to audiences as far and wide as possible just what The Glow is about, and they expressed that they wanted to do as many shows as humanly possible. With their latest single, 'The Wonder Of Love' having been recently released (complete with excellent in-studio video created by Benedikte Olsen), and a history of not working with much urgency, more new material seems like something we ought to put on our Christmas lists for next year, but having relocated to Oslo once the album was finished, the band's writing and recording dynamic has also changed.
SH: "We want to do perhaps more less intensive studio recordings, and hopefully we'll release maybe an EP or a mini album late winter, early spring, to follow up the momentum and try to have something fresh – never be too comfortable, always on the lookout for something new!"
PHA: "There are a lot of songs, and with each practice there's always some new jam or idea that springs into life! Now that we don't have the studio anymore as we've moved from Trondheim, I guess it's easier to get into the practice space and work on something together, make small demos and then to go into the studio and do a song, instead of composing and working and making it in the studio. Then you grow tired when you should be finished, and then you just throw it away and start again."
SH: "It's separating the processes really, because if you're in one room, the entire process, you'll go crazy! Now we songwrite and do some pre-productions at home with just one microphone, then we go into the rehearsal room, we play, we record it, then we try to be creative around it, and then we go into the studio with another technician instead of doing everything ourselves." "That part of the band is also about kind of letting go, in a sense. Perhaps we'll do something more eccentric, intensive things in a couple of years."
PHA: "A lot of the nitpicking and detail work (on The Glow) was as much about creating and finding the sounds that we want to continue using, so now it might be a lot easier to just dial in to that exact thing because we spent 10 days finding out how to do it, and where that magic comes from."
SH: "The Glow was kind of a search for ourselves, and we've found a base that we're comfortable with, and now we're playing with ideas from that vantage point. Now anything can happen because we have this base – this is us. It took 5 years!"
As we find ourselves at the beginning of the new year, we were also keen to hear what the band had planned, not just for Gold Celeste, but also for themselves.
SH: "We're starting to close in on being 30. When you reach 30, your physical state kind of deteriorates if you haven't kept up, but our live guitarist is this yoga master kinda dude, so we're hoping he'll implement some yoga and some new age, and eastern philosophies into our band. Perhaps we'll be cleansed!" "When we were in the studio, we didn't spend too much time on ourselves as much as the music, perhaps we need to be a little more kind to our souls. He'll balance us, while we're experiencing the travelling lifestyle. I don't think it's very healthy, even if you don't drink a lot of alcohol at every gig, it's still, y'know having to carry everything, we try to travel as cheap as possible!"
PHA: "I think you need to start smaller, if you don't want to ruin your back! I don't think it's healthy starting out just carrying 10 kilos on each arm for 20 blocks looking for the venue, haha! Maybe we should start band practice, and then band workouts, we go to the gym and just lift weights, go for jogs… that would be nice."
SH: "There's this really funny show called 'Nathan For You' by a guy called Nathan Fielder, it's really really funny, his concept is that he's helping small struggling businesses make these new concepts come forth in a struggling market, and he manages to implement this new kind of fitness style where people will for free move boxes into cars and help people move. They call it the 'THE MOVERS' or 'ACTION MOVEMENT', perhaps we can do something similar with our gear, just in a physiological way, so that when we move our things we don't get back problems, and make a new fitness movement of some kind."
PHA: "Then if it doesn't work out with the music we can just become motivational speakers, and just rob everybody of all their money because somehow we know something they don't."
SH: "I have a prediction for 2016, Eirick will contend in the 2016 in the Norwegian barista championship. He's just starting in the barista business in Oslo, he's really a coffee geek, I hope to see him mix a fresh caramel pumpkin latte at Starbucks. With aspartame and flouride and all that stuff."
The Glow is available now via Riot Factory, and you can grab their latest single 'The Wonder Of Love' here. The band play in Stavanger, Norway on February 12, with more dates to be announced.