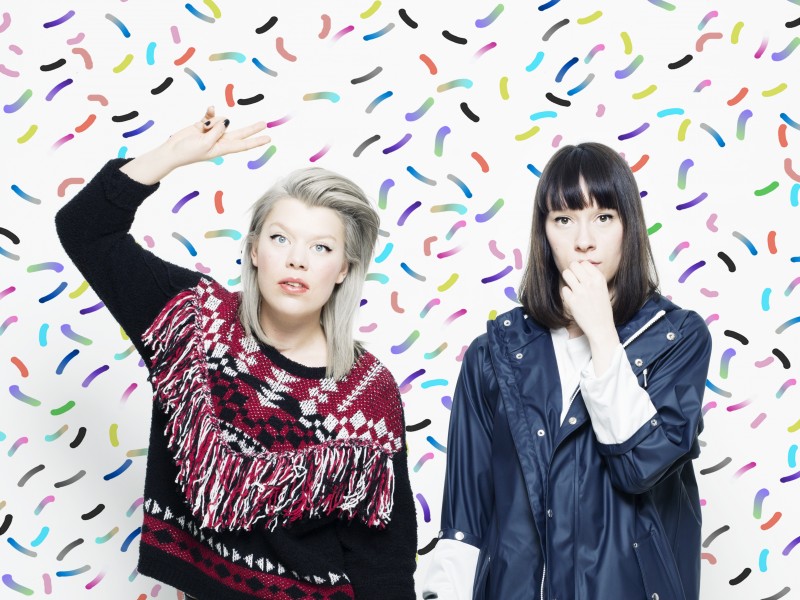 Photo by Anton Suckdorff
Finnish sister-duo in LCMDF made a BIG impression in 2015…
They released their single 'Fooled' in April, which Ja Ja Ja writer James Appleyard described as "buoyant, infectious electro driven pop with an array of shimmering beats and ska-tinged synths, striding with tropical freshness" and well, who can say no to that?!
Following on from their successful return, fuelled by confrontational pop and head-spinning beats, the party continued with the release of another track, 'Procrastination 365' in July and in December, the duo rounded off the year with 'Rookie', in which they make a proper statement against a music biz douche with a rubbish attitude and bad advice.
So, with a hectic and colourful 2015 now at an end, we caught up with Mia and Emma Kemppainen to get their insight into the exciting things that 2016 has in store, and what we'll be leaving behind in 2015!
LCMDF's Guide to Conquering 2016!
Top 3 tips for having the best year ever:
Just do your thing. Not the other things.
Read less Buzzfeed
Don't buy that Apple Watch
What's going to be the biggest and best news of 2016?
We're releasing an album!… Very soon! We write so much music right now, it's getting hard to decide what exactly is gonna be on it. I guess that's a good thing. Don't judge us for being so slow with this…
What's going to be the coolest trend of 2016? 
The comeback of electro clash, you won't believe us now, but just wait for it…..
And the best new invention? (Hover boards? Self-lacing shoes? Anything that we were promised from Back to the Future that hasn't arrived yet?!)
Those hover boards are dangerous! Flashback to the inventor of the Segway driving off a cliff (on a Segway). On the bright side, hover board fails produce a lot of procrastination content online. Wish there would be more news on bionic body parts, AI and electrical cars. But what most likely will happen is a new iPhone.
What has been big in 2015 that's going to become very uncool in 2016?
I think trap might slowly be exiting the building. It's still hanging on tho, especially in the mainstream. The big EDM synth wall-sounds are definitely going out!
Best piece of relationship advice for 2016:
Love yourself!
Your top pop tips for 2016: 
Anyone who hasn't dipped their toe into the K-Pop pool should give it a try. Also a strong newcomer of last year was Death Team with three great releases – 'Fuckin Bitches in the Hood', 'Dolphin Style' and 'So Fresh', all amazing songs!
And if some weirdo missed the whole Jack Ü thing… you have a lot of catching up to do.
Biggest ambition for LCMDF in 2016: 
Be the coolest kid on the block. Travel the album. Songwriting in L.A!
Ultimate destination for LCMDF to visit next year: 
L.A and New York. No doubt.
Dream LCMDF collaboration for 2016:
Is E-type still active?