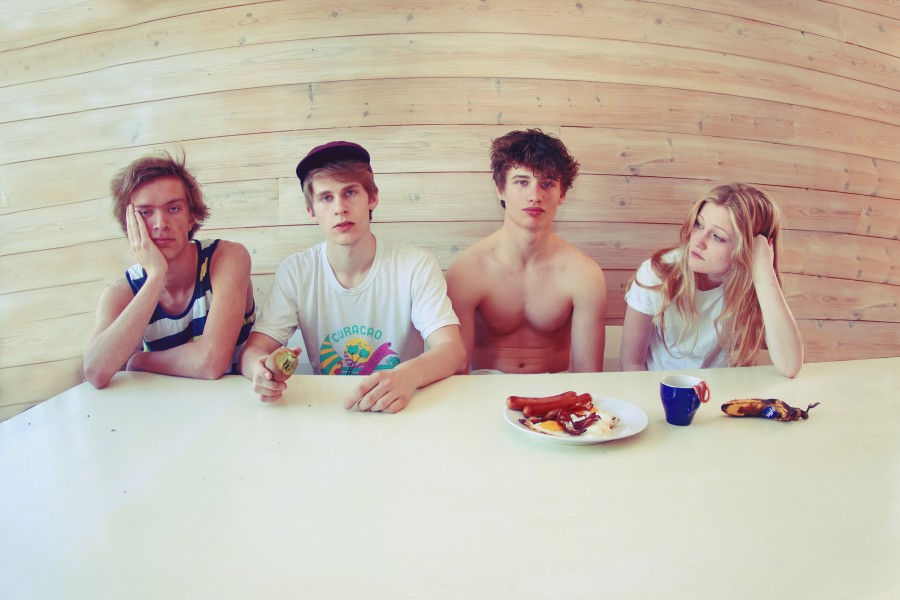 There's nothing average about Norwegian indie-rock cum neo-punk group Slutface; particularly their name, right? Why Slutface…? We suspect that this topic has already become a bit 'yawnsville' for the band, but here's their reasoning:
"The band name is supposed to be provocative, it's supposed to put you on edge and it's supposed to be punk and riot-grrrl inspired. We want you to think about female sexuality and what it means to be a 'slut', the way we portray women in music and in popular culture. We're really not dicks – we just want you to think about women more than you do." 
Slutface's sound is somewhere between Sleater-Kinney and Elastica, with a fresh 2015 style. The de rigueur noise and attitude are both very much in evidence, but Slutface's music is alive, vibrant, exciting, and a lot of fun. Despite all the 'rocking out' sounds, there are subtle touches of pop sensibility thrown into the musical mix which make their debut single, 'Shave my Head', simply irresistible. It's part protest song, part wake up call; albeit with a catchy chorus and compelling pop punk melodies.
American Haley Shea's vocals are evocative of Gwen Stefani, and holds her notes well no matter how raucous the vocal gets. With its seriously frenetic and high energy guitar riffs and drum beats, 'Shave my Head' is indie-pop-punk at its punchy, addictive best. Intelligent, articulate and outspoken, Shea's feistiness, courage of her convictions and determination to stand her ground are both admirable and inspirational. "I was thinking a lot about the expectation we have for women to act in a hysterical way. Why women are portrayed negatively as hysterical and emotional, whereas crazy men are portrayed as tortured geniuses."
The video sees clips of the band taking us on the Slutface tourist trail of their hometown Bergen, chopped up with footage of them playing live to a buoyantly enthusiastic crowd. The film, regularly interrupted with flashing images of static interference, is as frenetic and frantic as the song.
When you listen to 'Shave My Head', it's actually very hard to believe that the group's members are still full time University students. There aren't many full time bands that could swing a track like this, never mind full-time undergrads! About to start working on their debut album, Slutface have indicated that they want their sound to evolve into something 'more intense, quicker, harder and darker', so we have that to look forward to in 2016!
'Shave my Head' is paired with 'Get My Own' as a B-side, and both tracks are available now via 0E0E. Grab the single now via iTunes, and check out the video below!