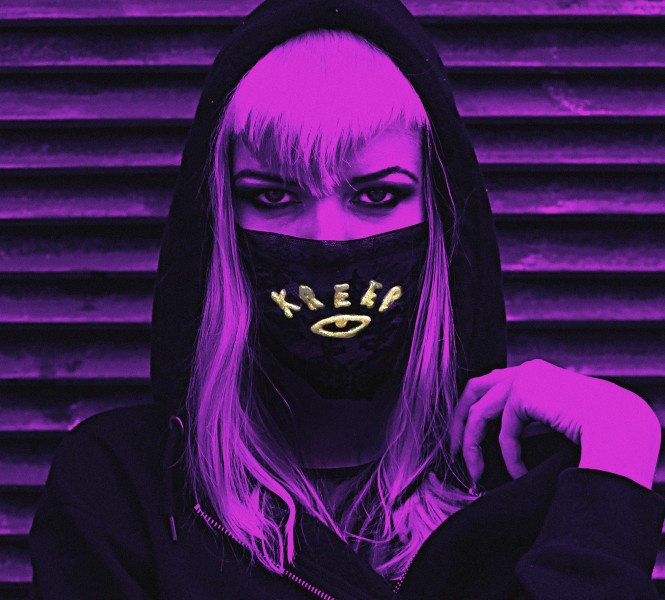 It's been a couple of weeks since new music maestros The Line Of Best Fit first brought mysterious Swedish artist KREEP to our attention, but we keep going back to their latest track 'Bitter Honey' like a sparrow to a feeder baited with delicious seeds, desperate to peck and feed over and over, always hungry, never quite sated. So, though we don't really know anything, and the track is only up to enjoy on Spotify and Apple Music, we thought we'd share it with you. There's plenty of room at the feeder – come join the party.
So, what can we tell you about KREEP? Well, not a lot, unfortunately. They're Swedish, though we don't know if KREEP is a 'she' a 'they' or some other life-form we can't define, arriving in Sweden directly from outer-space. We know that 'Bitter Honey' follows on from 'Jackie Chan', and further establishes KREEP as a purveyor of challenging, brilliant, idiosyncratic, aggressive pop. We know that they're pretty secretive at present, but they are on social media such as Twitter and Instagram, so perhaps we'll get a peek behind the curtain in due time.
Saying this, the only thing that really matters is the music, and the music speaks for itself – 'Bitter Honey' is communicating loud and clear. With a dreamy, swooning start to proceedings, you'd be forgiven for thinking KREEP was dabbling in R&B slowjams, but things quickly veer towards the sort of arms-aloft high-octane dancefloor banger we'd usually find handed to us by someone like Icona Pop, but as the vocalist sweetly sings "we are one with darkness" and "you're the blackness I crave in the starry skies" it's clear that KREEP has an inclination for the more murky things life has to offer, which is a welcome twist to this pop tale.
We may still be none-the-wiser about the origins of KREEP, but we do know one thing for certain – 'Bitter Honey' is the sort of dark-hearted dancefloor euphoria that we'd like to hear more of.