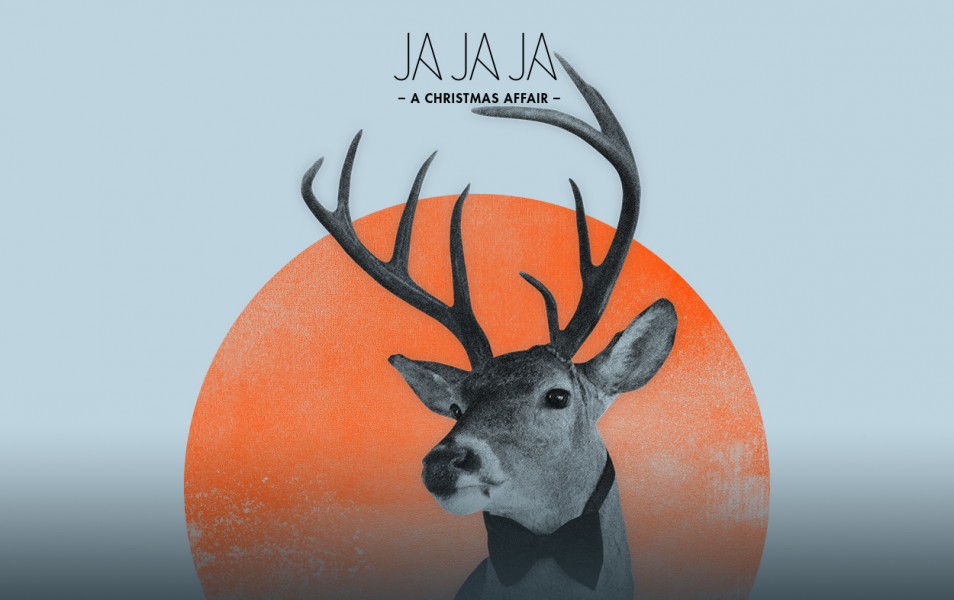 Wrapping up an excellent year of shows, we at Ja Ja Ja  decided to celebrate the end (almost) of 2015 by inviting six awesome Nordic bands to perform at two special Ja Ja Ja events in London!
We – of course – are huge fans of each of the bands that performed, but if you need further convincing, then let some of the music biz's tastemakers and reviewers lend you their opinion as we bring you the November edition of the Ja Ja Ja Roundtable!
Read on to hear what the likes of Amazing Radio, The Sunday Times and The Line of Best Fit have to say about each of the artists that played at Ja Ja Ja's Christmas shows in London!
Andy Hannah – The Line of Best Fit (Associate Editor)
This is basically the musical equivalent of a persistent growl, one that rumbles in the pit of the beast's belly before being concluded with a curl of the lip and a snap of the jaw, taking with it whatever was foolish enough to be in the vicinity.
Andreas Westmark's slightly unhinged, wide-eyed yowl of a vocal cuts through the track alongside his seesaw riffing and his brother Simon's anchor-heavy drumming. It leaves 'Black Book' somewhere between garage and vicious goth-blues, and it's really rather excellent. Just try not to compare these Danes to Nick Cave and the Bad Seeds: those teeth are sharp.
Matt Baty – Amazing Radio (Head Of Music)
What a total rocker this is! For me it's a righteous balance of Psych, Noise Rock and Garage Punk. I love the wild and out of control vocal effects, it's an untamed beast, for sure, completely feral.
Oh, you can't make out the lyrics? I don't care. They can shout at me all they want. I'll shout along with them, pump my fists in the air and spill beer all over myself.
What just happened? It finished too soon. I want to experience this live. Pink Street Boys are exciting stuff, more of this kind of thing please.
Andrew Trendell – Gigwise (Editor)
There's a primal almost feral Iggy Pop kind of energy to this, that kind of pure punk abandon that is seldom heard this days without being totally contrived. Punk is all about that immediate gut feeling becoming manifest with no fucks given, and that's exactly what this razor-sharp piece of awesome is, and all in less than three minutes – not too shabby. I have no idea what he's singing, but he's howling it with such conviction that I know I want in on it.
Lisa Verrico – The Sunday Times (Music Critic)
Here's proof – were it needed – that it's not solely a certain, single-named British singer who can bestow a piano ballad with bombast and still touch a nerve. Like Adele's heart-tugging hits, 'That Ain't Love' harks back to a time when pop was constructed on a grander scale, when melodrama was celebrated rather than subdued, when a crack in a voice could convey as much emotion as a change to a minor key. The hushed hymnal opening that gives way to majestic massed harmonies, lyrics about lies, sin and something to believe in, those sombre, slowly swelling piano chords, Katea's gutsy, gospel delivery – 'That Aint Love' is a prayer set to song with a chorus that could blow your (Xmas) socks off.
Hector Barley – The 405 (New Music Editor)
I must admit that I approached the first 10 seconds of Danish trio AV AV AV's debut with trepidation. Dominated by irritating pitched cut-up vocals (I defy anyone to say that say it's an effective alternative to a proper vocal), I was worried the track would turn into a generic high street deep house track. Luckily, over its 4 minutes and 38 seconds, 'All Good' evolves into an ambitious, playful electronic romp. Slick and lush, the soundscape AV AV AV create shows an ability to create intelligent dance music that is both original and fun.
Andrea Madden – Made In Chelsea (Music Supervisor)
I guess I need to explain the way I now instinctively listen to music. I now compartmentalise a track thinking of a) whether I would use it on Made in Chelsea and b) (if it was a yes to a) how I would use it on the soundtrack. This track passes Stage A with flying colours – I am a sucker for the Scandi sound – and as for B…it has a euphoric melancholy (yes, I now believe there can be such a thing, I've said it out loud) that I can definitely use on the show. This Melancholic Euphoria TM is something I love about Scandinavian peers Urban Cone and Lucas Nord you feel your heart race and sink at the same time (if that makes any sense?). So in short, happy to have been introduced to them and they may well be soundtracking some nice glimmering London shots of the Thames after a thoughtful discussion of a love life going wrong.