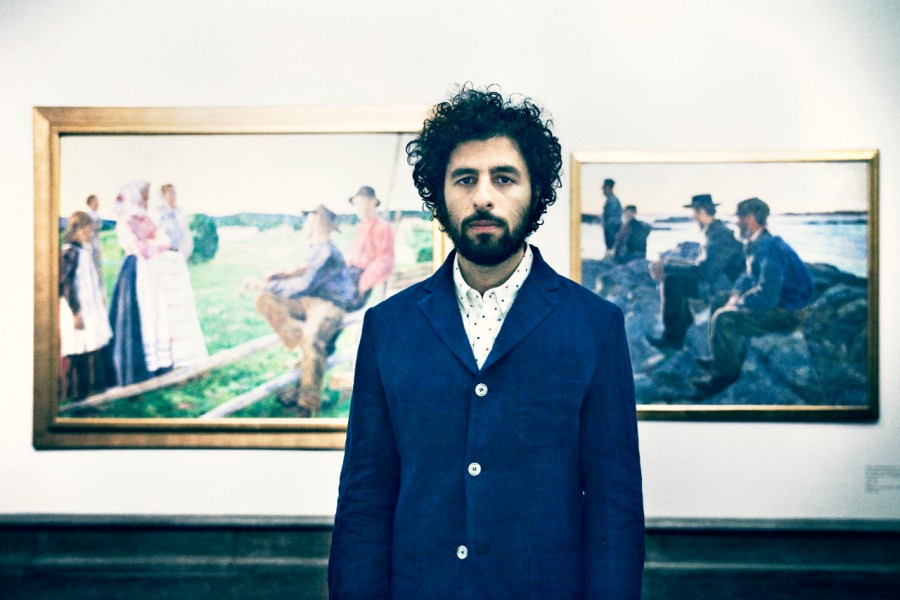 If you had to guess where someone with the name José González was from, Gothenburg probably wouldn't feature in your top three answers, but of course that is exactly where the humanist, vegetarian singer/songwriter/guitarist is from! Labels, labels… does he like them? "… They help people to find what they like in the record store or online". Add practical to the 'label' list.
González, a classically trained musician who kicked off his career in a hardcore punk band, has over the years covered such diversities as Kylie Minogue's 'Hand on your Heart' and Joy Division's 'Love Will Tear Us Apart', because, "they are both pretty far away from my own productions", and who now plays "alternative folk, because that's what works best for listeners".
Since having released Vestiges & Claws, his first album in seven years, in February, González has been on an extensive promotional tour taking in the States where he is currently playing the West Coast. "It's going great!" says González as his US tour tails off. "We're on our third part of the tour that started in Florida with Luluc. After that we did a stint with Ryley Walker and now we're playing with Riothorse Royale towards the west coast. I'm touring with some amazing musicians and feel very lucky."
In advance of the European leg of the tour, which kicks off in Berlin on November 3rd, he has released the single 'Let It Carry You', a song which he wrote whilst contemplating "the many people, including myself, who can get caught in week to week routines without taking the time to wonder and let themselves go. I'm singing about letting it carry you, where it could mean many things, and music, sex, spirituality could be some of them." 
Having previously viewed lyrics as a "necessary evil", González has somewhat softened his stance telling us: "I've been collecting tricks that I can use to find words and sentences, brainstorm ideas and notice how many rhymes I need to make song work. Inspiration can come from everything from movies, books, my own and others experiences."
Play 'Let It Carry You' and you'll soon realise that you are not just listening to yet another 'alt-folk' guitar player sitting on a stool playing a nice 'n' easy acoustic song. Tune in to that intricate chord sequencing, those very finely balanced riffs and that melodically soft but commanding vocal, and it soon becomes apparent that José González is not just a very fine songwriter, he is also an hugely skilled classical guitar player whose ingenious technique redefines musicianship. The alternative light and shade guitar sounds are the weighty result of his using de-tuned guitar strings, a method he has used "to find harmonies and riffs that are different" and for which he cites Nick Drake as an inspiration.
Repetitive, cyclical percussive sequences thrum under a somewhat staccato, 'monotonia' vocal, to which intricate, twisting guitar melodies provide a counterpoint. "And dissolve into the foam" – what an image – starts the chorus, and the cycle is broken. The music itself dissolves, leaving a wash of harmonies redolent of an heyday Art Garfunkel vocal arrangement. This mellifluence seeps through from the bridge and on, until the song closes out with simple but sublime, a cappella harmonies.
The animated video for 'Let It Carry You' was conceived of, and directed by, Malin Johansson, with whom Jose has previously worked many times. The illustrations were done by Ellen Alström and animation by Jonas Sandstedt. It is a simple but effective mechanism which succinctly conveys the message of 'let go, live/love life', the success of which is enhanced by the animated images moving in time with the beat of the song.
Interestingly, whilst González uses three different types of guitar when recording – Alhambra, Esteve, and Córdoba, he only uses one, Alahambra, when playing live. "The guitars I have are all nice but when it comes to playing live, it's all about the pickup, the sound system and the sound engineer. I use a Fishman pickup and I always travel with my own sound engineer." So that folks, is the level of musicianship and indeed perfection you have to look forward to when José González plays across Europe over the coming weeks and months. You can check out his tour dates here.
'Let It Carry You' is available now on his album Vestiges and Claws, and you can check out the video below.