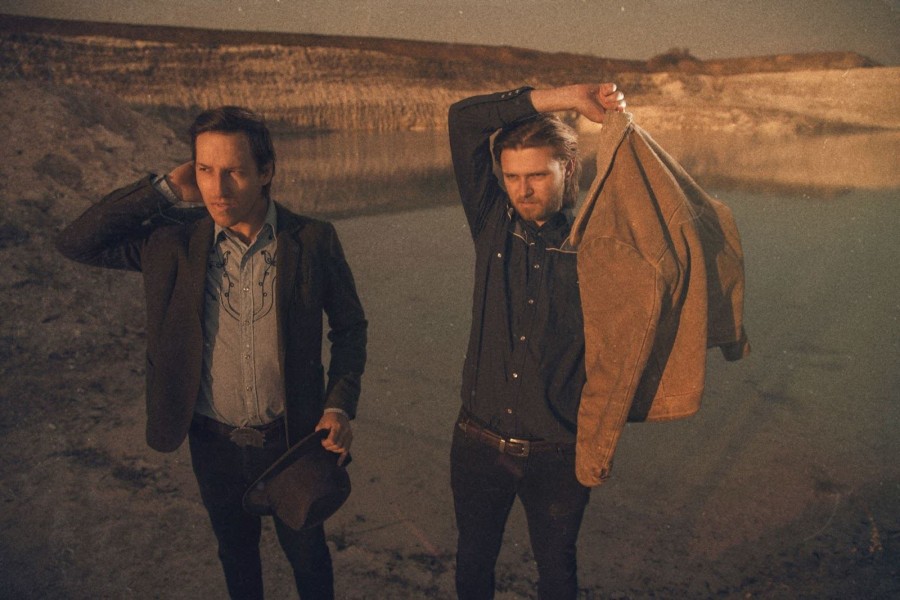 Palace Winter are a new Copenhagen based two-piece, who are currently taking the music world by storm. Their song 'Menton' made #1 in one of the Hype Machine's charts and they have just released their scorcher of a debut EP Medication. Comprised of five tracks of different tempos, but all with the same underlying identifiable sound, Medication is an accomplished and highly skilled production; featuring pulsing indie-country-dance alongside slower, more darkly atmospheric experimentation, which offset each other perfectly.
We jumped onto the Palace Winter rollercoaster to get the inside track on their new found highs, and find out just what makes these indie-country rock loving movie buffs smile.
For those that haven't met you yet, could you please introduce yourself – who are you, where are you from, and how would you describe what you do?
CH: There's the two of us – myself Caspar Hesselager, from Copenhagen, and Carl (Coleman), a very proud Melbournian, who has been living in Copenhagen for several years. Carl is on vocals and guitars, while I play synth, piano, and bass, and am in charge of production mixing and mastering.
Carl writes the lyrics but we both write the songs. We find the writing process challenging but exciting. Basically, we just sit down in a room and create stuff together.
CC: From an instruments point of view, it matters less and less now who does what. Sometimes you just have to know when to let the other person do their thing. Caspar does a lot of the technical stuff – recording, mixing, mastering. We are pretty self-sufficient.
Christian Rindorf plays drums on the EP, and will also be playing with Palace Winter during live gigs.
How and when did you come to form Palace Winter? Was there an immediate musical/personal bond?
CH: We met on a tour bus in 2013 when I spent three weeks touring with my old band The Rumour Said Fire. Carl was in Americana influenced band, Sink Ships, at the time, but used to play a pre-gig thirty minute warm up solo slot every night. I went out to see him one night, and was so impressed, so loved his different style of playing, lots of spaces and reverb, I went out to see him every night for the rest of the tour. When I got to know Carl a bit better, I approached him to see if would be interested in doing something. I produce and mix for other bands, so I have my own studio in Copenhagen. Carl came here and we spent eight, nine months working on the EP Medication. We enjoyed it so much that we accidentally formed a band!
CC: Our aim was to produce a widescreen sound, something that was cinematic, with a wide open feel. This shared vision was key to our coming together, fundamental to our being able to successfully produce music as a team.
How do you classify your music: do you prefer a more fixed or fluid approach to classification? Also, you have a very specific, identifiable sound. Does that spring from certain influences and was that development deliberate on your part?
CC: We are open to fluidity of classification. We like to put together as many words as possible to rouse people's curiosity
"Epic Driving Rock", "Epic Synth Country", "Country Kraut"
We like a sound that waves around with its genres. In fact recently, our sound has had a lot of comparisons with R.E.M. which is great, but while we like R.E.M, we certainly haven't been influenced by them.
That's great that you think we have an identifiable sound, thank you. That's really good to hear.
CH: The country influences come from Carl – when we met he already had a very specific sound. It was country and yet non-country. He was very successful in making it both but yet none.
CC: Country music tends to be underplayed, so it's great to be able to bring a hint of blues Americana into our sound. To be honest, we talk more movies that we do music. We like that that fiction, that cinematic vibe, leaks into the production side. We are trying to build a picture in which every inch is working towards building the bigger picture.
Will you continue to move in the same direction sound-wise, for your next album for instance? Is this a sound you want to explore and develop more, or will you perhaps maybe try to change the sound, work in a slightly different direction, or add in another genre?
CC: I think it will pretty much always be the same sound – the same fundamental sound that we have. I will change, in that there will be a natural progression but it's not like the next album will be completely different, like a reggae album etc. But there has to be some sort of limit genre-wise as to what is going to be your output.
I don't think people listen to specific niche genres anymore to be honest. Years ago, people would only listen to punk, or prog rock, or country but never all three. It's nice to keep your mind open to different types of music and musical influences.
How do you write your songs – it's a bit chicken and egg isn't it – which comes first, the lyrics or the melody/music? Do the songs change much from demo to master?
CH: We try not to fix on a certain method.
We just sit down in a room and create stuff together. It matters less and less now who does what. Sometimes you just have to know when to let the other person do their thing.
Normally the music comes first – we jam and see what happens. You are looking for that little seed that you need for things to germinate – you never see the seed, it can be anything – a tempo – very fast, very slow – very often the process starts with a desire to play in a certain tempo and that by itself can be the seed.
We spend a lot of time bringing the songs back to life, as part of them dies when you record them, so sometimes you need to fill in the gaps that have been created by the recording process.
Then once we've done, a lot of time is spent on production, on adding in drums, which are really key to our sound as very often our songs open with a very solid beat.
We spend a lot of time bringing the songs back to life, as part of them dies when you record them, so sometimes you need to fill in the gaps.
During the creative process are you influenced at all by the audience? Do they feed your creative process, influence the direction your songs take? And what kind of listening experience do you want to create for your audience?
CC: That's a really good question!
We consider the audience in that we want to make music that we would want to listen to – something that's moody and energetic. We definitely do like to feed off the energy we get from live audiences.
CH: It's simple. You want to do something that's able to transport you into another place. We don't think about it too much apart from certain technical modifications to make it more appealing. There's not much mot to it than that.
Your EP has just been released. Why did you choose the title 'Medication'?
CC: Basically because it sounded good 🙂
Plus it comes from a line in 'New Ghost' – "You feel the medication kicking in".
CH: I like the way Carl sings that line, so the word medication stuck out in my head.
It's funny how things that are not related become related when you find the relation in them. For example, the photographer who shot the promotional material for Medication, took some shots in a pretty undramatic, suburban street. But the way he produced the photos, the colours are weird, the trees look weird, it's a scene that almost looks ill, but yet it's weirdly beautiful. It could be an image that needs or is suffering from a lack of, medication.
Would you like to tell the readers a bit about the track listing and give them some background to the songs, particularly 'Menton'? Also can you explain why you continued with such extended instrumentals after the main body of the song had effectively come to an end?
CH: There are five songs on the EP and they are listed in the exact order in which they were created, starting with 'Time Machine', and ending with 'Stockholm'. We could have recorded 'Time Machine' in one day, I don't remember, I don't remember doing it.
The songs are interlinked in some ways yet very individual.
CC: With 'Time Machine' we added in a particular sound created by muting the guitar strings. By adding in that noise element we were about to give the impression of speeding, of movement, but it's a distortion that is not meant to be so distinct as to be heard. We were attempting to add a little realism into the song.
Again, getting back to the idea of film – we love films that are grounded in reality – films about relationships, family, but also mystery and fiction. We want our songs to have a realistic feel, but to be open enough, to be deep enough for the listener to be able to climb into the scenes. We want the meaning to be so open, that it is up to the listener to interpret.
A lot of great pop music over time, has told dark, heavy stories. Our songs are mainly about death, departing, relationships, exploring the past, and dreams yeah. They're like films, telling stories that tie the songs together. In fact, they're almost like a big family of songs.
CC: As for the length of the songs, we will be producing radio edits! The idea of an extended vocal didn't appeal, but we did want to reach out musically. It was about having a connection with the song, and with each other. We wanted to reflect that. Let's just say that for a while we weren't afraid to do that.
CH: We were kind of like in a trance, a bit techno/kraut. It's not something we decided to do, it just evolved, happened organically. For the album we will do 9 or 10 songs and they can't be that length. We really do enjoy just letting go into the instrumental though, and we enjoy it even more playing live.
CC: 'Menton' was inspired by the town in Provence in which I holidayed last year, and while it's very touristy, it's also very off the beaten track. I was staying in this really old Hotel, the Winter Palace. It was so regal, but so lost in its own forgotten dream. It was like it was in its own micro-world, with no-one around, which gave it a very dreamy vibe. I found it very inspiring. We tried to give the impression of falling through a dream in the song by giving it a big cinematic sound.
The chords (guitar) had been lying around for a while, we just layered them up and made the melody quite dancey. We manipulated the acoustic piano to credit the percussive sound and after the drum break, added in the arpeggio (synth) to create what we think is a 'beautiful mess'
The song is about pondering on times past, but again, we want it to be a work of fiction, a dream, we want to leave the interpretation open to the listener.
Do you have any good new music tips to share with us? Danish tips are particularly welcome!
"Perseverance people! Being an artist is about dealing with rejection. Keep knocking on the door!"
Oh, and here's another tip! Keep an ear out for a really good band Halasan Bazar. They're a 60's psych pop band fronted by a Norwegian guy called Fred – their sound is other worldly! And Fred is a really good friend of ours.
And finally, what does the rest of the year hold for you?
Well we are working on a new album, jamming, getting our ideas down. We'll be continuing to do that as well as doing some shows in Denmark and the MaMA Festival in Paris in October, with possibly a show in London. And obviously we'll be promoting our EP Medication.
Palace Winter's Medication EP is available now through Tambourhinoceros.