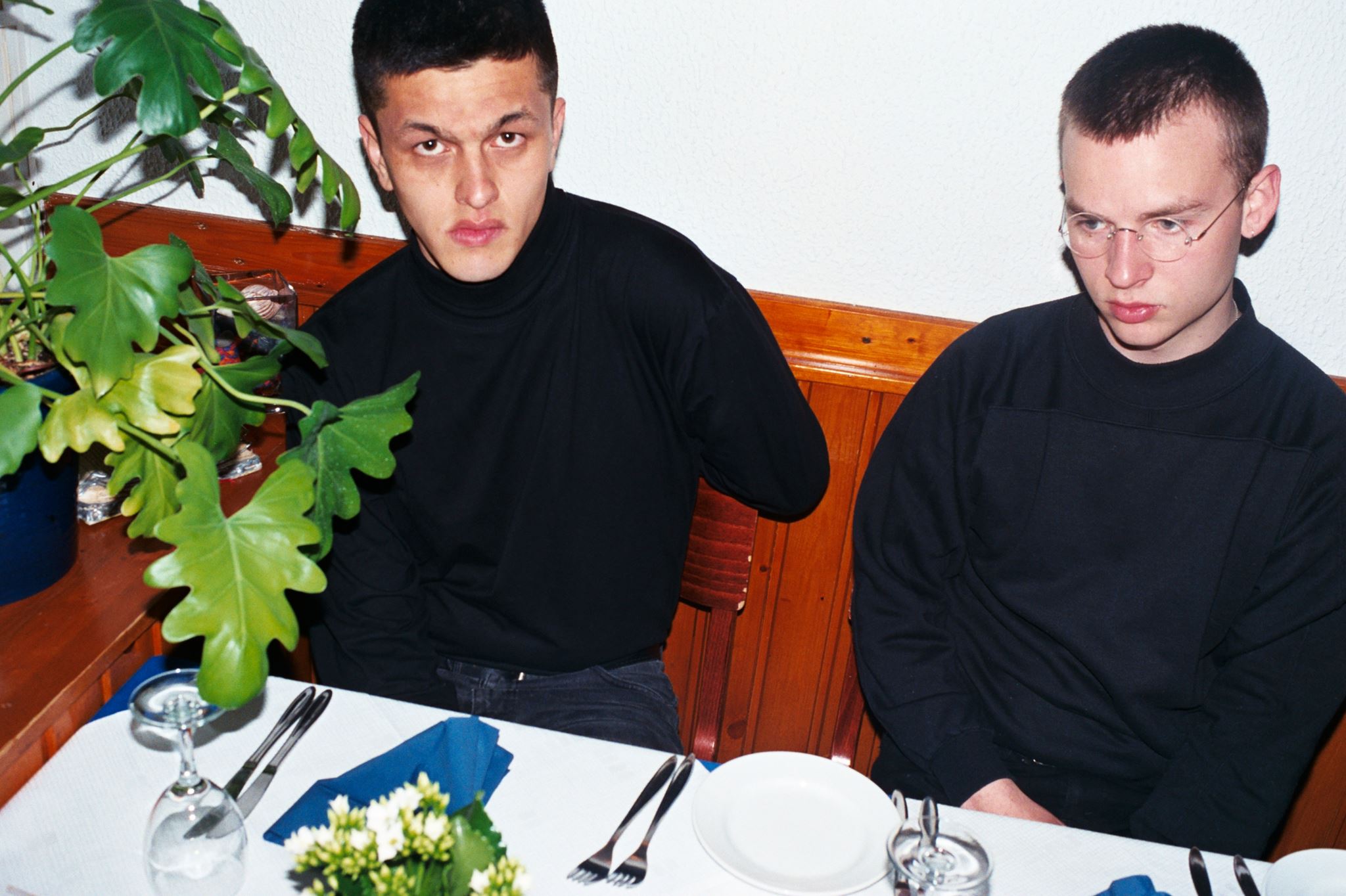 All set to bring fire to the dancefloors of Ja Ja Ja Hamburg and Berlin next week are Danish duo First Hate – an unmissable outfit with a penchant for iridescent, synth led tunes.
You may well have already spotted them on the road supporting fellow Danes Trentemøller or Iceage, but the rising duo are now heading to Germany under their own steam to bring their frenetic brand of dusky synth-pop to Hamburg and Berlin. To find out more, we caught up with the pair – comprising the talents of Anton Falck Gansted and Joakim Norgaard – to ask them a few questions about who they are and what they do, as well as exploring their musical creations.
First Hate will perform at Ja Ja Ja at Molotow in Hamburg on Wednesday 7th October, before heading to FluxBau in Berlin on Thursday 8th October – tickets are available now, and cost just €5 in advance for members. Sign up as a Ja Ja Ja member (for free!) by clicking just here.
Spotlight Interview: First Hate
For those that haven't met you guys yet, could you please introduce yourselves – who are you, Where are you from, and how would you describe what you do?
We are two guys from Denmark, one of us is half Chinese. We grew up in different parts of the same neighbourhood, and met each other as teenagers. What we do started as something to help time pass. Now it's getting more serious but it is still when we flick off our minds and go into a trance in the nighttime that the magic happens.
We absolutely love your latest track 'Trojan Horse' – can you tell us a bit more about the story behind it?
Thank you very much! I accidentally heard "they don't know our names" in Soho track 'Idolatry' where she sings "they dent know what is, life". I liked the sentence, you can probably hear that the song somehow is a gesture to Soho. The meaning behind the song should not be explained, it should crawl under your skin and dawn on you one day.
And what about the story of First Hate? How did you guys meet and start making music together?
We started hanging out with the same gang around Willemoesgade where most of us lived.
Joakim had been living in the church basement at his friend's house down the street for a while. We had this one summer that really tied the bow around our friendship. Anton was home alone for three weeks and we stayed there all the time hosting teen parties and smoking bong. We must have watched The Matador at least 15 times. That summer, we fell in love with each other and Pierce Brosnan. But we actually saw each other the first time in church at our first communion practice.
There's a lot of electronic layering and work happening throughout your tracks – do you think Copenhagen has an interesting scene for this kind of music right now?
There is a lot of good music coming out of Copenhagen, and not only electronic music. People do all sorts of things. This is what comes natural to us.
And talking of Copenhagen, you've toured alongside the likes of Trentemøller and Iceage recently – what were some of your highlights from those times?!
Touring with Trentemøller was quite surreal at times. Going from town to town just the two of us, staying in hotels around Eastern Europe and playing at these massive venues. Trentemøller always took off in his tour shuttle right after the shows when we were all really drunk and pumped up. So we spent the nights by ourselves, going out somewhere, drinking in the hotel sauna or ordering midnight KFC.
We know each other kinda through the guys in Iceage, it was in Jacob from Iceage's basement that Joakim stayed, so it was nice to catch up with them since they are away touring so much time of the year.
We've heard just a few tracks from you guys so far, so can we expect to hear a longer release anytime soon?
We can't say much yet but we have been in the studio for the last month or so. The rest is still confidential. But something will happen sometime before equinox.
And we're VERY excited to see you play at Ja Ja Ja in Hamburg and Berlin – what should fans expect of your performances there?
We are very excited too. You can expect a lot of new tracks and a liquid dance floor.
Do you have any good new music tips to share with us?
ARGOT – Boys Idolizing Girls
SAND CIRCLES – Endless Nights
CTM – Jewel
And finally, what does the rest of the year hold for you?!
After this tour we are going to LA to play a gig at this Halloween party at Hotel Figuerora. that's going to be fun. We are considering going as Kamikaze pilots. Then we will probably take a break for a while and hit the studio again.
Ja Ja Ja Proudly Presents:
Astrid S // First Hate // Manna
Wednesday 7th October 2015 – 7:00pm 'til late
Molotow, Nobistor 14, 22767 Hamburg
Join the Facebook Event
Thursday 8th October 2015 – 8:00pm 'til late
FluxBau, Pfuelstraße 5, 10997, Berlin
Join the Facebook Event