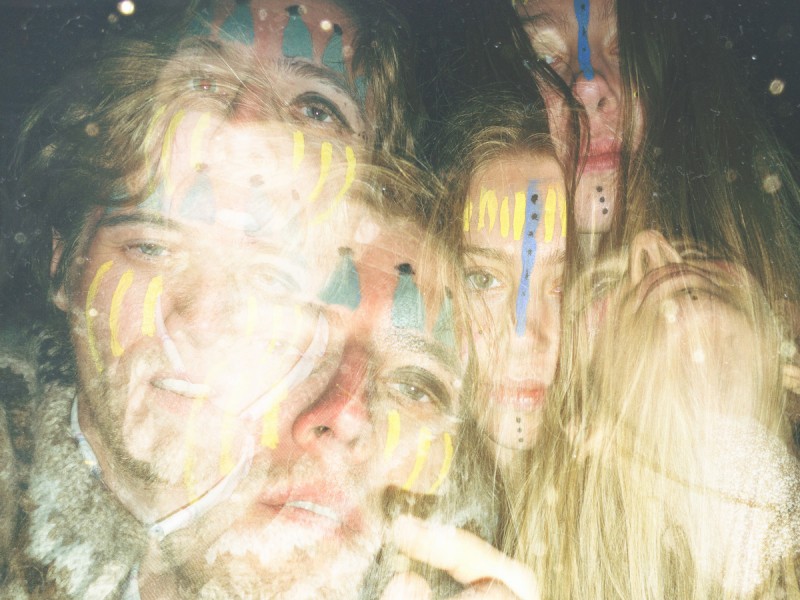 Iceland's Just Another Snake Cult have been making a name for themselves in their native land with their woozy psychedelic space disco pop, and as they gear up to play this year's Iceland Airwaves festival they've made a fantastic new video for 'You Live, You Die', which we're thrilled to share with you today!
Before we get to the audio-visual delights they've created, first let's get to know them a little. Comprised of cousins Thor Bogason & Helga Jónsdóttir, Just Another Snake Cult released their LP, Cupid Makes A Fool Of Me earlier on this year, catching the attention of VICE, who invited them to launch their new London venue, The Stillery! Today we introduce you to the band via their track 'You Live, You Die', and you're in for a treat. Nimbly traversing genres and eras, in under three minutes you'll see elements of 60s baroque pop, 70s psychedelia and warm, spacey 80s synths spun together to create an addictive lo-fi pop gem. As if this wasn't enough, the video is a trippy retro space adventure, swirling with kaleidoscopic colours and effects.
We spoke to Thor to find out a little more about the making of the video:
"The song is this psych pop thing with Radiophonic Workshop-influenced synth lines, so for the video I wanted to couple it the obvious visual equivalents — psychedelia and early experimental analog video art. The lyrics of the song have this cosmic theme of life and death, and so I went in a sci-fi direction, as well as drawing from Nietzsche's 'Birth of Tragedy' in a bit of a convoluted way. One big inspiration was the BBC miniseries 'Hitchhiker's Guide to the Galaxy' from the '81. It's been a favorite of mine since I was a kid. It's beautiful, and the motion graphics are really distinctive.
From the outset I wanted to try to accomplish as many effects as I could through physical means. I really buy into the arguments for using practical effects over CGI, as well as being really inspired by the methods used with the Scanimate machines and other early analog video effects. So the 3D grid is actually a 2D grid that I filmed handheld at an angle. And so you get this subtle physical richness to it that wouldn't be there if I'd done it solely digitally.  The asteroids are lava rocks that I spent an afternoon dangling in front of my green screen. Much of the ambient glow is from filming the footage through a CRT screen that's flaring the lens. Things like that.
Along those lines, that's another thing I like about analog video — is that there is a vibrancy and richness to it. It's much more alive and dynamic, partially because you have your hands on the levers and knobs and can react to what you're seeing in real-time, and partially because of unevenness in the signals. It's very organic. It comes to life. Whereas with digital you typically get something flat and even and stiff.
The whole thing actually took me a long time to make, starting with piecing together a makeshift green screen studio at our rehearsal space (which is hard to do affordably in Iceland, since everything here is ridiculously expensive, so for example I had to ride a bus out to a construction supply store in the suburbs to get the lights, which turned out to be total crap and I had to replace all the bulbs before I even got a chance to start shooting), to sewing the cloaks and making the tragicomedy masks out of paper mache, to filming all the different parts, compositing it all together. That probably took me the longest. I'd maybe spend an entire day making some small background element of a scene that in the end only shows up for a couple seconds, and probably nobody notices. I also visited New York to process the footage through analog video equipment at my friend Jamie Burkart's WBLT Studios. I spent an entire week doing that, trying different things every day. Jamie's a big inspiration for me, so it was great to have him show me.
All in all by the end I had over 750gb of footage, which took a lot of time to sort and edit down. It made me wish I'd written a longer song since I had to cut out so much great footage, and a lot of the cuts are so rushed you don't really get to savor how beautiful it is. But better too much than too little!"
Well, as you can see in the video below – the results are pretty fantastic! Though we're a little sad to think of what might have been lost to the cutting room floor, perhaps the band will come up with a directors cut for us to enjoy in the future! Just Another Snake Cult's LP Cupid Makes A Fool Of Me is available now, and you can check out 'You Live, You Die' below!