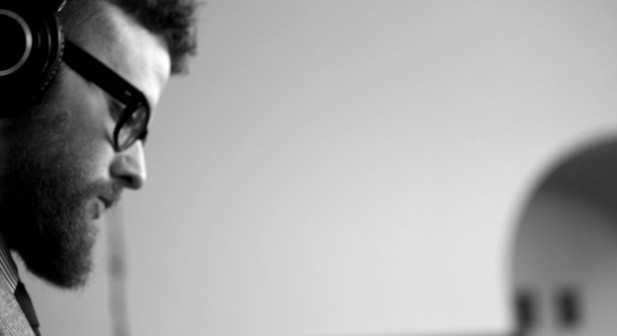 Icelandic multi-instrumentalist composer and all round musical Gandalf, Úlfur Eldjárn, of  Apparat Organ Quartet fame, is a level one musical magician across multiple genres: from pop through indie around jazz via electronic and avant-garde to classical, he has cast a creative spell on them all. 
His current composition is the spellbinding 'Poyekhali!', a stunning classical-electronic fusion, taken from his forthcoming solo album, The Arisókrasía Project. A forerunner of the Icelandic classical/electronic scene alongside Ólafur Arnalds, Eldjárn conceived of this fantastical musical project based on the experiences of Russian astronaut, Yuri Gagarin, the first man to orbit the earth, from "songs and ideas that have been floating around each other for some time. It's not so much a story—it's a collection of interrelated things—space travel, utopian visions of the future, and some nostalgia and regret."
The extended, 'classical' intro to 'Poyekhali!' is as serene as it is nostalgic and poignant; a melancholic string lament backgrounded by fuzzy recordings of Gagarin live from space, just short of three minutes long, it is a spare, but highly evocative musical score, not dissimilar to some of the Arnalds/Ott outputs on the Chopin Project. From here the piece moves quite unexpectedly from the sublime to the audacious, submerging the stark string arrangements in synth curios, intermittent pulses, delineated and at times, military style percussion, vocoded lyrics and a vibrant electronic melody. From the loneliness of solitary isolation to being overwhelmed by universal acclaim, from being fearful of the unknown to ending up as exultant conqueror, this highly charged piece runs the musical gamut of emotions that Gagarin must have felt from trepidatious outset to triumphant end to his pioneering space mission.
Like Gagarin, 'Poyekhali!' journeys through it's own odyssey, and like it's Russian predecessor, takes us with it into "a utopian world of space travel, intelligent machines and futuristic societies." The track was premiered in conjunction with visuals from the film 'First Orbit', a modern day recreation of Yuri Gagarin's orbit around earth, directed by Christopher Riley and filmed in high definition from the International Space Station by austronaut Paulo Nespoli, thereby creating in Eldjárn's own words "a unique concert experience … transforming the concert hall into a space vessel, taking the audience along for a journey into space."
'Poyekhali!' is indeed as spectacular as the space mission that inspired it!
Úlfur Eldjárn plays the Iceland Airwaves Festival – Gamla Bio, Friday November 6th.  'Poyekhali!' is currently available to stream via Spotify.