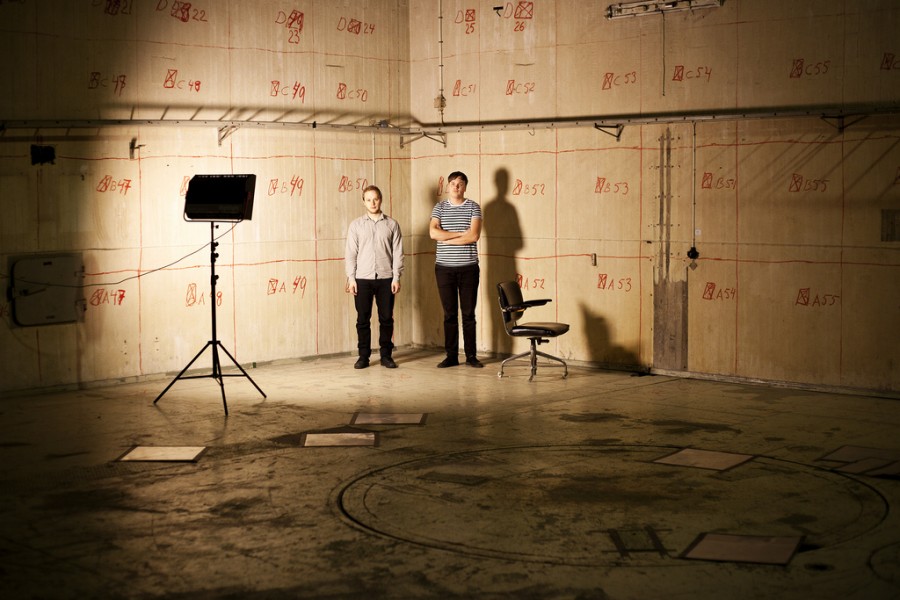 "A melodic pop branch of the subtle house mafia", "armchair techno", "mellow feelings, mixed with a portion of hope"…
Intrigued? You should be. Because each of the above phrases describes unstoppable Swedish duo Boeoes Kaelstigen, who we're thrilled will be joining us at Ja Ja Ja in Hamburg on November 11th and in Berlin on the 12th!
They're fresh from releasing their second album Overcomes Love, Time and Space, so we caught up with the band's Leo Nathorst-Böös and Tor Rauden Källstigen ahead of their upcoming Ja Ja Ja performances to find out more about the magic behind their music…
Ja Ja Ja members can buy tickets for just €5 as well as getting access to exclusive competitions, news and merch – find out more about signing up (for free!) here…
Spotlight Interview: Boeoes Kaelstigen
For those that haven't met you yet, could you please introduce yourselves – who are you, where are you from, and how would you describe what you do?
We used to make minimal tarnce, but then shifted into a melodic pop branch of the subtle house mafia.
Can you give us a short history of Boeoes Kaelstigen so far?
In 2007, we released a white piece of plastic dedicated to our vague thoughts about techno, and the house scene in Berlin. Our focus then shifted into something much more Scandinavian – namely apocalyptic scenes in the dark Swedish forests. We released a piece of socks, and the accompanied CompactDisc happened to be nominated to the Swedish Grammys.
Some time passed and our inspirational target was once again changed, from the technologic and cold – to… Love, time and space! That's exactly where we are right now, and we're very proud to have released this colorful, second, album.
You released your beautifully titled album Overcomes Love, Time and Space earlier this year – so what are the 3 most important things we should know about the record?
Both of us are secretly singing on some of the tracks. It's partly mixed in the Belarusian capital. And… it was fantastic to work with some extremely talented pop stars on the collab tracks. We hope that you'd experience that as a listener.
As well as being great at music making (obviously!), you've got a visually artistic flair about you too – how important is the visual side of your music to you?
Wow, thanks! The visual part lies very close to our hearts and minds. That's why we went that extra mile and ended up with 3D-scanned clones of ourselves. Not too convenient. But definitely visually rewarding.
We've also noticed that you're master collaborators! What do you look for in new music making partners?
Wooow, again! We basically poke people who are making great songs. Then they might come back to us, and then we might end up making a hit together. Easy as that.
Congratulations of your excellent remix of Seinabo Sey's 'Younger' reaching MILLIONS of listens! Do you guys have any golden remixing rules?
Thank you very much! We try to break the song down into tiny pieces of kilobytes. Then we glue them together with fluffy synths and schooowshy effects. That's when it's time to take a break and have a coffee – and eat pastries like very old people. Wait a little more. Push the export-button – and the song is ready to enjoy.
What's the best description of your music that you've ever heard?
"Armchair Techno" – Dunno if we were supposed to be insulted or flattered from that.
We're super excited to host you at this month's Ja Ja Ja shows in Hamburg and Berlin – what can we expect from your live performance?
We aim to push the boundaries for how much smoke machine-made fog that's allowed in a EU country. We also hope to bring that perfect balance of mellow feelings, mixed with a portion of hope. And some parts of the future on top of that.
Do you have any good new music tips to share with us? 
Julia Vero – How Does it Feel (Gabriel Gassi Remix)
And finally, what does the rest of the year hold for you?
Same as always. We'll dream on about redundant technology and assorted feelings related to the future, love and hope.
Ja Ja Ja Proudly Presents:
AV AV AV | Boeoes Kaelstigen | M-Band
Wednesday 11th November 2015 – 7:00pm 'til late
Molotow, Nobistor 14, 22767 Hamburg
Join the Facebook Event
Thursday 12th November 2015 – 8:00pm 'til late
FluxBau, Pfuelstraße 5, 10997, Berlin
Join the Facebook Event