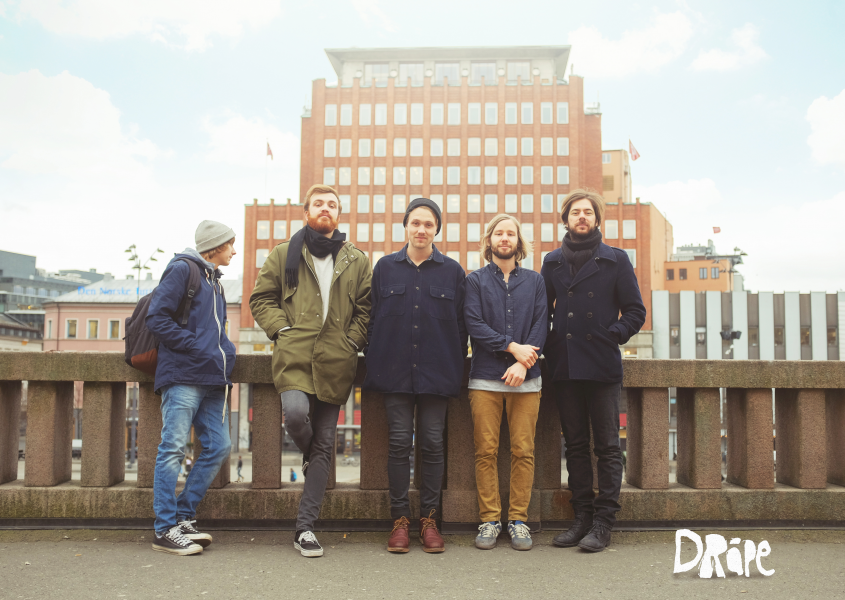 One could be tempted to go into hyperbolic overdrive to describe the latest offering from Norwegian five-piece Dråpe but 'My Friend the Scientist' is worthy of so much more than the world of superlatives can throw at it.
Less shoegaze, more chilled out indie, this is a much darker affair than Dråpe's previous single, 'Pie in the Sky', which was altogether more candyfloss, sugar-pop.  Albeit a stronger, and, in my opinion more mature song, 'My Friend the Scientist' still contains those intrinsic qualities that make up the familiar Dråpe 'sound': 60's trippiness, loose 'n' light vocal and dreamy synth sequences.  The difference with this song lies predominately at the heart of the rhythm section, who have masterfully executed a tightknit combo of ground scraping basslines and enigmatic late 60s/early 70s-esque percussion.  Topped off with some seriously languid, and at times, uber reverbed, guitar chords, this is without doubt one of the best Nordic singles I've had the pleasure of reviewing this year.
According to bassist Lars Kristian Boquist: "We wanted to make something different from the first record. We wanted to find the best in ourselves,to see how that sounded, instead of deciding on everything beforehand." Well, congratulations guys, you succeeded on all counts!
The video for 'My Friend the Scientist' has a docu-meets-funfair feel.  Perfectly edited by award winning film maker Even Hafnor, the video is a mash up of clips from space simulation training documentaries, and footage from various space stations and moon landings. Special mention goes to the poor chap being chargrilled whilst togged out in an oversized plastic bag.
Dråpe, masters of melody, have come of age, and if the two singles thus far are anything to go by, their album, Relax/Relapse is going to be pretty special.
'My Friend the Scientist' is available now on Spotify, and the album Relax/Relapse will be released on October 9th, via Riot Factory.