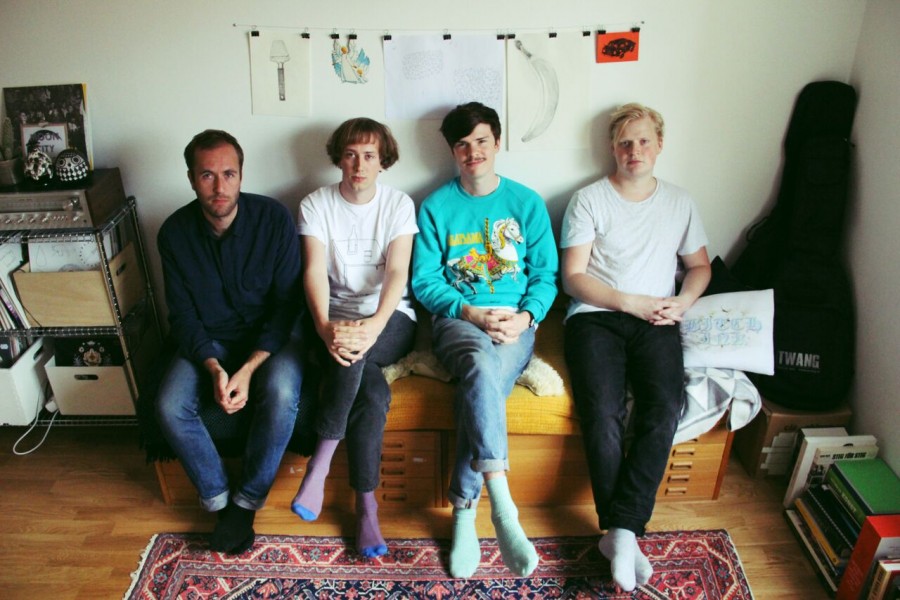 Swedish slacker-pop maestros Magic Potion have certainly been casting a spell on our ears with their catchy indie-rock of late, having recently released Melt, a critically acclaimed EP via PNKSLM and Beech Coma. We thought it might be nice to get to know them a little better!
For those that haven't met you yet, could you please introduce yourself – who are you, where are you from, and how would you describe what you do?
Answering the questions are Gustaf and Andreas – interview administrators and head chief captains of the internet side of things. The others (Bysse and Haren) are probably home by now, eating cheese and crackers with their loved ones.
We all live in Stockholm (but are initially from different parts of Sweden) and have been playing together as Magic Potion for about a year now.
  
Can you give us a brief history of the band?
We came together to jam a couple of times and it basically turned out to be too fun to not keep doing. At some point we had enough songs for an EP and pretty soon got in touch with PNKSLM and Beech Coma who helped us out releasing it.
Post the release of Melt EP, classically schooled guitar hero Haren joined the band after Dimman (the guy in the Deep Web video) made a noble jump-in once on the synthesizer. So now we're a four-piece pop crew trying to find a way into the hall of fame rock'n'roll business of dollarz and acid.

You've just released an EP called Melt – can you tell us about how it came together?
It was actually kind of a simple process. We got into zen mode in the studio, tried out a bunch of ideas, and the ones with the fewer chords and most vibes were chosen.
You record using reel to reel and other analogue equipment – for all the gear-heads, can you talk us through the recording process?
Sure! We have this 8-track quarter inch tape machine we record on, which is a bit more hi-def than cassette but still kinda cheap. We record everything in mono and fool around a while with different ideas until we feel we've got something kool going on. Then we pretty much dump everything to a computer for mix, mostly balancing stuff out, and that's that. Really chill stuff – nothing fancy! 

Your excellent website advertises "gig(glypuff)" and "hitz music no. 1" so you guys are clearly having a lot of fun – is humour a big part of what Magic Potion do?
Cool that you've been surfing on our interwebz homepage! 
I guess when it comes to the part of the band that's not the actual music ("social media" etc) we try to have some fun around it to make it more enjoyable. Obviously we like to have fun playing and writing music as well, but we're not like trying to be comedians on stage or anything. 

The videos for your songs 'Deep Web' and 'Booored' were a big favourites of ours this year! Can you tell us a bit more about how they came together?
Hey, thanks! Glad you like them. The idea for the 'Deep Web' video was basically just to hang out with our genius friend Dimman. So we pretty much brought a camera, ordered pizza and filmed him trying to play bass to a song he'd never heard.
The video for 'Booored' was more of a pain in the ass to make. It was mega fun but took sooo much work we pretty much had to give up our lives there for a little while. We animated a billion gifs in the computer, recorded it to VHS tape a couple of times and then converted the tape back to the computer together with some old footage we found.
You're in London to do a couple of gigs this week – what can people expect from your live show?
Yup! It's our first shows outside of Sweden so we're super excited!!
People can expect divine guitar shreds, tom tom blizzards and some low frequency abdominal massage.
No, really, we're kind of a new band so we're just going to have as much fun as possible and are probably going to try out a bunch of fresh tracks in-between the gold standards.

Do you have any good new music tips to share with us? (Swedish tips are particularly welcome!)
Vaken
Let's say we did
Boys
Anna Von Hausswolff

And finally, what does the rest of the year hold for you?
We'll be playing a couple of more shows in Stockholm and catch the last gamma rays of vitamin D before this country goes all eternal darkness and we lock ourselves in to finish our debut album.
Magic Potion's EP Melt is available now, and if you're in London you can catch them on Thursday October 1st at The Old Blue Last and on Friday October 2nd at The Waiting Room! Both shows are free entry, so make sure you get down early to avoid disappointment.