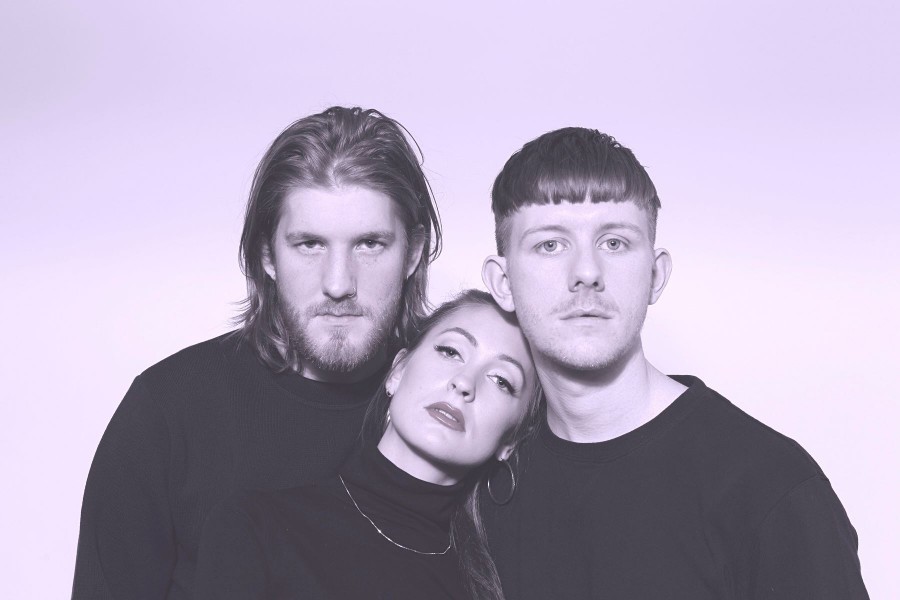 With our London club night returning to the Lexington on September 24th for a brand new season of shows, we thought we should kick the party off with some of the artists we've been most excited about in 2015 so far. Iceland's Axel Flóvent, Norway's The Fjords and the brilliant CHINAH from Denmark!
CHINAH's sparse, R&B influenced take on pop music may be minimal in construction but the impact is all the greater for it. Their tracks 'Away From Me' and 'We Go Back' have had blogs and social networks across the globe lit up like firework displays, and all that buzz is richly deserved. Ahead of their show on September 24th, we thought we'd catch up with the band to get to know them a little better!
For those that haven't met you yet, could you please introduce yourself – who are you, where are you from, and how would you describe what you do?
We are Simon, Simon and Fine – a three-man band named 'Chinah' from Denmark. We play production-oriented blue-tinted pop music, homemade in our small apartments in Copenhagen.
We're currently working on a debut EP with planned release in the fall, and elaborating on the sudden hype of our newly released first singles!
CHINAH is a relatively new project, but there must be a great story behind it – please tell us the history of the band so far!
The project certainly is still in its very earliest stages of life, still being defined and shaped for every gig and production session. So its history is still in the making. Up to this point, though, it's about three young musicians with widely different musical backgrounds uniting in a passion for pop and immediacy in music.
We'd love to get to know you a little better – can you tell us any fun facts about each member of the band?

Simon K (guitar) once wore a so-called "fart-pillow" costume to a party and wrongly thought he won an award for 'best costume'.
Fine's (vocals) first song ever was about her pet rabbit. It was called "Ninka Kaninus".
Simon A (keys) is actually (sort of) Swedish!
'Away From Me' caused quite a stir online pretty much as soon as it hit the internet – how did you react to how excited everyone was about it?
After a couple of days it reached 20k plays on soundcloud, and we were very excited – we found it hard to comprehend that so many people had actually listened to our little song!! Fast- forward a couple of weeks, and it hit 200k plays on multiple platforms. We find it hard to grasp the actual meaning of those large numbers! We're overwhelmed. All the kind words from people and blogs has really been fuel to our faith in the future of this project. But it's all happening so fast – we're still trying to get used to seeing our own pictures on the internet.
Good vibes!
Can you tell us about what inspired 'We Go Back'?
This is actually a bit complicated since 'We Go Back' is the track that had the most different forms throughout its creation. The first few versions were much darker, and there was a whole other verse (which we laugh so much about now, like "what were we thinking?!"). Finding its final form was such a relief for us. So there's not one single thing that inspired the song.
Suddenly we just knew it was finished. Lyrically it's a song about how the sensuous drive often overrules reflection. It's sung from the perspective naive submission. But it feels liberating because of the light melodies.
Talk us through the songwriting process for CHINAH – how does your music come together?
We don't have a clear-cut work process, and neither do we have clearly differentiated roles. Sometimes one of us has an idea for a melody, and we jam a couple of chords from that.
Sometimes one of us fooled around with a beat last night, which is then being elaborated on by the others. We are quite perfectionist by nature, but we really try to be immediate, especially in the early stages of a composition. Only two things are certain when we make our music: 1) we produce and compose simultaneously, and 2) we talk/discuss a lot. A lot.
You're playing the Ja Ja Ja club night in London soon and we're super excited to catch you live – what can we expect from CHINAH's live performance?
We are, and we can't wait!! Attitude-wise you can be absolutely certain that it means a lot to us to be on stage and perform well, and that we'll take it very seriously. Simply put, we care a lot, and that hopefully shows. Musically, we try to be true to the nature of the songs and productions when performing them live. However, we also do admit that the live performance situation is a distinct discipline, thus calling for adjustments – ranging from prolonging some sections in some songs, inserting new sections, adding some acoustic drums etc. Oh, and we bring a drummer!
Your EP is due out later on this year – can you give us any hints about what we can expect?
Obviously we love our two first singles, but we do feel like we have yet to show a few more dimensions in our music. For example, not all our productions are as minimal as the first two tracks. Get a sneak peak at what's coming at our show at Ja Ja Ja! We'll play some of the tracks that will most likely have a spot on the EP.
And finally, what does the rest of the year hold for you?
We're not entirely sure, and we love that. We only know that we have to finish the EP, play some great gigs, and just elaborate on whatever just so happens to come to us.
You can catch CHINAH at the Lexington for our Club Night on September 24th – don't forget to sign up for free as a Ja Ja Ja Member for discounted tickets! You can find more information here and grab your ticket right here. See you there!