It's been a week since Øya Festival, and we're still pretty sad it's over! Let's re-live the good times…
These days it's fair to say the European summer festival calendar is pretty full. From Glastonbury to Primavera to Roskilde via Latitude, Pukkelpop, Way Out West, End of the Road and more – unless you've got a time machine and a secret stash of infinite money, it's tough to know which one to choose. Well, Norway's Øya Festival may not be among your cheapest options, but it is certain to be among the most memorable and enjoyable, should you choose to go. With a core line-up of strong international bookings across the musical spectrum, from this year's Glasto darling Florence & the Machine to the retro-bombast of Nile Rogers and Chic alongside a fantastic array of local talent, Øya's target is to provide something for everyone, musically speaking, and a fantastic week of live music for anyone who steps into Tøyenparken or one of their late night venue takeovers.
Let's start with the order of ceremonies: Øya springs into life on Tuesday evening, with a net of shows cast out across the city of Oslo, and more live music from fantastic Norwegian acts than one person can possibly see. However, Øya is the sort of festival where you could wander into a venue with no prior knowledge of the artist, watch a bit, and if you don't fall in love, then you can probably pop next door and see what's going on over there – chances are it might be more to your taste, and it's only a short walk away. On Wednesday the festival kicks off properly in the relatively new site of Tøyenparken, which is normally just one of Oslo's many lovely parks, including outdoor swimming facilities around which the backstage areas were built so artists could cool off after a set! The park is a natural basin, so with the largest stages in the bottom of the well, the slope provides clear viewing for all attendees, but it also has enough flat ground both at the top and bottom of the hill to accommodate tent stages, a wide variety of food, merch and general fun stands and the usual festival facilities: it's telling that the only queues I saw all week were for particularly popular food vans (the burgers, vegan wraps and tacos, if you're curious). The festivities wrap up on Saturday evening, giving international travellers and locals alike a day to get back to their respective realities without having to bleed into the following week.
This sort of planning felt like the summation of how Øya comes together – just well scheduled, and with a thoughtfulness about what might be best for attendees; you can take the week off, either chill out or enjoy the many charming aspects of the city of Oslo on Monday & Tuesday and in the mornings before the festival starts at 2ish, watch a fantastic array of live music until 3AM at the latest every day, then head home on the Sunday with plenty of time to handle laundry and an early night before the mundane reality of working life comes back to you. Øya is such a relaxed festival, it's as restful as 4-and-a-half days of intensive live music can get – from airport to to dancefloor it's just a fantastically easy and enjoyable ride.
So let's get into it, shall we? Tuesday evening was the launch night and every venue in Oslo was in full swing with a full line-up of fantastic Norwegian acts to adore. Featuring favourites of ours like Philco Fiction, Hanne Kolstø, Snasen, Dråpe, there were around a hundred acts playing across the city. Using the excellent taste of local label Propeller Records as a guiding hand, we started out with a view to catching some of their latest signings – The Fjords, Frøkedal and Ja Ja Ja Club Night alumni Apothek, who had literally just signed their contract with the label earlier on that day. Kicking things off at an outdoor stage called Internasjonalen were the Fjords, whose dynamic and engaging songs felt like the perfect way to start a festival,  and it was at this same stage where we caught Frøkedal and her band Familien, who put on a memorable performance with live violin, electronics and more. Sandwiched between was the exciting new pop-prospect of Amanda, a new project from Marte Eberson from Highasakite at wonderfully grungy club venue John Dee. Amanda's take on melancholic pop is one that sounds typically Nordic, but really unusual at the same time – though obviously we'd be happy to have new material from Highasakite, Marte's new venture is pretty exciting.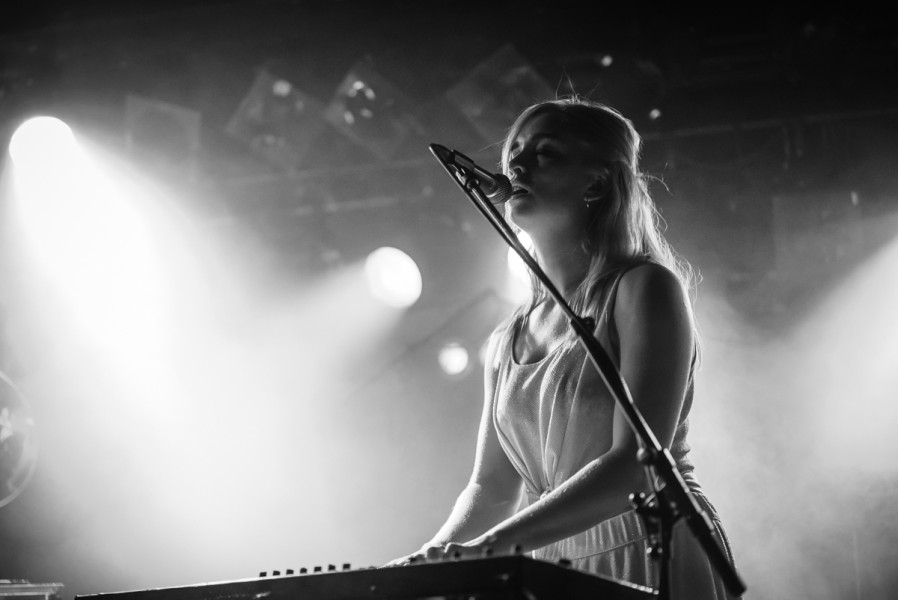 Photo: Amanda by Johannes Granseth
Following Frøkedal was a beyond-capacity show for Apothek at Revolver – if you caught their set earlier this year at the Lexington for our club night then you know how much of a treat it is to catch the band live. With electronics alternating between shimmering and uplifting to moody and bass-driven in rapid succession, Apothek's music is guided primarily by the vocals – it all swirls around that focal point and then slowly seeps into your soul from there. It came as no surprise to us to hear their name on the lips of other festival goers as an early highlight across the week, and during the show even the sound technician was getting up from behind his desk to watch with the rest of the crowd – a perfect start to a new chapter in the band's story.
On Wednesday the festival kicks off in earnest, with every genre you can think of represented across six stages. Amfiet and Vindfruen, the two main outdoor stages, Sirkus, a large tent that was really more like a pop-up warehouse, Hagen, the smallest outdoor stage, Hi-Fi Klubben, a dance-tent of sorts, with an impressive Bowers & Wilkins sound system, and Biblioteket, a marquee stage for new local bands. Launching proceedings are Norwegian favourites Razika, whose uptempo ska-infused indie seems like the best way to get crowds going from the start, but with the perfect weather it was tough to not want to just lie on the grass and soak it all in. The first act we caught was Fay Wildhagen, and though her band featured a very expressive violinist and someone playing percussion and trumpet at the same time, it was her unique voice which was the star of the show, winning the crowd over with her blend of country infused soft rock.
After Fay's set we thought we'd check out Drippin, an exciting new producer whose Silver Cloak mini-LP from last year made a lot of people take notice of what he's doing. His arrival was heralded by a massive cloud of smoke, but the crystalline trap and hip-hop influenced beats soon cut through the gloom.
Wednesday's proceedings also saw sets from pop behemoths Years & Years and Shamir, the requisite amount of black metal from Enslaved and In Flames, slacker pop from Foxygen and Courtney Barnett, The War On Drugs' melodic rock and a typically convivial Belle & Sebastian, whose set always involves a lot of smiling, silly dancing and a stage invasion, on this occasion featuring a wonderfully well-timed kiss on the big screen. If it was planned, it doesn't matter – it perfectly suited the joyful mood Belle & Sebastian bring with them wherever they happen to be.
Though it's always a delight to see Caribou and his fantastic light show, there was no competition for where we were going to be. The highlight of Wednesday – and indeed one of the best things from the whole week – was the ever charismatic Sondre Lerche, bringing tracks from his latest LP Please home to Norway. Of course Lerche is one of Norway's most beloved musical exports, having found a dedicated audience of fans all over the world, especially in his adopted home of the USA, but on the stage at Øya he seems so perfectly at ease it's as if he's never strayed further from his backyard. He was received with a warm welcome by a crowd eager to hear their favourites, old and new, and mass-singalongs did ensue during 'My Hands Are Shaking' and 'Two Way Monologue', but it was 'Sleep On Needles' and set closer 'Bad Law' that were the real highlights – as the scratchy, discordant guitars of 'Bad Law' raged, Lerche took off running, pulling down the backdrop, destroying the stage and generally causing exuberant chaos. He ended the set spread-eagled on the floor, chest heaving, with a crowd desperate for more – the only disappointment of the set was that we didn't get it. Chic may have been the headliner on Wednesday night, but it was Lerche who gave a headline performance, and arguably the best of the week.
Thursday's festivities were kickstarted by the classic rock of Sauropod, swiftly followed by the punishing noise of Sunn O))). Shrouded in smoke and ominous black cloaks, the band's deep, resonant, beautiful drone seemed to work in perfect co-ordination with the billowing smoke around the cavernous Sirkus warehouse. Norway feels like the spiritual home for this sort of grim on a Thursday afternoon, with their bleak take on Gregorian chant and huge noise actually making it feel like your brain was vibrating inside your own skull. In a good way, obviously. What wasn't good was the fact that this sonorous racket clashed with Run The Jewels, and it's a testament to Øya's great scheduling that this was the only real agonising conflict of the weekend. Figuring that you could probably still hear Sunn O))) whilst watching Run The Jewels on the adjacent stage (you could) we took off early to catch the last few tracks of their set, and weren't disappointed. Run The Jewels specialise in bassy old-school production with a raw, contemporary edge. The political commentary onstage may not have had the same impact in Oslo as it might have in Oakland, but the crowd were enthralled nonetheless. The amount of quality hip-hop booking at Øya was a pleasant surprise – elsewhere across the weekend you could catch sets by Tyler, the Creator, ILoveMakonnen, Thursday's event-closer Flying Lotus, and plenty of Nordic hip-hop talent as well, including Swedish MC Silvana Imam, whose fresh production, R&B inflection and high energy – at one point she was literally running across the stage – were really impressive and an unexpected treat.
Before Silvana Imam, however, there was only one place to be – right down the front for emotional indie-rock dreamers, Team Me. Team Me are a band who are almost impossible to not enjoy live. There's such an infectious energy in their live performance, possibly due to each member of the band's dedication to multitasking, that normally you leave a Team Me performance with your face sore from the massive grin that's been plastered across your face for the last hour. With a set drawing predominantly from their much darker second LP, Blind As Night, they were not remotely subdued, and it was these tracks that the crowd were waiting for, with murmurs of 'Kick & Curse' and 'F Is For Faker' bubbling excitedly from their fans as the set was drawing to a close, pondering which one it might be that they'd play last. As it happens, the anthemic 'F Is For Faker' took the honours, and along with the moment keyboardist Elida took a solo vocal on old favourite 'Show Me', it was one of the real highlights of the set. Perhaps it's telling of a home crowd supporting their favourites, but despite a lower billing in the day, Team Me pulled a bigger and more excited crowd to the main stage than shoegaze stalwarts Ride, who followed them an hour later; in fairness to Ride, they're a difficult act to follow.
Thea Hjelmeland is another fantastic Norwegian artist we were introduced to across the weekend. First, at a particularly surreal event involving a zip-line, but her actual set was equally memorable, with her emotionally charged songs filling a packed Sirkus tent as they hopscotch around several genres, sometimes even within the same song. Though it does perhaps have more of an impact on record – or if you were familiar with her music ahead of time – she made a strong impression, and was definitely an artist to seek out at home later.
As ever Øya's varied programme provided a huge variety of musical choice for the rest of the day – Caribou's side-project Daphni took to the Hi-Fi Klubben stage while you could enjoy Arthur Russell's experimental baroque pop instrumentals over in the Sirkus tent. If Florence & the Machine's grand ballads weren't your style, you could rock out with metal favourites Honningbarna or get to the front for Flying Lotus. However, of the non-Nordic offerings it was Father John Misty who stole the show on Thursday for many, playing a set of tracks predominantly taken from his latest LP 'I Love You Honeybear' which looks set to feature very highly on critics' end of year lists. His wry humour was not lost on an appreciative crowd, and as he stole a fan's phone to film himself singing, gags like "just label this 'awesome Chris Isaak concert'" went down as well as his music.
After hours, the fun continues in the city with many excellent gigs taking place until late, with as wide a variety of local and international bookings from across the spectrum of musical genres under the heading Øyanatt as you'll find at the main festival. Acts like Zhala, Iceage, Ben UFO, Rangleklods, Little Simz and Ought appeared throughout the week, and on Thursday the choice was particularly difficult – Rangleklods, Waxahatchee, Klubb Yacht Rock (a covers band who received glowing reviews from attendees of last year's event) or Swedish pop sensation Tove Styrke? In the end we went for the latter, and weren't disappointed. Choosing sportswear over a fancy frock, it becomes obvious why – she never stops moving for a second, bounding around the stage, giving it her all to a crowd of hugely excited fans. Dancing to recent single 'Ego' was the ideal way to end Thursday's fun.
As we welcomed in another beautiful day in Oslo, Sweden's Amason were the first to take to the stage, with an array of miscellaneous taxidermy in tow. If a stuffed crow and badger are the band's lucky charms, then that's fine by us – as they played tracks from their LP Sky City, the band's warm, nostalgic, 60s influenced take on pop-rock was a splendid start to the day. It's also worth noting that it's no small feat to cover Foreigner's 'I Want To Know What Love Is' and have it sound good, but the band managed it perfectly, to the point where it made us want to revisit the 80s classic with new ears, but it was their own songs that stole the show, with recent single 'Kelly' a particular highlight.
Amason's gentleness and earnest pop was swiftly brushed aside, however, as immediately after them it was time to rush across to the Vindfruen stage to catch one of our most anticipated sets of the festival: Jenny Hval.
Hval's fantastic LP Apocalypse, girl is one of our favourite releases of the year so far, and her live performance of the songs on that album was always going to be as much about performance art as it was about singing some songs. Hval, her band and accompanying players 'the Apocalypse Girls' did not disappoint. From the beginning there was paint, there were surreal situations, there were ball games, there was hugging, there was an exercise bike, there was a hilarious Lana Del Ray cover, there was more hugging, there was toilet paper, there was perfectly enunciated profanity (particularly surreal, given that there were plenty of young kids around and it was 3PM in the afternoon) but most of all, there was Hval's faultless vocals – even as she was warmly embraced by four people at once, she never faltered for a second. Certainly, this kind of art is not for everyone – there was plenty of baffled expressions walking away after her set, but there was plenty of thrilled ones too. If nothing else, you couldn't take your eyes from the stage for a second, and it was easily one of the most remarkable and memorable performances of the week.
After Jenny Hval's experimental art, the sensible option seemed to be to head into the dark for an afternoon camping out at the Hi-Fi Klubben stage, as that afternoon had Holly Herndon, local favourite André Bratten and SOPHIE in immediate succession. Friday is for partying, right? While the sunshine was perfect for us punters, unfortunately the heat had fried Herndon's laptop, so we were predominantly treated to experimental ambient soundscapes while she desperately tried to get the machine to work and her colleague who was in charge of the visuals typed messages to the crowd to inform and entertain. Eventually things kicked back in and we were able to enjoy a portion of what she would have had in store – though it wasn't an ideal situation, her perseverance was appreciated, and overall the set was still really enjoyable: it's telling of her talent that even improvised noise in trying circumstances from Herndon was still a highlight.
After a quick peek at the marquee Biblioteket stage, we ventured back into some welcome shade to catch André Bratten's big, synthy tech-house. Once again it was hard not to be impressed by the sound-system – get close to the speakers and you could feel your face and throat vibriting in unison with them. With his spacey sounds almost heading into trance territory, the crowd was really going for it – and though it was SOPHIE's set which prompted one of the most crazy crowds of the weekend, it's pretty clear that Bratten laid some substantial groundwork.
SOPHIE was the another of the artists on the Øya bill that really emphasised how varied and interesting the overall line-up was. You could catch Alt-J on the main stage, ILoveMakonnen on the little one, and then head straight over to see one of the most talked about producers in the world – by critics, at any rate – in a tiny tent with fantastic sound. We couldn't resist seeing what the fuss was about: are SOPHIE and his PC Music associates really the future of dance music? Well, overall the jury is probably still out on the future, but SOPHIE's set was very impressive. Though he's known for tracks like 'Lemonade' and 'Bipp' which feature the kind of pitch-shifted vocals to make your average J-Pop idol sound husky by comparison, the vast majority of his set focussed on his production, which is tense, at times aggressive, full of really interesting and inventive sonic choices, and had a crowd of eager young Norwegians going absolutely nuts for it.
Continuing on the theme of 'something for everyone', closing up for the day on Friday were the choices of frantic metal in the form of The Good The Bad And The Zugly, Lars Vaular's Norwegian language rap, uplifting breakbeats from Ninja Tune signed and local favourite Jaga Jazzist, and Beck. Beck picked a set that focussed on the more party-centric tracks from his back catalogue and it seemed to go down a treat, with a quick costume change and a cameo from a toy robot among the highlights.
Saturday seemed to arrive too soon – how can it be Saturday already? Alas, it's the final day of the festival, and with sadness (and more spectacular weather) we head to Tøyenparken for the final time. Kicking things off are Norwegian stalwarts deLillos, an act whose significance is probably lost on most of the international festival goers, but they're the sort of 'classic' act that always brings an unexpected smile at a festival, the way Lionel Richie did at this year's Glasto. The first act of the day to really get things going for us, however, was a group of teens making a marvellous racket going by the name of Slutface.
That's right, Slutface. The name is certainly the first thing to grab your attention, but their electric live performance is what you're going to remember. Musically the band draw from punk rock and the pop sensibilities of a band like Paramore, but with a little more of a grungy edge and feminist leanings, it was a joy to see young women going crazy for them down the front. Flagrantly ignoring the signs that said 'No Crowd Surfing' on every stage, singer Haley leapt into the crowd, dragged them back onstage with her, and had them howling out "A! N! G! S! T!" in unison before the end of their set. A memorable performance from a band with a memorable name – one to keep an eye out for in future, for sure.
Trondheim is a city noted for its jazz, and seeing Trondheim Jazz Orchestra appearing on the festival bill might not immediately grab your attention, especially with XL's hot property Afro-French sister duo Ibeyi playing on the other stage, but when you see their name with Kristoffer Lo, it might change your mind. Usually found playing with his band Highasakite, he swaps pop to take centre stage for the cinematic, atmospheric compositions he creates with this band. The tuba is not an instrument you generally associate with rock 'n' roll. It's big, cumbersome, and, well, just a little bit uncool. You imagine dads playing the tuba in a church hall on a Saturday afternoon. Kristoffer Lo is doing his best to change that perception, though – and as he moves dynamically around the stage with his instrument you feel bad for ever short-changing it so much. Musically the Trondheim Jazz Orchestra veer from the wonderfully atonal to deeply melodic compositions that don't even really seem to be jazz anymore, but you're enjoying it so much you can't really mind. Recruiting members of a number of other bands (we spotted Ingrid Helene Håvik also of Highasakite and Petter from The Fjords as a start) the Trondheim Jazz Orchestra manages to be wonderfully experimental, taking choral cues from Le Mystère des Voix Bulgares in places along with more traditional jazz stylings. Trondheim Jazz Orchestra and Kristoffer Lo's performance was an unexpected delight, not least for making us re-evaluate the coolness of the tuba.
It felt like Saturday's line-up had more excellent Norwegian acts to choose from than some of the other days, but that's possibly just anticipation for two of our favourites on the main stage later on that day – Emilie Nicolas and headliner Susanne Sundfør. Before then though, we caught Broen, a more up-and-coming act on the Hagen stage, who were all covered in sequins and ready to party. Though we were already familiar with recent single 'Iris' we had no other expectations, and discovered that Broen specialise in wonky electronics, interesting time signatures and strong discordant grooves, resulting in an off-kilter take on pop that's easy to be drawn in by. Singer Marianna's performance has the kind of energy and presence of an artist like Neneh Cherry, her vocals slipping between singing and rap, with lyrics about topics like feminism and sexuality, Broen are a band who are difficult to categorise, musically speaking, but that can only be a good thing.
We took a brief diversion from awesome Norwegian talent to catch The Julie Ruin, Kathleen Hanna of Bikini Kill and Le Tigre's current band. If you're unfamiliar with Hanna's work, check out the recent documentary The Punk Singer to give you a little context of both where she's been musically, and where she is now in terms of her health – as such it feels even more special to see her bouncing around joyfully onstage having a blast, making fantastic music still. Even if you're not familiar with any of her other bands (though it was pretty clear that most of the crowd were) the Julie Ruin are still a great entry point – their music is full of strong melodies, infectious energy, and abundant attitude. From the moment they took to the stage, clocking a t-shirt worn by the keyboard player which read 'Everything Is Problematic' you knew you weren't in for sweet ballads – this is pop-punk at it's best, in the sense that it's punk rock, but with both feet firmly planted in pop hooks, and Hanna remains one of the most engaging and inspirational performers you're likely to see.
Finishing up the week's fantastic musical offerings were Norway's two reigning queens of melancholy pop – Emilie Nicolas and Susanne Sundfør. Though it only seems like a minute since Nicolas' début LP was released, hearing her perform to a huge local crowd made these songs feel as familiar as beloved classics. 'Grown Up' was a particular highlight, sounding bigger and more tender than ever, her voice resonant and beautiful as the sun began to set on Tøyenparken, and indeed, on the festival.
It's been a little while since we caught Susanne Sundfør live, and we were eager to hear her perform tracks from her latest LP, Ten Love Songs. With a backdrop of lights like the stars in the sky above us, Sundfør closed the festival in perfect fashion. Her voice needs no introduction – even as she crouched down programming sounds from a pedal board on the floor, her performance was incredibly impressive – if her soaring pop melancholy wasn't to your taste, her talent is absolutely undeniable. What was really wonderful about Sundfør's performance was how much more comfortable and confident she is now as a performer – though relinquishing control of the instrumentation to a band can't be an easy thing for a songwriter, she was able to step away from her instruments, let them handle the atmospheric synths and bass pulses her songs use so beautifully, and stand front and centre, dancing and engaging, but most of all headlining, with ease and prowess – there was no doubt as to why she was chosen to close the festival, and there was definitely a feeling of Øya having saved one of the best 'til last. Listening to Sundfør's remarkable voice resonate across the festival site to a huge crowd, it felt like a magical ending to a fantastic week of live music in a wonderful city.
Words: Dani Charlton
Photos courtesy of Øya Festival