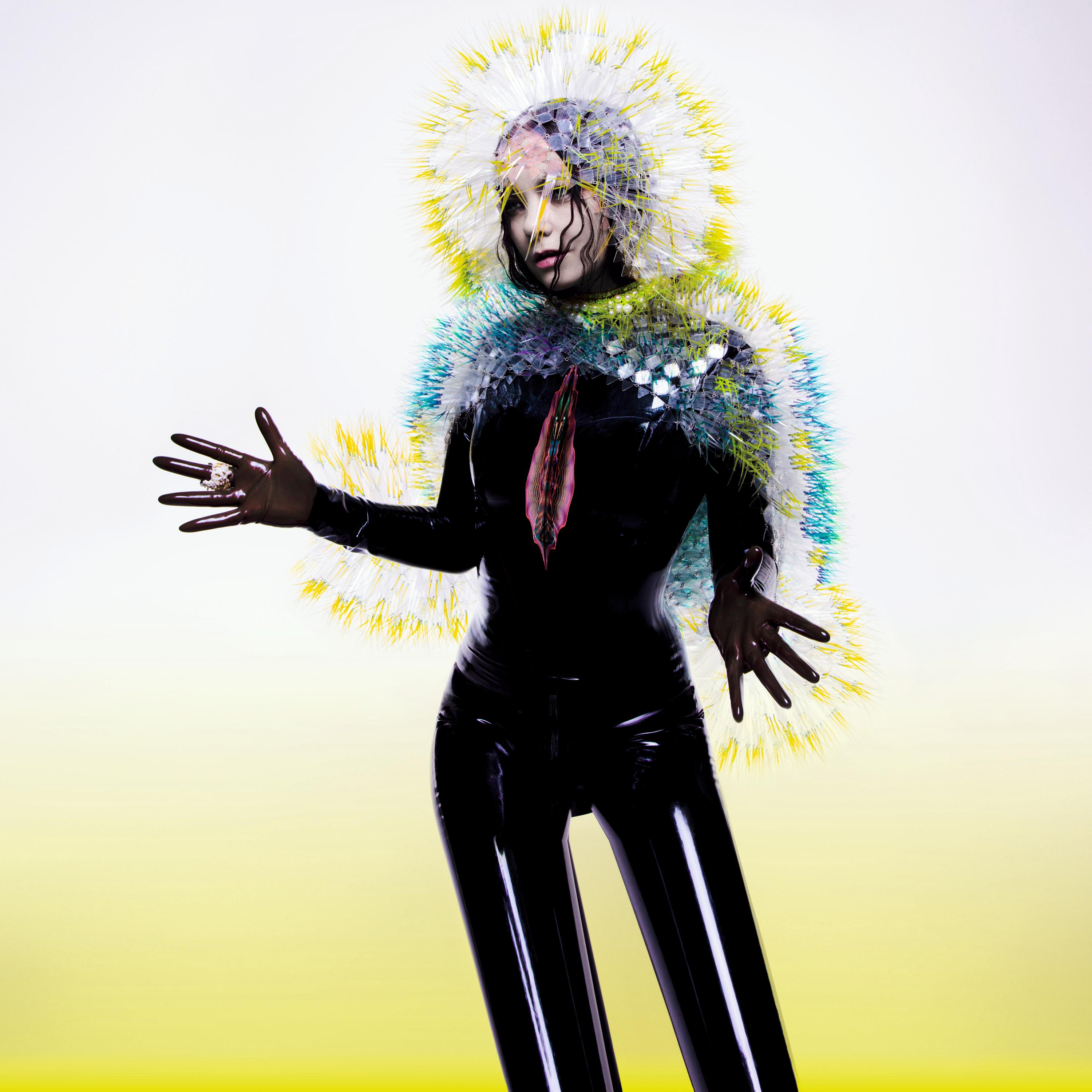 As we journey into the second half of 2015 we thought it might be nice to take a moment to reflect a little on some of our favourite albums of the year so far, one from each of our beloved Nordic countries.
Today we start with an album that is sure to crop up on many critics' end of year lists, one that is overflowing with great sorrow and great beauty in equal measure: Björk's Vulnicura.
Björk is unquestionably one of modern music's most distinctive, innovative and relentlessly creative artists. In the beginning it seemed like people were marketing her as some kind of kooky magical sprite from The Frozen North, with a voice seemingly bigger than her body. However, she has sidestepped all those narrow-minded categorisations every time, by returning with album after album of new ground broken, and previously unheard of treasures unearthed. Thematically and aurally, she is always facing the sky; extended periods of navel gazing is not for Björk, she's much more concerned with the nature of the human body, or the constructs of the universe. Until now, that is.
Vulnicura is a title which immediately gives you the answer to a question you didn't realise had been asked. This is a record of vulnerability and cure. Of a woman baring her soul, without artifice or pretence, as a means of healing. It's regularly described as a break-up album, which it is. It is a chronological account of the disintegration of her relationship with artist Matthew Barney, as told in song from her perspective. In many ways Vulnicura can be taken as a one-woman opera – all drama and lungs, strings and emotional desolation. She describes it as a heartbreak album, which it is. Though you get into dark accusations on 'Black Lake' and the desperate attempt to keep the relationship alive on 'Stonemilker', this is as much about how Björk felt after the relationship collapsed as it was about the collapse of the relationship. I would call it a recovery album; in so many ways, it reads like a cancer diary. Diagnosis, followed by aggressive treatment and brutal amputation of the diseased, corrosive, destructive core inside her. Then slow, agonising recovery, to a glimmer of hope. One year on: hair still growing in, skin still pallid, but test results are all clear.
There is no room for fanciful interpretation on Vulnicura, Björk is explicit in her meaning, even without taking into the lyrics into account. The deep, inconsolable sadness she experienced, is palpable in every elegant, mournful sweep of strings, in the fizzing synapse bursts of electronics, tiny shocks of pain burning her from within throughout the album, in varying levels of intensity. Though she was assisted in production by Venezuelan Arca and British producer the Haxan Cloak, Björk is in every beat and sigh on this LP. Upon it's sudden release, seemingly every review and analysis was quick to point out and attribute the aspects the others' involvement. Despite it being clearly listed in the sleeve notes, stated by Arca himself via Twitter, and then again when Björk herself explained clearly when speaking to noted critic Jessica Hopper for Pitchfork, months before Vulnicura's release, and very much proving her point made later in the interview about women not getting credit for their work. She tackled the production very much as an equal partner, and that Arca's role was as much to interpret her ideas, as it was create the song with her, literally side by side in the studio. In the opera Vulnicura, she is the composer and the soprano standing centre stage, with Arca and the Haxan Cloak as the conductor and orchestra. Invaluable, but they are not the creators of the masterwork. Their role is to give it life, and what a life they gave it.
The rawness of Vulnicura is why it resonates. The unstoppable juggernaut of Adele's 21 is proof that a heart laid bare is a balm for those of us who can't enunciate the agony as clearly as these women can. It's also an agony that resonates in ways that go beyond the boundaries of romantic heartbreak. The loss of a relationship, and the pain that comes with rebuilding your life afterwards, can be applied to a loss through death or otherwise, of any person you truly loved, now vanished from your life. What is tangible on Vulnicura is not just Björk's sadness, but also her love. Though her love for her partner eventually brought her sadness, her love for her children and her ability to feel love is what strengthens and guides her to the next place, the one of recovery. In accepting the pain and letting the treatment via songwriting eat all the cancerous cells, she becomes healthy again. Damaged, but not broken. The scar remains, but the stitches are out, and the wound is closing up.
'Black Lake', the album's ten minute centrepiece, chronologically speaking, was the absolute end of the relationship. It was also recently was given a new video, premiered as a part of her MoMa retrospective alongside a video for 'Stonemilker'. In it we see her literally beating her chest, whether to stop or start the muscle which causes her so much suffering, is difficult to say. Contrastingly 'Stonemilker', the track which marks the beginning of the end, has a different tone. Directed by Andrew Huang, it was filmed using 3D 360 degree technology. Fully interactive, in it we find her standing alone in a barren landscape. Her expression is frequently playful. Her movements fluid and warm, dancing for the pleasure of it. This is not a woman sobbing into a sofa cushion. By lettering by hand a blow-by-blow account of her own vulnerability, she honed her craft even further, and has emerged an even more powerful version of herself.
Vulnicura is anything between her 8th and 10th 'proper' album, (depending on how you feel about the record she made as a child and the soundtrack for Lars Von Trier's Dancer In The Dark, packaged as Selmasongs) but it's as bold and vital as anything in her back catalogue. Though the combination of expansive strings and skittering beats is certainly territory she has traversed before, this is not a backwards step. In recent years Björk herself has obscured herself by elaborately painted screens, detailing more conceptual and big-picture preoccupations, but here we find her alone in the room. Nothing is hidden, and the work is all the more powerful for it. Listen to it below.
Words: Dani Charlton
Also in this series:
Finland: Jaakko Eino Kalevi – Jaakko Eino Kalevi
Sweden: The Tallest Man On Earth – Dark Bird Is Home
Norway: Jenny Hval – Apocalypse, girl