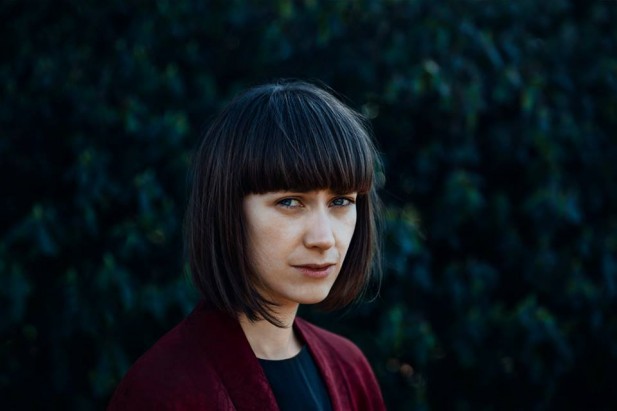 Photo: Sara Angelica Spilling
Way back at the start of 2015 (remember then?) we gave you a list of five acts to watch out for hailing from Norway, from the incredible electronic folk-pop of Aurora to the rumbling jangle of Psyence Fiction. Well, the country isn't resting on its laurels just yet as we present to you the gorgeous dream pop of Therese Aune.
Having released her debut album Billowing Shadows, Flickering Light in 2012, Aune – a classically trained pianist – began to move away from overtly chamber-based music and this is reflected in the sound of her new EP Cocoon, out on Trondheim's Riot Factory label. The first single 'Hedina' hints at this new direction: Aune's piano is still very much to the fore but it's surrounded by ambient electronics, swirls of synths and the song is kept in control by the Norwegian's appealingly brassy delivery. There's a touch of 4AD in there, perhaps a bit of Tori Amos, and it all combines to a grandiose whole.
We spoke to Therese to find out a little more about her, and we're also proud to present an exclusive stream of the Cocoon EP, out on 8th May.
For those that haven't met you yet, could you please introduce yourself – who are you, where are you from, and how would you describe what you do?
I'm a musician hailing from the eastern parts of Oslo, playing expressive dream pop, on piano, harmonium and synthesizers, while singing. I try to make music people can't feel indifferent to.
You're a classically trained pianist, so what first attracted you to that particular instrument?
I remember there was a room with a piano in my after-school care. From the age of seven I'd spend as much time playing that piano as I possibly could, even though I used only two fingers. I'd be one of those strange kids who'd rather play piano than play with the others. Daily, I'd ask my parents if I could start taking piano lessons, and after three years, they finally gave in and bought a piano!
Can you tell us about the single 'Hedina'? What's the song about and is it all related to the moth of the same name?
To be honest, that word came to me by accident. When I write songs, I tend to sing sort of English-based gibberish before I have any lyrics. Random words come out of me, without much reflection as to what they might mean. The word 'Hedina' stuck with me though, so I decided to do some research on it, just in case it meant something horrible in a foreign language. Turned out it is used both as a name, and of some sort of moth. Since the name of the EP is Cocoon, I thought 'Hedina' would fit in well. The song is about ambivalence – to be unable to make any decisions, and the wish to please everyone and therefore not pleasing anyone. It can be difficult both to be in that state of mind yourself, as well as being close to someone who's never able to find a direction in life.
What else can we expect on the EP? How has your music progressed since your debut album?
I'd say the music is more direct and extroverted than on the debut album. I wanted to be more in control of the music, record instruments on my own, and do the vocals early in the recording process. I have thought a lot about how I wanted the melodies to be strong on this record, not something I had to try and fit in on top of the rest of the music. As much as I love playing with my old band, I felt the need to do things on my own and be more in control this time. I have also worked with a different producer – Marcus Forsgren, who's not only a great person to work with in the studio, he's also quite an extraordinary musician. An absolute pleasure to work with! My friend Peder Simonsen has also contributed – being in charge of all of the drums on this recording, even though he's in fact a tuba player.
The names of Grizzly Bear and Beach House are mentioned in your biography as similar artists… are these influences on you, or if not, would you share with us your influences?
I would definitely call them both influences, as I've spent a lot of time these past few years listening to their music. I love Beach House's clever and haunting melodies, and Grizzly Bear's almost stunningly beautiful, yet never boring, arrangements. This past year though, I think the music I've been listening to the most is Caveman, The War On Drugs, Kurt Vile, John Maus and Ariel Pink's Haunted Graffiti. I can't tell if you can actually hear their influence in my music, but they've definitely affected me anyhow.
Your blog suggests you like to experiment with music, like recording prepared piano, making music for art installations or making electronic music – can you tell us more about this sonic experimentation?
I can't really recall the first time I was exposed to prepared piano music, but growing up learning to play within a strict classical piano tradition, I felt that there was something incredibly freeing about the prepared piano. It almost didn't sound like a piano at all, more like a strange synthesizer. Discovering new sounds and playing around with different kinds of soundscapes, brings out a lot of creativity in me. Sometimes when I lack ideas on the piano, I work with electronic sounds instead, and in the search for a new nice sound, I usually get inspired to create something. I also really enjoy it when I get the chance to collaborate with people working within a different area than music. Making music for films or art installations can be difficult and frustrating, but it's also incredibly fun, and I always learn loads!
From Oslo to Bergen, to Kristiansand and Trondheim, Norwegian music has a lot of little scenes with such a variety of artists. I always feel like Nordic countries are a great place to get arts funding and support from the government (compared to the UK anyway)…. do you feel supported in what you do?
I would definitely say that I am grateful to live in a country where there are so many funding options. There are several tours I have done that would have been financially impossible to go through with without funding. That being said, the salaries for musicians are still not where they should be. Sometimes it feels like everyone being a part of a concert production gets paid before the musicians do. The sound technicians, the light technicians, the bar staff. The band is left with a few beers each. Even with funding, it is hard to make a living out of making music. This EP for instance, is paid with money I've made from working at a café and a lot of help from my Mastercard. I guess it all comes down to the fact that people need to understand that art has its price, and that musicians need to earn money if they're going to continue being musicians.
Is there anyone you've not yet worked with that you'd like to make music with? Can you tell us who that is and why?

If I ever got the chance to work with Thom Yorke, I'd say yes without blinking! I guess the way he always reinvents himself fascinates me, and I have yet to hear anything uninteresting coming from his end, at least not in the past ten years.
I'd probably get so excited I'd just pass out though.
Do you have any good new music tips to share with us? (Norwegian tips are particularly welcome!)
My friend Peder (Simonsen), who plays drums on 'Hedina', is a part of a duo together with a Swedish guitar player called Anton (Toorell). They have a band called Invader Ace, and play techno music on tuba, guitar and synthesizers, using old radios as amplifiers. It's just a matter of time before they take over the world, so you might as well check them out beforehand.
The producer on the record, Marcus Forsgren, is also about to release a record this fall, with his solo project Bror Forsgren. I'd expect epic sounds, as he's practically recorded an entire symphony orchestra for this record. He's even got cembalo! Can't wait to hear it myself.
I'd also check out the crazy sounds coming from my friends in Broen, playing pop music so eclectic that I wouldn't really know how to describe them. The Danish band Ice Cream Cathedral is also worth lending an ear or two!
And finally, what does the rest of the year hold for you?
This past year I have been so preoccupied with studies and making music for other projects than my own, so at the moment I am really eager to focus on my own music for a bit, and spend a lot of time in my rehearsal cave. Also, I want to play more concerts abroad. Had some wonderful experiences touring in Germany and France last year, and want to do more of that!