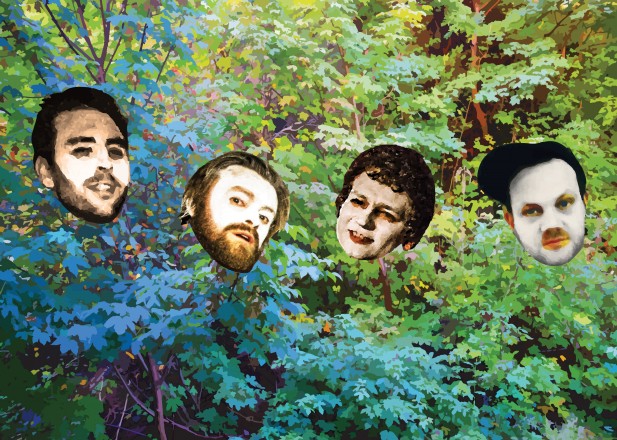 'ONZ' creeps in with a rattle of angular guitar and a sinister whisper in your ear. If this is your first encounter with Bergen's Syntax TerrOrkester, then perhaps it will set you on edge, but perhaps also that's exactly what they're hoping for!
Made up of members of bands like Datarock, Baertur, Ungdomskulen and Cortex, for a number of years Syntax TerrOrkester have been quietly gaining fans and acclaim in their native Norway, and even further afield, too – apparently the legendary Brian Eno is a fan too! They're currently gearing up to release their fourth LP, BYDRIFTER, and Ja Ja Ja is delighted to bring you video for 'ONZ' which features on the LP.

Juxtaposed against a video of re-purposed video footage from postwar Germany, as the song gathers layers and pace, the people's looped movements jerk along in time to the discordant melody lines. The vocal shifts rapidly from catchy chorus back to that dark hiss, ultimately taking you to a point where you're not sure which is the most unsettling – the video or the song. Still, like the child who creeps out of bed to see what their home looks like at night, there's something thrilling about the unsettling, and that's certainly the case for 'ONZ'.
BYDRIFTER is released on May 22nd, and to whet your appetite, check out 'ONZ' below!