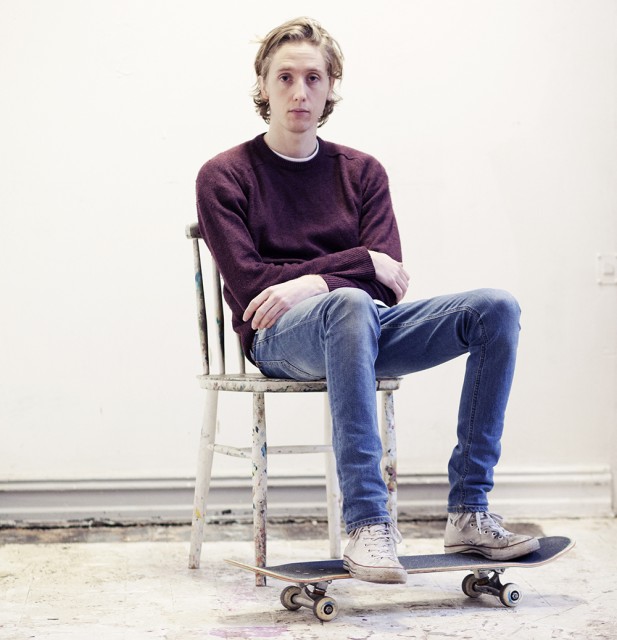 Hailing from Oslo, Jonas Aslaksen is better know by the chilly moniker of Jonas Alaska… but that's the only coldness you'll find around this young Norwegian troubadour.
Influenced by Bob Dylan and Paul Simon to name but two singer-songwriters, and sharing a pop sensibility of those two trad figures along with perhaps a fellow Scandi kindred spirit in the shape of Sondre Lerche, Jonas is a singer and guitarist unafraid of a killer melody and major chords, applying these to storytelling lyrics which are approaching the peak of their powers on his third album Younger.
With a voice that's considerably older than young Alaska himself, it feels like a cliche to say he's really starting to mature on album number three… but, whatever. It's true.

We spoke to Jonas ahead of his appearance at April's Ja Ja Ja on Thursday 30th April at The Lexington alongside Denmark's Baby In Vain and Sweden's The Deer Tracks.
Tickets for the show cost £5 in advance for Ja Ja Ja members, so sign up here (for free) to access this discount, and click right here to get hold of your tickets!
Spotlight Interview: Jonas Alaska
For those that haven't met you yet, could you please introduce yourself – who are you, where are you from, and how would you describe what you do?
My name is Jonas Alaska, I'm a 27 year old guy from Norway. I'm a singer/songwriter and I have just released my 3rd album, called Younger.
Can you tell us what your new track 'I'm Sorry' is about?
The whole new album is based around teenage troubles, most of them inspired by my own experiences to some degree. The story in 'I'm Sorry' didn't really happen to me, but to everybody else around me at that age.
Is there anyone in particular you need to say sorry to, or needs to say sorry to you?
No, everything is as it should be.
Younger is your third album, so how do you feel your sound has changed or progressed since your self-titled debut?
Both my debut and If Only As A Ghost were based around the acoustic guitar, but on Younger, I wrote all the songs on the electric guitar. I feel like I've worked myself through a bunch of overhanging (can you say that?) songs, allowing me to finally make a more thematic album.
Your records have had a lot of success in Norway; are you ready to take on the rest of the world now?
Yes, now I'm ready. Hehe!
You're often termed a singer-songwriter which is a fairly drab term….do you feel that by playing the guitar and singing people have certain preconceptions of your music before they hear it?
That's fine, I almost never hear that term anymore. I'd rather be called a singer/songwriter than a "gritty and jangly folk/Americana/punk/westcoast/indie pop-er.
Who or what influences you? You can of course mention music, but other influences away from that are welcome!
Other artists and bands of course, sounds cheesy but the different seasons seem to have an effect on my productivity. The main inspiration for my third album was a Swedish movie by Lukas Moodyson, called Fucking Åmål (show me love).
You were once described by Mikhael Paskalev as his "Number 1 buddy and heartbreaker"…so how would you repay the compliment?
Hehe! By saying he's my number 1 buddy and heartbreaker. What a dude.
Do you have any good new music tips to share with us? Norwegian tips are particularly welcome!
Well, me and Mikhael just produced Billie Van's new single 'I Just Wanna Be Your Doll', you should have a listen to that. These last months I've been listening to Avi Buffalo.
And finally, what does the rest of the year hold for you?
I'm in the middle of a tour of Norway now, and I've got a 10-day tour in Germany in may, some festivals in the summer and more touring in the fall. And I'll hopefully be writing a few new songs in between the shows.