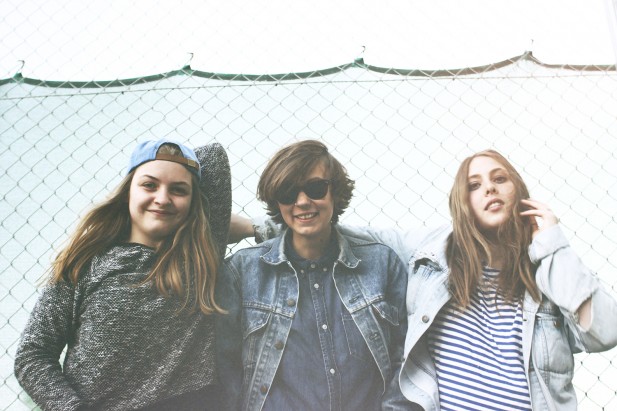 Are you looking for ferocious riffs, unabated shredding and an all consuming live experience fraught with punk energy and huge tunes? Then Denmark's Baby In Vain are the band you've been waiting for.
Benedicte, Lola and Andrea have spent the past few years bringing their flawless riffs and overflowing energy to stages around Europe and the US, taking their unmissable live experience on the road alongside the luminary likes of Ty Segall and Thurston Moore. July will see the trio return to the States supporting The Kills, so we're very excited that the band will join us at the April Ja Ja Ja show at The Lexington before heading off over the pond.
Also set to appear at the show is Norwegian troubadour Jonas Alaska, who will be presenting tracks from his recently released third album Younger, as well as thrilling Swedish duo The Deer Tracks.  
 Tickets for the show cost £5 in advance for Ja Ja Ja members, so sign up here (for free) to access this discount, and click right here to get hold of your tickets!
Spotlight Interview: Baby In Vain
For those that haven't met you yet, could you please introduce yourselves – who are you, where are you from, and how would you describe what you do?
We are Andrea, Benedicte and Lola from Copenhagen, Denmark. We rock and roll all night and party every day.
You've supported some of the biggest names in rock including Thurston Moore and The Kills. Were there any nerves involved in meeting and playing with idols of rock like these? What's the best bit of advice you've received?
Yes, it was nerve wracking but chill at same time… ehm best bit of advice was 'don't be lame' told to us by our tour manager Gavin when the Kills tour was over, because we were depressed and sad about going back to mortal life.
Speaking of The Kills, you've recently returned from a tour support The Kills in America. How was it? How did the crowd react to you? Any seriously rock and roll moments which you can share with us?
It was too short, because it was only four shows, but extremely legendary nonetheless. Fortunately we are joining them once again on their summer tour. We felt very loved by the audience at those shows. It was quite overwhelming. We sold out our merch and people wanted autographs. It was really cool.
Which bands do you share as an influence which has helped to define your sound?
1D and Black Sabbath.
What sort of song writing and recording processes do you have?
Each of us come with ideas and then sort of jam out the songs… or one of us will have a full song and we'll arrange it together. In the studio we like to record drums and guitars simultaneously and add more guitars afterwards for massive layer action.
Outside of music what would you all say are your biggest creative influences? What do you do in your free time from the band?
Just our surroundings in general, and movies and beer. We do school and work outside the band. We jus livin' life.
Can you tell us about some highlights of 2014 for you? Were there any particular live shows that stood out as being especially memorable?
Going to the States in both Spring and Autumn of '14 was super gr8. And we played our biggest show yet at Northside Festival in Denmark, that was a lot of people gathered in a field. Playing at Sziget Festival in Budapest was memorable… Well, mostly because of the partying afterwards…
Do you have any good new music tips to share with us?
Benedicte listens exclusively to Taylor Swift at the moment. Lola is really into the last Beyoncé album, especially 'Flawless'… Andrea hasn't listened to anything but Pink Floyd for the last 2 years.
And finally, what does the rest of the year hold for you?
Just shredding all day every day. And finishing + releasing our masterpiece of a debut album.