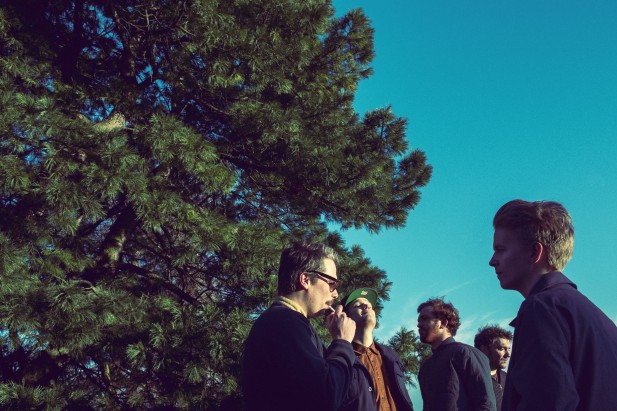 The final Ja Ja Ja Berlin show of the season is set to take place on Thursday the 9th April, and boy do we have some special sounds in store for you…
Rounding off our opening season in Berlin, we've invited three of our favourite Nordic artists to perform at FluxBau before we take a little break over the summer. Swedish outfit Last Lynx, Norwegian heartbreakers Psyence Fiction and Finnish shoegazers NEØV will all be appearing at the show, so we're taking a few minutes to get to know each of the artists better before they play. So far, NEØV have shared their biggest inspirations with us, Last Lynx invited us along on tour for a day and now, Oslo's Psyence Fiction are sharing some of their favourite Norwegian music with us!
The final few tickets for the show are available now, so make sure to join us for our Berlin season finale on Thursday 9th April at FluxBau!
Psyence Fictions's Ja Ja Ja Berlin Warm Up Mixtape
We're absolutely thrilled that you're joining us at Ja Ja Ja Berlin! So can you please introduce yourself to the lovely folks that you'll be playing to? 
Let's introduce!
We're five young men from around Norway that met in Oslo in a common quest to seek fame and fortune doing the performing arts. Just released our debut album in Norway and are trying to have it resonate over borders, all the way over to where you live in Berlin and beyond. We're super excited to come play for you, especially since this is our first trip to Germany with this band. If you're into the melancholy of Nick Cave, Kurt Vile or Mark Kozelek, or if you are into a passive-aggressive sound like Explosions in The Sky, we think it might be a good idea for you to show up.
You live and work in beautiful Oslo, so can you tell us what's special about the city and its music scene? Who are your favourite artists there at the moment?
Oslo is a great place to be creative right now! Lots of good restaurants, galleries and scenes are popping up, a lot of creative people are not afraid to have their art ring out and since Oslo is such a small town, you have the chance to get to know these people and thoughts and visions quite well if you're interested and willing to share. We've put some of our favourite bands from Oslo in our mixtape, but Kollwitz is worth an extra mention. Be sure to check up on these boys as well as fellow band mates of them in Cold Mailman – both extremely applaudable!
We can't wait to see you play at Ja Ja Ja Berlin – what should we expect from your performance there?!
You should expect us to pour our hearts out – that's what we're trying to do every time. You should expect a band that is not afraid to fill the room or to be a lot. We're trying to communicate through sound, not dancing or videos or whatever. You should also expect to see us well prepared and eager to play – since our Norwegian tour earlier this winter we've now had a few weeks off. Itching in our fingers. Can't wait!
And finally, what are your plans for the rest of the year? What do you have in store and what can we look forward to?
We're playing an extra concert in Oslo the day after our gig in Berlin since we sold out the release show for our record earlier this spring. After that, we will be focusing on bringing our music out to a European audience. Hopefully use some of the good feedback from people in England and Germany to work out a strategy resulting in us coming back real soon to do a lot of shows across the continent. We're eager to put ourselves out there and are looking forward to working with and meeting new people outside Scandinavia.
Lumikide – 'Again'
Since Highasakite became a phenomenon on home soil, jazz educated musicians are popping up from everywhere with more pop-like bands. This is one of our favourites. Crazy drummer, a great sense of organising sounds and crafting exciting soundscapes.
The Megaphonic Thrift – 'Bergen Revels'
Setting the bar for Norwegian "gaze standards", Bergen's The Megaphonic Thrift has kept amazing us with their arrangements and dream like approach for years. This is from their latest release. We can relate to this. Got a lot of that little extra, in a good way.
Burning God Little –  'Hver Natt'
Fellow north-norwegian songwriter. Our friend and fellow traveler Burning God Little has finally put out his debut album. Pop music that drowns in itself for dancing with eyes closed. Worth a listen!
Kollwitz – 'Horizon'‪
In my opinion one of the best bands in Norway right now. No compromise, direct anger, so hard, so direct, so sickening. Brand new track from the second Kollwitz record, just released. A crazy strong song. Get a chance to have these people over. These boys have been rocking concert halls uncompromisingly for the last decade, taking place in bands such as The Spectacle and Cold Mailman – time to get this outfit on the road.
Beezewax – 'Shameless'
Nostalgic skate wave-ish band Beezewax was the talk of the town years back and have just released their "comeback" record sounding like time has stood still. Nostalgic kind of feel good, kind of feel sad-track and record. Keeps spinning at the office at the moment. Can't get enough of this record.
Kråkesølv – 'Ikke Rart Vi Blir Sprø'
One of our all time favourites Norwegian indie-outfits Kråkesølv. Great song, great people, great way to learn how to speak with a north-Norwegian dialect.
Splashgirl – 'Concerning This Square'
Unexpected, hand crafted, mellow and with a dark underlying theme to their whole sound, Oslo jazz trio Splashgirl has been one of our favourite bands since they started releasing music. A band to look out for, there is a record being mastered and done proper as we speak. This is a sneak preview – these boys still makes records and should be treated with the attention span of an hour. Let yourself live through this music.
Apothek – 'Waiting For The Thunder'
Mixing the mathematical rhythm and synth-works, the never ending layers of themes and composed disharmonies of Nils Martin Larsen with the on the verge of collapsing-like warm vocals of Morten Myklebust, Apothek has made way for themselves in a popular Scandinavian genre usually filled with strong female vocalists. Not much music online, but this track gives you a kind of idea of what their album is going to sound like.
The Switch – 'I Can Tell You're On Coke'
A real BAND. A treat live and a treat to have on record. The Switch has released their first couple of records in a year, being Oslo's by far most effective band. Sounds like the kind of music you'd want to have spinning as something went well in life. Proper ironic distance, proper well played instruments and an urge to keep things exciting by mixing up their sound.
Cold Mailman – 'Where Scars Don't Show'
Good friends of ours, great musicians and people. Share a fellow love of what goes in to and out of the mouth. Born and raised in the 80s. Has all the best music videos. New record about to drop. Very excited!