Ja Ja Ja Berlin might have come to a close as the summer holidays draw nearer, but never fear Berliners – there are a whole host of Nordic gigs lined up for your summertime enjoyment!
We've asked out good buddies over at GigGoers to recommend which shows you should check out, so they'll be stopping by each month over the summer to keep us on top of Berlin's Nordic gigging news.
Sign up as a Ja Ja Ja member now to access exclusive ticket competitions for select shows – it's free to join, and you'll also receive discounted entry to all future Ja Ja Ja events!
More info…
Get to know: GigGoers
"Hello world! We are two gig-goers based in Berlin; José from Spain and Thomas from Norway. We are travelling the world to see our favourite bands play, and are sharing our experiences and love for live music through our Gigggoers-project. 
With the project we want to promote the music and the bands we like, but also to connect with other giggoers around the world who share the same passion. Instagram is our main outlet at the moment, but we are also working on a website, www.giggoers.tv, where we will publish photos and video clips from the gigs we go to, but also building an archive with material from hundreds of shows we have attended in the past.
José has a Master's Degree in Economics and Thomas works as a freelance journalist and photographer."
Follow GigGoers on Instagram! @GigGoers 


Monday 20th April: Tove Styrke [SWE] @ Bang Bang Club – Tickets
She is a star in Sweden, and now the rest of the world seems to be ready for Tove Styrke as well. She played Berlin in 2011 as support for Lauri Ylönen (The Rasmus), but the next few weeks she will be on a headlining tour through Europe and the US. With singles like 'Borderline' and the new 'Ego' – we DO believe the hype! Her new album Kiddo will be out in June.
Thursday April 30: Sea Change [NOR] @ Lido – Tickets
You like Iamamiwhoami, Fever Ray and Lykke Li, you say? Then don't miss this gig. Sea Change from Norway makes incredibly haunting and irresistible tunes. We saw her at by:Larm in Oslo last year, and can't wait to see how she has developed the project since then. Actually she has played several times in Berlin during the last three years, but now she has a full album to perform; her debut Breakage was released in February.

Saturday 02 May: K-X-P [FIN]@ Kantine am Berghain – Tickets
These Finns make some trippy stuff. It's like elevator muzak made for space or time travel. It's psychedelic, and oh so hypnotic. Can we dig this? Yes we can. See you on the other side!
Sunday 03 May: Samaris [ICE] @ Monarch – Tickets
Dreamy vocals and poppy beats. It's hard to resist this Icelandic trio. And Samaris keep it intimate when they visit Berlin, last time they played Privat Club, and this time they visit Monarch. In February we got to see them on the big stage at Sónar Reykjavik, so the Berlin-gigs will be like seeing them play in your living room.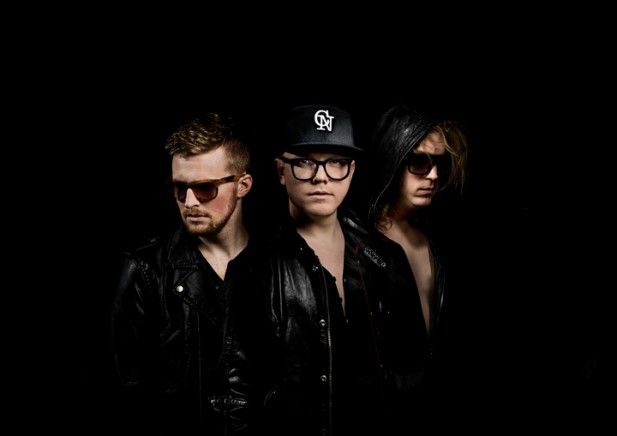 Tuesday 05 May: Carpark North [DEN] @ Bi Nuu – Tickets
We played the album All Things to All People on repeat for months back in 2005. But then we went separate ways, we and Carpark North. They did release three more albums, but the news never reached us. They've had a few hits in Denmark the last couple of years, and now they are introducing their latest album Phoenix to a non-Danish audience this spring. Time to re-connect.