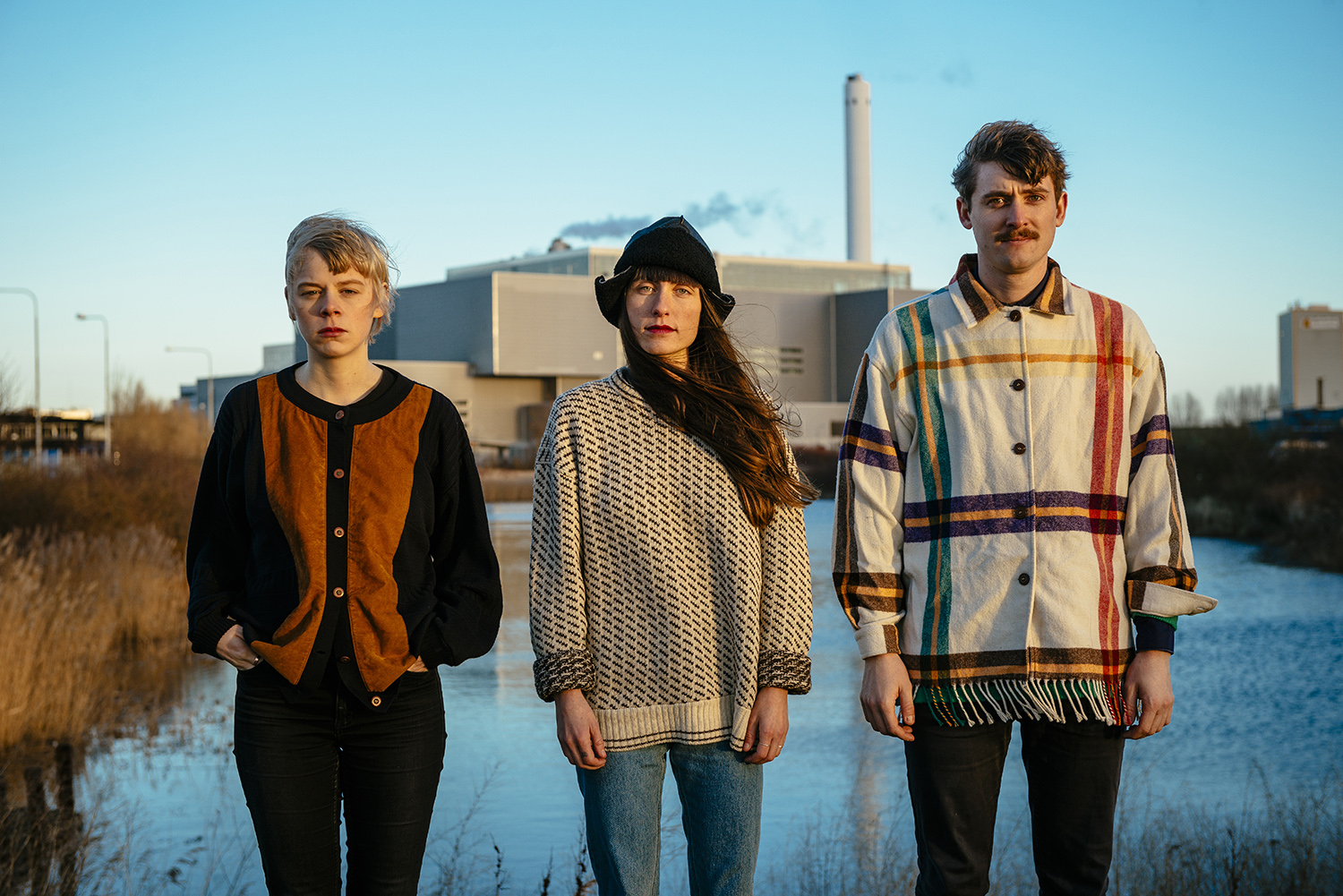 'Blanca'. 'Martin'. 'Ruth'. The titles of the first three singles from Swedish trio Hey Elbow don't give much away, do they?
Here's what we do know: the band is made up of Liam Amner, Julia Ringdahl and Ellen Petersson, who play drums, guitar and vocals and keys, flugelhorn and pedals respectively, and that those three singles are terrific widescreen songs which delve into gothic darkness, free jazz, dream pop and minimal, repetitive rock music. We also know that Hey Elbow is a band that has to be seen live; while Ringdahl stays fairly static and letting her soaring vocals and stunning guitar playing do the work, Amner is all arms behind the drums and Petersson multitasks to create a wall of sound that truly excites.
The band will release their debut album Every Other on 14th April on Adrian Recordings but before this we caught up with the Swedes to find out more ahead of their performance at the upcoming Ja Ja Ja London show on the 26th March, alongside Apothek and Dísa.
Tickets are £5 in advance for members (£8 on the door for non-members), and on sale now from Billetto. Make sure to sign up as a Ja Ja Ja member to be the first to hear about our events, and to access exclusively discounted tickets as well as super-hot offers on Nordic activities around town!
Spotlight Interview: Hey Elbow
For those that haven't met you yet, could you please introduce yourself – who are you, where are you from, and how would you describe what you do?
We are Ellen, Liam & Julia from Malmö, Sweden. We have a band called Hey Elbow. The three of us writes the music, together. It's always hard to explain how/what music sounds like with words, we'd prefer to play, but some say dreamy experimental pop.
Your first two singles have been called 'Blanca' and 'Martin'….so what's in a name? And what's the story behind the songs?
We don't really have stories behind our songs and prefer to let the music speak for itself. We let the audience build their own stories to the songs if they need one. On our debut-album we named all the songs first names. We feel that the songs are unique, and have their own life and its own strong and weak points, and different needs just like people.
How did the three of you meet?
Through common friends and school. Malmö is a small town.
Ellen plays about three different things during the Hey Elbow live show, so how vital to the band is her contribution?
Of course, very vital. Without each one of us it wouldn't be Hey Elbow.
When Hey Elbow was formed we started with our main instrument, flugelhorn, drums and vocals. Then we added instruments that we felt the music was asking for. The audience seem to like Ellen's combination of instruments, maybe because it's not the most common combination.
I can hear a bit of a jazz influence in your music, plus the sound of 4AD bands….but who are your influences?
We think our influences are obvious. We have all different backgrounds in music and we never talk about how we want Hey Elbow to sound, we try to let the sounds just happen instead.
What can we expect from the Hey Elbow album…are the singles good pointers?
It's hard to say if they are good pointers, but hopefully. It's like every song on the album has it´s own "colour" or theme.
Do you have any good new music tips to share with us?
Well, here are a few… the new album from Wildbirds & Peacedrums, newly released/upcoming albums from RA and Saigon and maybe some good old Daniel Norgren and Anna von Hausswolff. Also, the band Tonbruket and Cecilia Persson's Open Rein album.
And finally, what does the rest of the year hold for you?
We'll continuing doing shows, and we're looking forward to it!