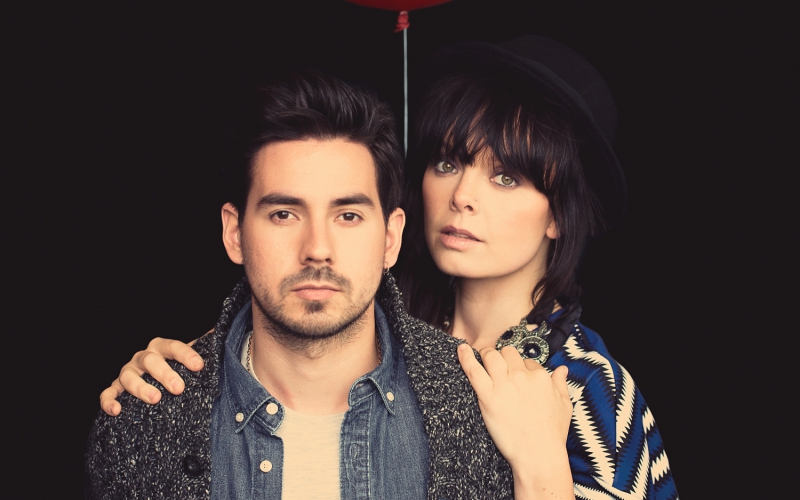 With mere days to wait until Ja Ja Ja Berlin makes its first appearance of 2015, we caught up with Finnish/French duo Eva & Manu for an exclusive Spotlight interview!
The pair – who are currently preparing to make waves at FluxBau with their harmonious indie pop – reveal all about their past, the present and what they consider to be the best Valentine's tune of all time, so read on to delve into the innermost workings of their musical minds! Eva & Manu will perform alongside euphoric Norwegian outfit Kid Astray and sultry Swedish three piece DNKL at FluxBau on Thursday 12th February 2015.
The show has already sold out, so make sure to sign up as a Ja Ja Ja Berlin member by clicking here to be the first to hear of our upcoming line ups and to access specially discounted tickets to all of our events!
Spotlight Interview: Eva & Manu
For those that haven't met you yet, could you please introduce yourselves – who are you, where are you from, and how would you describe what you do?
Eva is from Finland, Manu from France and we met in Boston, came back to Europe to travel for a year in a camper van and started a music blog that got lots of followers really quickly. We released our first album including songs from the travels, started to tour and gain more and more fans in Finland and Europe. The first album was naturally more indie-acoustic vibe, and our second album's style is more indie-pop-electronic. Still, the main thing is our harmonies and stories, and the sound is new!
Your new album Cinnamon Hearts was released in the summer of last year – what are your favourite memories of making the album?
We rented a big house from the Helsinki subregion and wrote the whole album there. The songwriting process was about 6 months, awesome times at the house!! It was super relaxing environment to write. We recorded actually some of the vocals, that ended up to the album, in our upstairs bedroom. We got to play around with our old synthesisers, drum machines and maaaan that really was a good time!
What is the story behind the album?
The actual recording process was SUPER fast! It only took 2 months from the beginning when we met the producers, to the final product in our hand. Story behind.. we had gained a lot of fan base with our story and the first album, and the audience was really waiting for the second album. We didn't want to do a debut twice, so we decided to change our sound closer to the style that we both have always liked very much! Electronic, low and massive bass and beats, combined to our airy harmonies. We are really happy with the result and the good feedback we got.
Which artists have had the biggest influence on the both of you when it comes to making music?
Artists that will always be an inspiration include Neil Young, Joni Mitchell, James Taylor, as well as Sufjan Stevens, SOHN, Peter Gabriel.
It seems like you've lived and written songs in lots of different places throughout your time together – which places have been especially important in the history of Eva & Manu?
Yeah we've been traveling a LOT with the band. South France/Gers is very special for us, we've spent a lot of time there and we recorded the vocals to our first album there in a small barn that we set up as a studio. It was one of the coldest winters in a long time, and mostly it was -0 celcius inside the studio. It gave a nice and rough sound the songs! Also, our camper van is still there.
And how does the songwriting process typically work between the two of you?
We've tried different approaches and the best way so far has been to do songwriting on our own first. When one of us gets an idea, verse/chorus, we play it to the other and then arrange it together. Very rarely we write together from the scratch.
It's Valentine's Day this weekend – which do you think is the most romantic song ever, and which song do you think is the best one to soundtrack this year's Valentine's Day?
Not such an obvious love song, but definitely 'Purple Rain' from Prince!
Do you have any amazing new music tips that you'd like to share with us?
If you dig indie rap, check out Binyam. Amazing young rapper, full of talent. Also check out Lake Jons, great indie band from Helsinki!
We can't wait to see you at Ja Ja Ja Berlin – what should we expect from your performance there?
A combination of happy and melancholic moods! Good vibes. Bad french jokes. You can either watch our show sitting, just enjoying the music or standing and moving on the dance floor. We have two powerful voices, a mixture of electronic and acoustic sounds and lots of stories to tell.
And last of all, do you have big plans for the new year? If so, what are you most looking forward to?
Our main goal is to export our band. We're also playing bunch of shows during the spring and summer, and perhaps in the fall we will move abroad either to Germany or the US. Looking forward to the new chapter!
Ja Ja Ja Berlin with Kid Astray, DNKL and Eva & Manu has sold out!
Sign up as a Ja Ja Ja Berlin member below to be the first to access tickets to our upcoming shows.