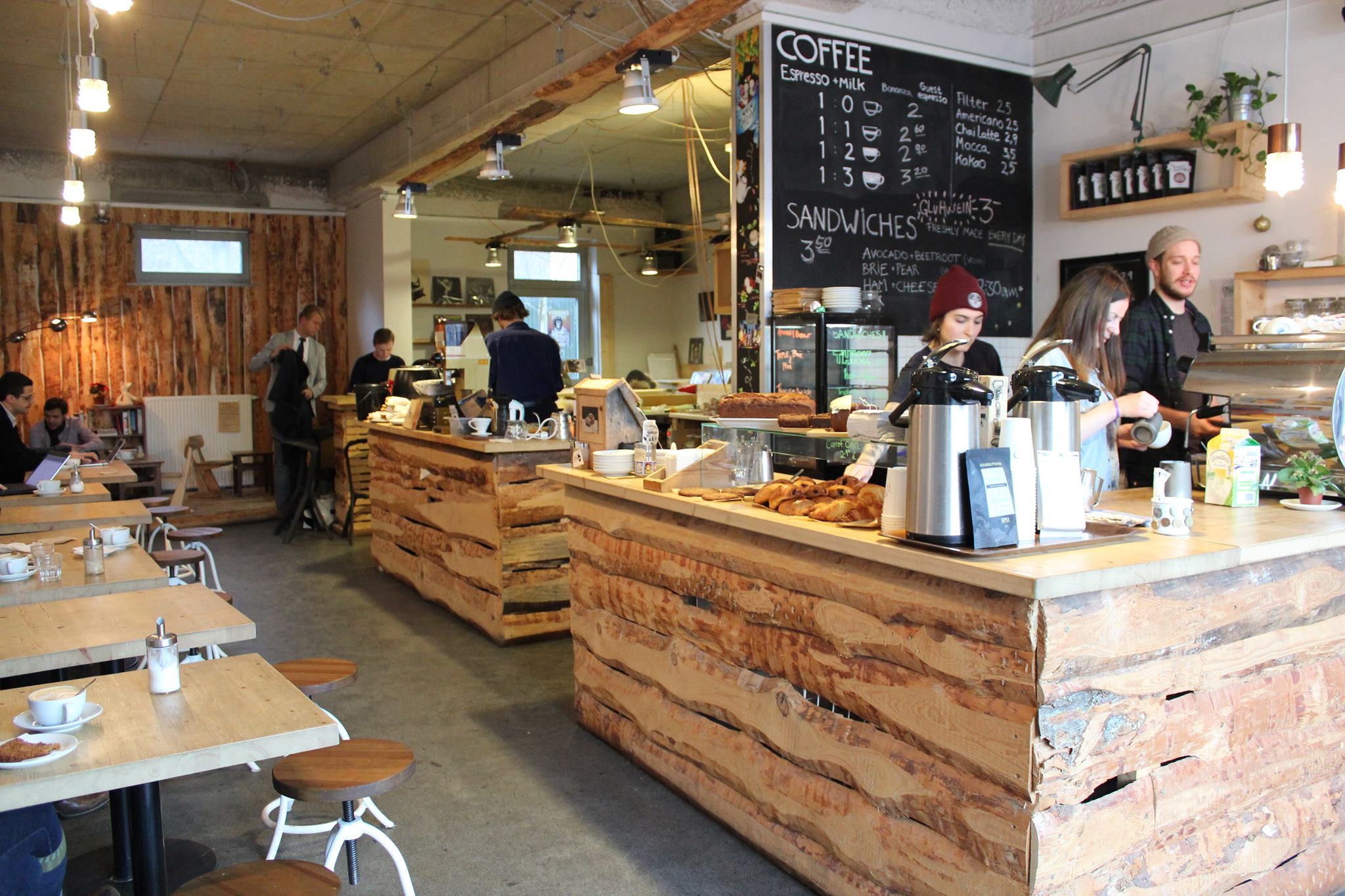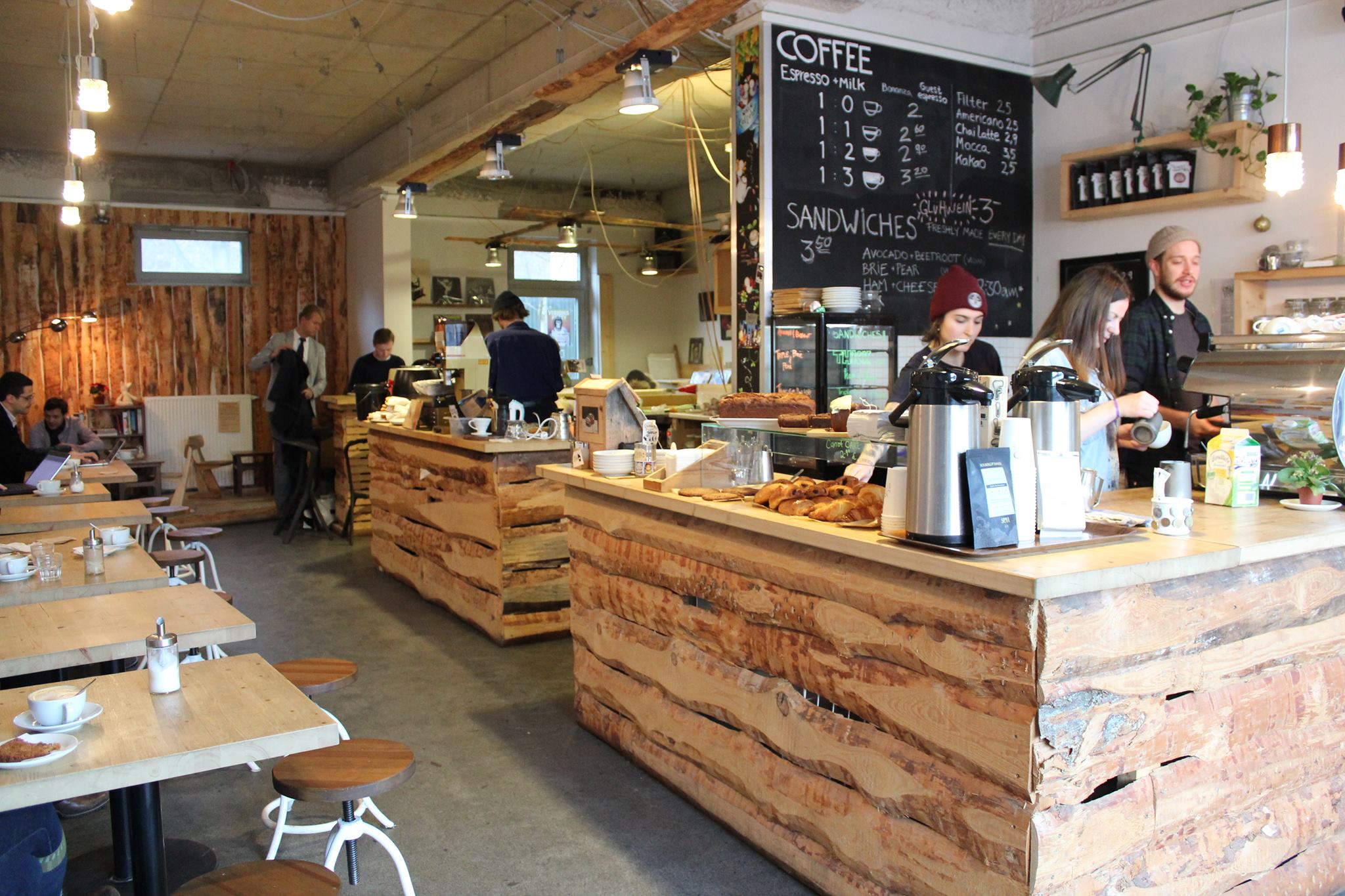 We all know that Berlin is a multi-cultural wonderland, a place for arts and crafts from all over the world to come together, to grow and to be enjoyed.
And which are the best crafts? The ones that you can eat or drink at the end, surely. Today, we're checking out some of our favourite Nordic neighbours, the fine folks of Oslo Kaffebar who will join us at the next Ja Ja Ja Berlin show where performances from Norway's Kid Astray, Finland's Eva & Manu and Sweden's DNKL are all set to take place.
Since 2012, Oslo Kaffebar's staff have established themselves as purveyors of what our good friend Agent Cooper would describe as "a damn fine cup of coffee". Not only that, but they offer up a host of varied events, have a whole bunch of tasty vinyl on sale and can even set homesick Norwegians up with a game of Shuffleboard.
Oslo Kaffebar will be on hand before and throughout the Ja Ja Ja Berlin show on the 12th February at FluxBau, serving up coffee provided by prestigious coffee connoisseur Tim Wendelboe from Oslo itself, as well as promising a few drops of Norwegian "moonshine". Ja Ja Ja Berlin members will receive a voucher upon arrival to claim a free cup of coffee, so make sure you bring your membership confirmation along!
First though, let's have a chat with the Kaffebar's Kristian Moldskred to find out what he has in store – so read on, check out Oslo Kaffebar on Facebook and visit them in person at Eichendorffstrasse 13, 10115 Berlin or the Felleshus/ Nordic Embassies!
Interview: Kristian Moldskred from Oslo Kaffebar
Can you tell us a little bit about Oslo Kaffebar? Who are you, where can we find you and what makes you guys so special? 
Oslo Kaffebar is a Norwegian style coffee shop at Nordbahnhof at the edge of Berlin Mitte. We love great coffee, great music and good times. Oslo Kaffebar is a relaxed place where we take our coffee very seriously, but we don't necessarily make a fuss about it. We just work very hard to make great coffee, and we love doing it. I guess our selection of 2nd hand vinyl records for sale makes us a bit special.
We're really looking forward to you joining us at Ja Ja Ja Berlin on Thursday! What do you have in store for us? 
At the Ja Ja Ja event we'll make some very damn fine filter coffee from Norwegian coffee celebrity Tim Wendelboe. There will also most likely be a variation of the traditional Norwegian coffee/moonshine drink Karsk. Our Karsk will have great coffee and great vodka.
You're going to be offering up coffee from the legendary Tim Wendelboe in Oslo – can you tell us a bit about the coffee that you'll be serving?
The Finca Tamana coffee from Tim Wendelboe is a Columbian coffee from a farm that Tim has been working closely with for years. I'm not a big fan of describing the coffee in words, I think it should speak for itself, so come by and have a taste!
Here at Ja Ja Ja, we're all about Nordic music – so who are some of your favourite artists to play in Oslo Kaffebar, to set the right tone? 
I very often play Röyksopp, I'm a big fan. I also love Thomas Dybdahl, especially his first album, and Magnet. I think Seabear is great, and actually when I started working in coffee, back in 2004, I bought Sigur Ros's () to play in the shop I worked at. The Knife is also a winner. Of non Nordic stuff I like good old 60-70s rock, blues and psychedelic. I often play The Beatles. I prefer to play whole albums. And last but not least, A-ha. They are underrated by the young adults!
There's always a lot going on at Oslo Kaffebar, with exhibitions, records to buy, and of course, an excellent range of drinks to taste… can you tell us about any special events that you have coming up that we can look forward to? 
On March 5th we have German writer Tanja Langer giving a talk about her novel about Edvard Munch. And Norwegian jazz musician Andrea Rydin Berge will have her 2nd concert at Oslo. I think that's going to be a fantastic event!
What is the best advice that you can offer to those of us trying to perfect the art of coffee making at home? 
Best advice is to keep it simple. Use Aeropress, get a grinder, and filter the water. Follow a recipe and try to take out as many variables as you can. Use same amount of water, same temperature, same time, and same method. Only change grind setting and amount of coffee. Eventually it will taste very good!
And who would be your dream artist to come and play Ja Ja Ja?
Dream artist would be A-ha having a reunion at Ja Ja Ja singing a German version of 'Take on Me' and calling it 'Fass mich an'. If that is not possible, then Röyksopp.
Ja Ja Ja Berlin with Kid Astray, DNKL and Eva & Manu (12th Feb) has sold out!
Sign up as a Ja Ja Ja Berlin member below to be the first to access tickets to our upcoming shows…