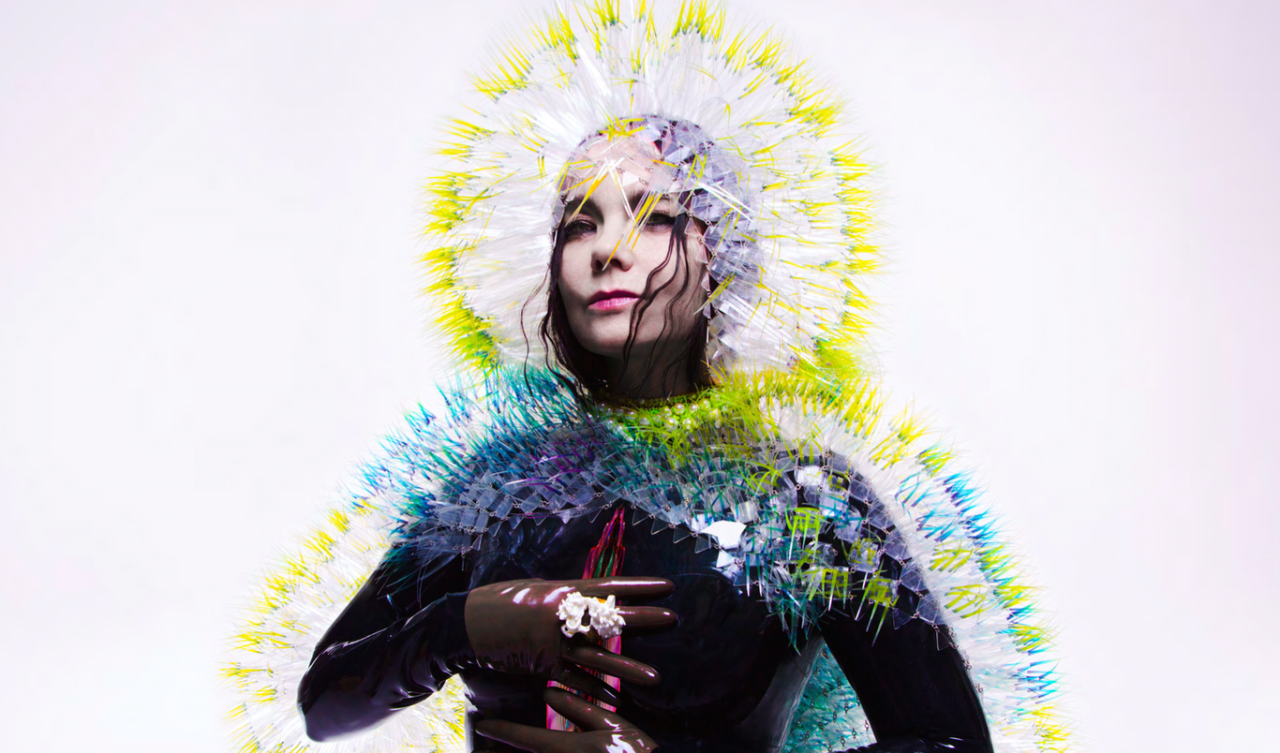 What do you think about when you think about Björk?
It's perhaps a difficult question to answer straight away when you consider the undisputed queen of the Icelandic alternative scene has a persona that is at once firmly in the public eye and strangely guarded. But it can never be said that she is indecisive – this was more than proven after the recent decision to rush release her new album Vulnicura (more on that later). When you also consider her numerous contributions not only to music, but to fashion, art, culture and even politics, it's little wonder that we hold Björk in such high regard.
So, it's safe to say she's someone from whom we could all learn a thing or two. In fact, here are 5 things we've learned so far from the undisputed matriarch of Icelandic culture…
1) Never Be Afraid To Experiment.
Björk's career so far has been an applied exercise in embracing change. It's common knowledge that Björk found mainstream success in the Sugarcubes, but her initial foray into the music industry actually began with punk.
Björk began her full time musical career back in 1982 at the tender age of 17 when she formed a band called Tappi Tikarrass in her hometown of Reykjavik. This turned out to be short lived but the project developed into a band called KUKL, who soon secured a record deal with label owned by British punk band Crass after playing with them at a local festival, later releasing their debut album The Eye in 1984.
The sound might surprise you – it's full on, in-yer-face punk rock, but Björk's vocals are unmistakably present. The foray into the dreamy pop of the Sugarcubes is probably the least likely direction for her to have taken, but she embraced the new band and forged it into one of the most successful Icelandic bands ever. Her experimentation has further taken her from the industrial electro of her second album Post to the sweeping orchestrals of Homogenic right up to the intense glitches of her current album Vulnicura. Also, her new album has seen her collaborate with the sharpest of cutting edge minds such as Arca, The Haxan Cloak and Antony Hegarty. Björk continues to maintain an open mind and an ever present willingness to experiment.
2) Find Art In Everything.
The fact that Björk has a personally indelible artistry is borne out in the upcoming retrospective at New York's Museum of Modern Art (MoMA) which has been curated to showcase Björk as an artistic entity. From her famous on-stage costumes designed by the likes of Alexander McQueen, to her poetry and her project designed to channel musical education through a selection of Biophilia apps, Björk has always been readily involved in multiple artistic spheres. The retrospective at MoMA is all set to be the perfect showcase for the seemingly unlimited artistic depth Björk seems to find in everything around her.
3) Always Be Down To Earth.
In a recent New York Times article, journalist Jon Pareles spent some quality time with Björk in Reykjavik to talk about Vulnicura. It revealed that she lives in a modest house by a secluded beach of unmistakably Icelandic black sand just outside the country's capital city, and her home is filled with touches inspired by the natural world, such as a spherical chandelier made entirely of white feathers.
But it also revealed the that she regularly goes clubbing in her home town. Rather than being papped at every corner, as you might expect would be the case for someone with the kind of international standing she no doubt has, Björk can be found throwing shapes on local dance floors and letting rip behind various DJ booths any given night.
Anyone who has been to Reykjavik's annual Iceland Airwaves festival, which Björk regularly attends, may well have seen her sharing a drink with fans and locals alike at various venues, never demanding VIP access, or even queue jumping, preferring instead to experience the thriving music scene as any regular person would, despite being arguably one the country's biggest celebrities.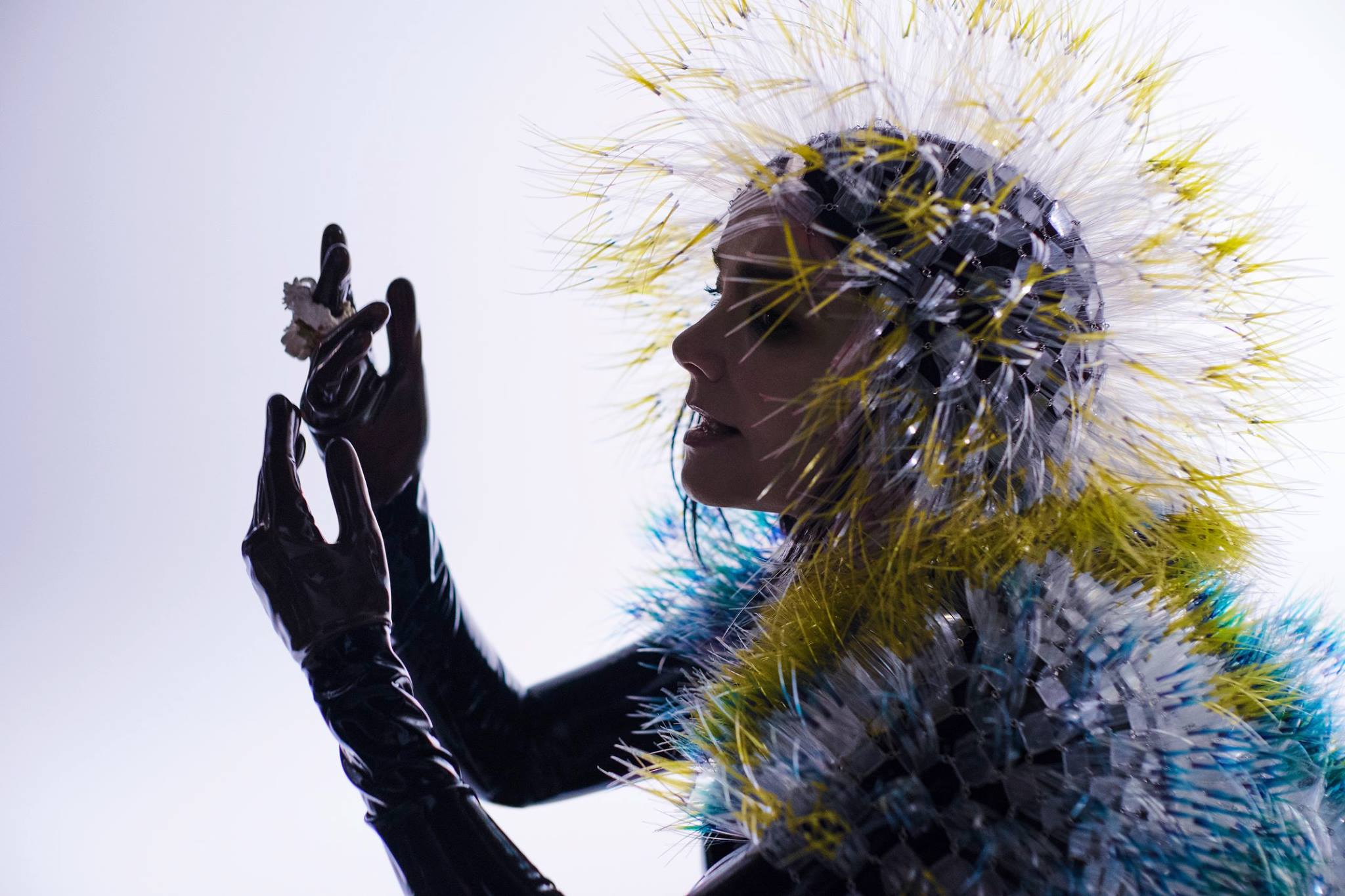 4) Adapt, Change and Roll With the Punches.
Björk is no stranger to changing circumstances, but she always finds the tenacity to create something new from the ashes. And this resilience is probably best described in terms of her new album. The record was ostensibly completed back in November 2014, but was slated for release in March this year to tie in with Björk's scheduled run of shows at New York's Carnegie Hall as well as the MoMA retrospective due to open the same month. But the internet had different ideas.
The album was somehow leaked in full on 18 January and instead of decrying the whole spectacle, which must have been a painful experience, Björk characteristically took a pragmatic approach and decided to release it online "immediately" with the physical copies following in March as originally planned. This ultimately acted as effective damage control and also put the album in the hands of fans sooner than expected.
5) Never Be Afraid to Wear Your Heart on Your Sleeve.
The story of Vulnicura is undoubtedly one of the break-up between Björk and the American artist Mathew Barney, her partner of 13 years with whom she has a young daughter. The album's name conflates echoes of the words Vulnerability and cure – an apt coupling given the subject matter – as this album is all about Björk laying her emotions bare and finding the cathartic ability to piece them together again. In the face of the circumstances that fed the making of Vulnicura, it could have easily turned into an album of teenage style bitterness and revenge (hello, Taylor Swift!) but this couldn't be further from the truth. Vulnicura is a collection of songs that looks at the disintegration of a relationship with unflinching honesty and maturity.
Tracks like 'Stonemilker' are drenched with powerful reflections as Björk delivers lines like "moments of clarity are so rare… show me some emotion and respect… I wish to synchronise our feelings" over the delicate layers of soaring strings and rising and falling electronic beats.
'Black Lake' is surely the centrepiece of the album, not least because it clocks in at over ten minutes, but the track is expertly considered in its construction and builds as delicately as it does viscerally. The track slowly develops the subtle strings at its genesis into a pacing opus of glitches that flutter beneath Björk's unmistakably emotive vocals. The song sounds as though it's having an argument with itself, but never in a jarring way. It continues, gradually drowning in its own stark beauty.
Vulnicura is an amalgamation of what we've come to know of Björk. It's an album filled with experimentation, punk spirit, artistry, honesty and cathartic sincerity, all delivered in a way only Björk could.