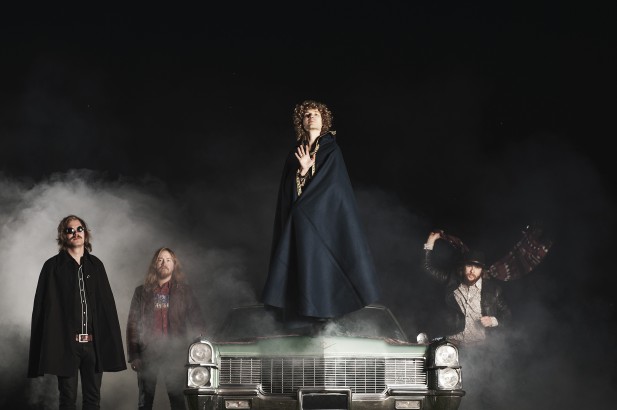 During the Ja Ja Ja Festival, Finland's Death Hawks will take to a British stage for the second time in history.
We're convinced that these guys will show up much more frequently in the future, so we checked in with them about their recent tour, their latest music and what sorcery we should expect from their Ja Ja Ja performance!
Death Hawks is the result of a process where Teemu Markkula sat down to create some music on his own in 2010, but when the time came to put it all into action and to play it live, he realised what he created was meant to be presented by a band – as a band. And so, the psychedelic rock outfit was born. Death Hawks have been critically acclaimed for not falling face down into the muddy marsh of numerous retro bands, despite taking their influences from and being compared to The Doors, old blues bands and the krautrock scene.
In 2012 the band released their debut album called Death & Decay and continued in 2013 with a self-titled release, featuring the track 'Cain Go Home'. Death Hawk's psychedelic but still focused groove is a success story that so far seems to resonate very well with the German audience in particular. We had a chat with front witch doctor Teemu about Germany, touring and the upcoming Ja Ja Ja Festival gig on the 13th November, check it out!
Spotlight Interview: Death Hawks

For those that haven't met you yet, could you please introduce yourselves – who are you, where are you from, and how would you describe what you do?
Death Hawks are four guys in their late twenties from a little town called 'Barnhill' in southern Finland. So one could say we play some sort of Finnish style southern rock with a psychedelic vibration all around it. Although there's nothing Finnish in our music when thinking about the way we see Finnish music in general.
You're currently touring Europe and recently played quite a few shows in Germany. Has it been different compared to last time you went there (in May)? Do you think you're breaking new ground?
Yes it's a bit different. We have a better car now. Or should I say more reliable. In May we blew four tires on the tour + we had a gas leak + a broken roof top window and what else… But that's not what you asked.
For some reason we get a lot of shows in Germany, which is nice. We're definitely going back but with a new live set next time. This time we, most venues and cities were all new to us, except Berlin and Wiesbaden, so it was again a new experience. We saw familiar faces from the last tour though!
The way Death Hawks make music is very album oriented. Do you think the album concept serves your music better than singles or EP's, or could songs like 'Black Acid' work just as well on their own?
I think we continue making albums in the future also. The idea of a journey in music fascinates me. Where it will start off, where it'll lead and where can you find yourself at the end. The album songs can and will work on their own too, but in our case they're always a part of the bigger picture.
Speaking of 'Black Acid'. The track features the saxophone, as do some of your other songs. Sax is becoming more and more common again in rock and pop these days. What made you incorporate the instrument into your music?
No particular reason for using saxophone on the song. Didn't think about it that much. We just thought it'd be a good idea, so we did it and it came out well. We always try to follow intuition instead of rationalising in making music.
Recently you talked to Rumba magazine about the return of the Twin Peaks TV-series. If Death Hawks were a TV series, what kind of series would it be?
Well, it would feature impressive wild nature and big landscapes. A little community, peculiar events and something or someone pulling the strings behind all of this. No law or order, but still a harmony in all. You can get the idea when coming to one our shows we do with our own VJ. Unfortunately we do not have visuals at Ja Ja Ja.
That's too bad! We're excited to have you during the festival though! You've only played in London once before – how does it feel to be back and how do you think the upcoming show will differ from the last one?
Really nice to come back! We have played UK only this one time before, so it's still new and exciting for us to play there. Compared to the last time we have a new live set and of course we play better than ever!
A great deal of the Death Hawks experience is the live shows. How much do you improvise and go with the flow when playing live? Or are the arrangements decided in advance?
I'd say we have made and agreed on pretty good, solid frames inside of which we move, sometimes knocking the boundaries.
Finland is full of internationally acclaimed psych and retro bands leaning towards the gloomier side – Beastmilk, Hexvessel, Jess and the Ancient Ones, Oranssi Pazuzu… And Death Hawks of course. Do you think there's a specific reason the scene is doing so well in Finland?
In my opinion we differ from our fellow Finnish bands you mentioned. As do they differ from each other too. Those are great bands of course, but we have a different starting point from where we scoop ingredients. We barely listen to any "metal" and I'm the only one from the band that has some kind of a history in that style. We roll with an uplifting spirit and we are also constantly changing. I can't really say if we're in that scene or not, or why it is doing well. People should listen to bands and music individually, not scenes.
So, do you have any good new music tips to share with us? Finnish tips are particularly welcome!
You really should check out Pekko Käppi & K:H:H:L and another great one is Jarse.
And finally, what does the rest of the year hold for you?
Just the shows in the calendar and making new tunes! Can't wait to start making new music already.