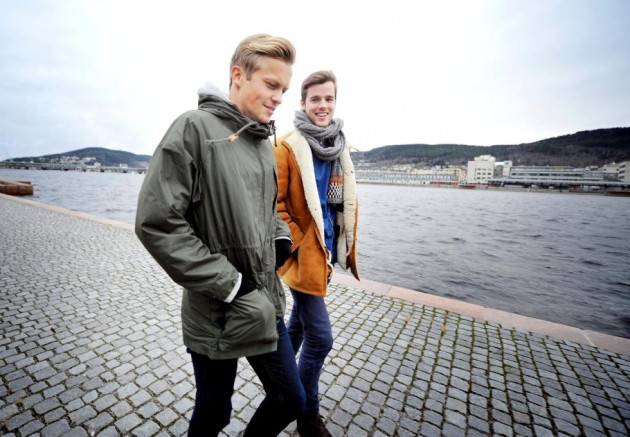 With just days left until the first Ja Ja Ja Berlin club night takes place, we're catching up with each of the three artists set to play to get to know them better!
Today, it's the turn of Alfred Hall – a duo from Norway who specialise in creating indie tinged tracks with a an irresistible pop edge. Their debut album Wilderness was released last year, revealing tracks such as 'Safe & Sound' and the blissful 'Someplace Beautiful'. They're currently writing and recording new material, so we caught up with the duo to find out more about what they have in the pipeline, and what we can expect from their upcoming Ja Ja Ja performance.
Read on to get to know Hans and Bjørn of Alfred Hall better, and get tickets to the first Ja Ja Ja Berlin show by clicking just here!
Ja Ja Ja Berlin: Opening Night with Naomi Pilgrim / Alfred Hall / Blaue Blume
 Thursday October 9th – 8pm – 11.30pm
FluxBau – Pfuelstraße 5, 10997, Berlin
Spotlight Interview: Alfred Hall
For those that haven't met you yet, could you please introduce yourself – who are you, where are you from, and how would you describe what you do?
Greetings. We are Hans Thomas Kiær and Bjørn Tveit, together we make up Alfred Hall. We live in Oslo and Bergen, respectively. We're both full time students, who spend the better part of the day in our leisure wear trying to make some music for y'all.
You guys have been keeping a fairly low profile lately, so what have you been keeping busy with?
Yes. We've really tried to put everything else on hold in order to have time to write new songs.
Can we expect new music from you soon, and if so, what's the plan?
Right now we're finishing up some tracks that we're very happy with, and can't wait to get them recorded. Haven't set any dates yet, but we would love to share something soon.
Your track 'Someplace Beautiful' was used in an ad recently, showing beautiful people heading to beautiful surroundings! Can you tell us about the story behind that song? Was it created in an equally as good looking setting?!
The outline for that song was actually made with an acoustic guitar in some really beautiful surroundings at Stadt. To those unfamiliar with the place, it's a place on the west coast of Norway which has some great conditions for surfing. Back in Oslo we sat down with Øyvind Engebretsen at Waterfall Music, who definitely spiced up the production.
Your bio says that you've discovered the perfect pop formula! What would you say are the ingredients?
Those are not our words, haha. Actually that is really hard to say. I think there are a lot of ways to go about making a pop song, and we certainly try to change it up a bit each time. But I guess as long as you have a strong melody and some interesting lyrics, the rest will sort itself out. I think when you're in the process of making a song, and you still want to finish it even though you've listened to it 500 times whilst trying to do so, you may have something worth listening to.
And what do you think are the things needed for a memorable live performance?
That depends greatly on the setting, but you'll always need a band who know their stuff well, and has the ability to establish a connection with the audience. The latter might even be most important.
You guys first met in Drammen if we're not mistaken – if we could convince you to be our tour guides for the day, where would you take us and what would we find?
We would take you to see the enchanting, yet treacherous Drammen river. Up until the 70s, its banks served as a a home for paper factories, receiving vast quantities of timber extracted from the forests further upstream. The newly constructed «Ypsilon» bridge makes for a perfect vantage point. Other stuff; «Spiralen» has a beautiful view which has large canon you can touch, and Snappy's downtown serve a delightful kebab.
What should we expect from your performance at Ja Ja Ja in Berlin?
We're going to play a nice selection of our songs, and do so in the best way possible. Have to say we're very excited about this gig. Hans Thomas has even been reading up on German customs and phrases.
Do you have any good new music tips to share with us? Norwegian tips are particularly welcome!
I'm sorry to say we haven't been listening to that many Norwegian artists lately, but Chain Wallet is pretty neat. Other than that, Mac Demarco, Warpaint and Yumi Zouma have been getting a lot of plays.
And finally, what does the rest of the year hold for you?
We'll be trucking on with the songwriting, and try to record some of the new stuff.