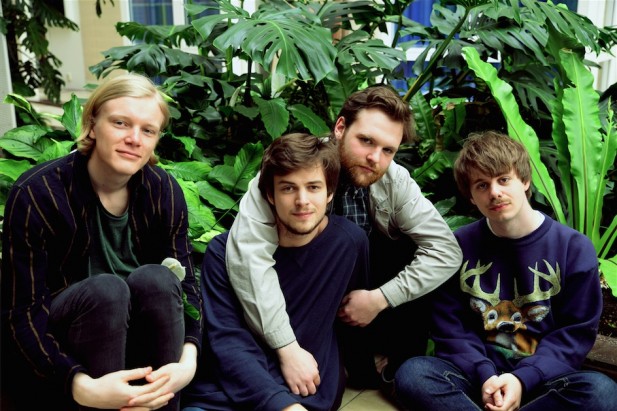 As we count down the days until the Ja Ja Ja Festival 2014 begins, we're getting to know each of the artists set to play a bit better!
Today, we catch up with producer TORJUS (who's worked under the monikers Ole Torjus and Good Dish in ths past) who makes up one quarter of Trondheim DJ/production outfit Rytmeklubben, who we invited to put together an ultimate pre-party mix.
What he came back with is a fantastic insight into the sounds of some of the Nordic region's most exciting DJs, so check out the mixtape just below to get your night started the right way, and make sure to check Rytmeklubben out when they perform at the Ja Ja Ja Festival on Friday 14th November at The Lexington!
Ja Ja Ja Festival Interview – TORJUS from Rytmeklubben
For those who haven't met you yet, can you tell us a little about who you are and what you do?
My name is TORJUS, and I'm a part of a lil group called Rytmeklubben. We're a live band, production-team and DJ-crew who make, play and DJ electronic music out of Trondheim, Norway. Basically four boys who make music on the computer and collect music on the Internet and jam it together either on stage, in the studio or in the DJ booth. We are also known as TORJUS, Hi Tom, Angora and DJ Karaoke when we're not together.
You've made us a mixtape! Can you tell us a bit about the theme of the mix, and some of your favourite tracks on it?
Hey, it was fun! The thing about this mix is that it only consists of Nordic producers. It's been a great ride sorting through all the Nordic tracks in my library, because there is so much gold to pick from! Obviously there are some of my fave tracks from my boys in Rytmeklubben, like Hi Tom's banger Fantasy x 1 2 step that is the opening track, and I'll leak that the mystery track 'Ninja Tune' also is Rytmeklubben affiliated, and that is probably one of my favourites right now.
Besides this, we've got some of the best new producers right now like Drippin and Danish Kid Antoine, obvious lords like Cashmere Cat, and even some rare legends like Dj Hoodcore. Also wildcard Scheele is someone I'm looking at for the future!
I think Nordic club music is really interesting, because a lot of club music from around the world spawns out of the local club-cultures, but we don't really have that here in the Nordic countries, at least not in Norway, and not a lot of genres are pioneered here (maybe besides Nu Disco like Prins Thomas, Lindstrøm, Todd Terje etc. but this is obviously just an evolution from disco and house that have their roots elsewhere). Because of that, the Nordic scene is a bit of a melting pot of all kinds of influences from around the world, which I think sometimes result in really interesting music, and a diverse scene. Look out for the unreleased and exclusive tunes!
Your last single 'Seen' appeared at the start of the summer – an excellent summer tune, accompanied by an equally as excellent video ! Can you tell us a bit about the story behind the track?
Thanks a lot! The track was our first ever original song together as Rytmeklubben, after doing a lot of remixes together. So it was a bit of a new experience, and the track is the result of us going to the studio working every single day for a whole month, trying to make that one track that we wanted to be our first single. We're really happy about the response it's been getting and can't wait to share more music! Seeing people actually singing along to the track when we've been out on tour has been pretty surreal for us.
What should we expect from your performance at the Ja Ja Ja Festival?
Live electronic music, lots of energy, and hopefully a great party! It's our first time in the UK so we're gonna have to give it our all.
And what do you have lined up for the future, what are Rytmeklubben's plans?!
Right now we've taken basically the whole fall off just to work on new music to be released next year, only to take a break and go play at Ja Ja Ja Festival. So our plans are basically to release lots of new music in the new year, and hopefully go on a long tour visiting as many places as possible during 2015!
Tracklist:
hi tom – fantasy x 1 2 step
angora – bounce remix
??? – ninja tune
drippin x hasta – whip dat
hi tom – hooped
kid antoine – and uh cashmere cat edit
ill tariq – chiral
kid antoine – advanced tactics
???
boska – arspartam
drippin x new jersey drone – equus
slick shoota – immenent remix
dj tee whizz – jersey cream
cashmere cat – wedding bells
Scheele x Jackie Dagger – Buck Dat
dj hoodcore – eski tech remix
4bidden – shogun
eloq x kid antoine – ???
scheele – 1001
torjus – outro for a new beginning