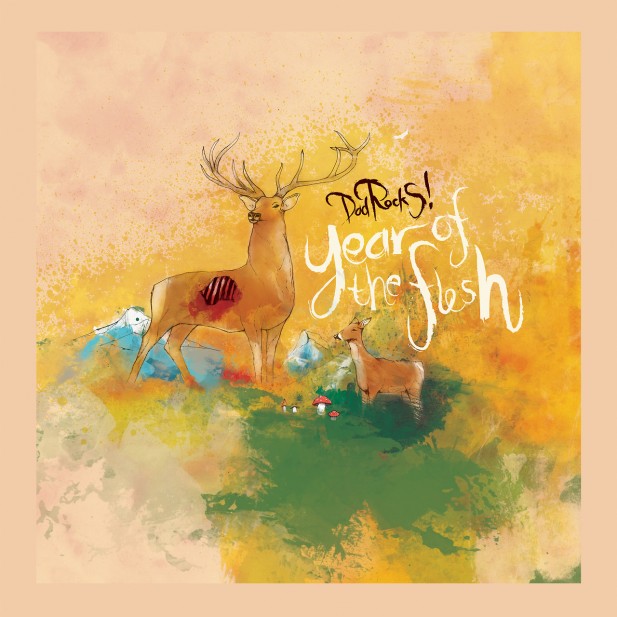 Dad Rocks! is the moniker Denmark-based Icelander Snævar Albertsson takes when he's not hard at work with his other band Mimas, and it is, somewhat surprisingly, a great fit for the sort of music he makes. With Dad Rocks! you find an earnest sweetness combined with good humour to make something truly unique. With his second album Year of the Flesh getting a full release on September 29th, 'Peers' follows on from the lyrically dark but uplifting 'Body Mass Index', and showcases everything that Albertsson does so well.
Stylistically speaking, 'Peers' follows a formula Dad Rocks! frequently employs – double tracked vocals, a gentle beginning of finger picked guitar before slowly incorporating orchestral elements – swells of brass and trills of woodwind, rousing drum lines all build into a lovely brass-heavy crescendo. Where Dad Rocks! has always been strongest is combining catchy melody with engaging lyrics, and on 'Peers' Albertsson's storytelling lyrical style works wonderfully.
The video, obviously riffing pretty directly from Bob Dylan, isn't just a cut price cop-out (though budget savings may have been a nice bonus) it actually fits in with what Albertsson is trying to put across in the song. 'Peers' is a tale of collaboration and inspiration in the digital age. While Dylan took his ideas from oral tradition and folk artists (Woody Guthrie being the obvious example), today you're as likely to find it on a blog, a BBS, a Soundcloud embed on someone's Tumblr or on a torrent site as you are anywhere else, and when you're done, employing those same platforms to share what you created passes the inspiration down the line for someone else. So, just as Bob Dylan was inspired by Woody Guthrie, and Snævar Albertsson was inspired by Bob Dylan when making this video, here we pass on 'Peers' to hopefully inspire you in the same way.